They did it! Despite up to 30 degrees heat and with little shade on many of the sections, a band of 50 1st Camelsdale Beavers (aged six to eight), Cubs (eight to ten), Scouts (ten to 14) and Draca Explorers (14 to 18) and their adult walkers walked the 'Downs in a Day' to raise much-needed funds for their Scout hut.
The youngsters, with their adult walkers, completed all 160km (100 miles) of the South Downs Way between Winchester and Eastbourne in one day on Saturday in relays of 12 teams.
Rebecca Jones, 1st Camelsdale Scouts chair and Beaver leader, said: "It felt like a huge achievement, especially given the conditions. We had a few suffering aches and pains, and the pace overall was much slower than anticipated in the heat – but we did it!"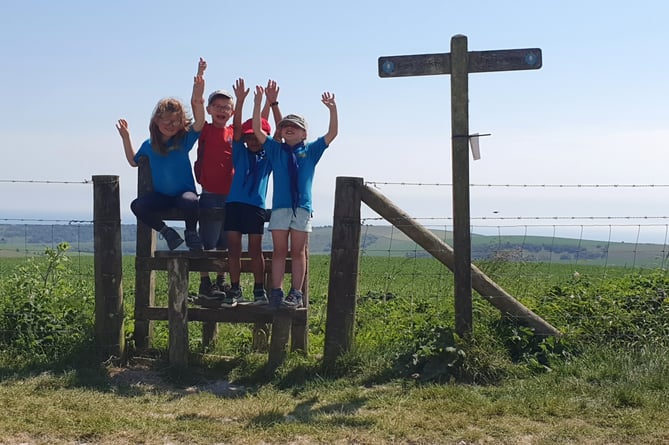 1st Camelsdale Scouts 'Downs in a Day' Challenge – Beaver Barn Owls feeling on top of the world!
(1st Camelsdale Scouts)
The two Beaver teams – the Skylarks and the Barn Owls – walked the shortest distance of  8km to 9km (five-ish miles), with a Scouts group doing the longest at 22.5km (14 miles) – with a target to raise £5,000 towards the Scout hut revamp.
Rebecca continued: "We started the day on £2,800 on the Just Giving site, and ended it with over £3,800, plus around £100 in cash that fellow walkers and runners donated as we walked.
"On Monday it stood at just over £4,480, which is fantastic."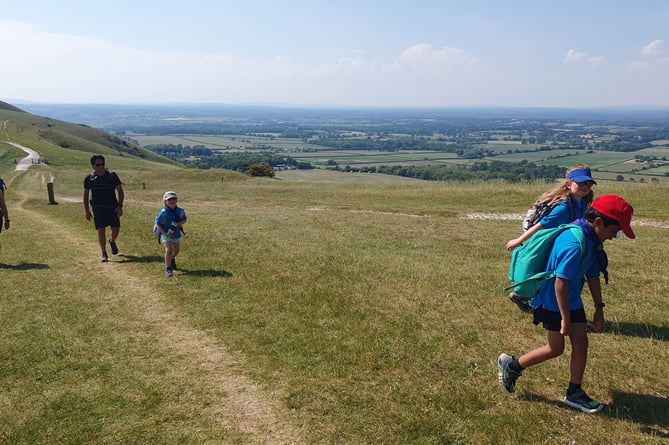 1st Camelsdale Scouts 'Downs in a Day' Challenge – what a view!
(1st Camelsdale Scouts)
To help edge 1st Camelsdale Scouts closer to their target, donate online at https://www.justgiving.com/campaign/1st-camelsdale-downs-in-a-day
Afterwards, the walkers enjoyed an evening barbecue back in Camelsdale, which Rebecca added was "a great success, with children and adults fascinated by David Campbell's history scrapbook and some of the tales he had to tell – including how we hit the national press after a particularly realistic game of 'cops and robbers' that local residents took to be a real child kidnapping and drugs deal!
"As David (aka 'Skip') reminded us all, 'The most important thing is to have fun'."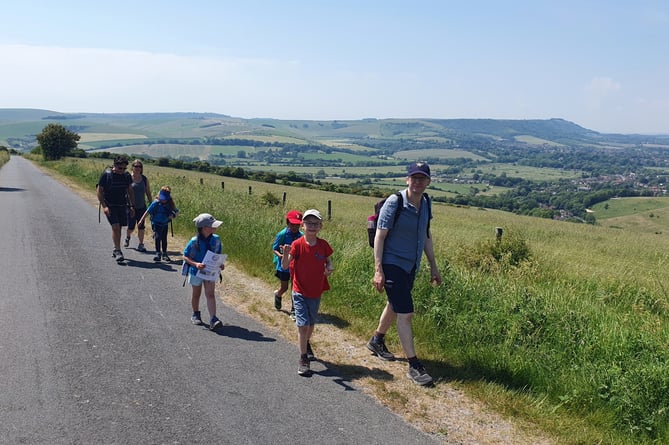 1st Camelsdale Scouts 'Downs in a Day' Challenge – a long hot road...
(1st Camelsdale Scouts)
In addition to David presenting his history book, Haslemere Scouting District Commissioner Keith Clayton presented 1st Camesdale Scouts' treasurer Zoe White with a 'commendation' from Bear Grylls for good service – having supported the group for more than 40 years!
Mr Clayton also presented two Camelsdale Scouts with their Chief Scout Gold Award, the highest award young people can achieve in the Scouts section.
Rebecca said: "It takes a lot of work and is highly deserved by Jacob and Ed.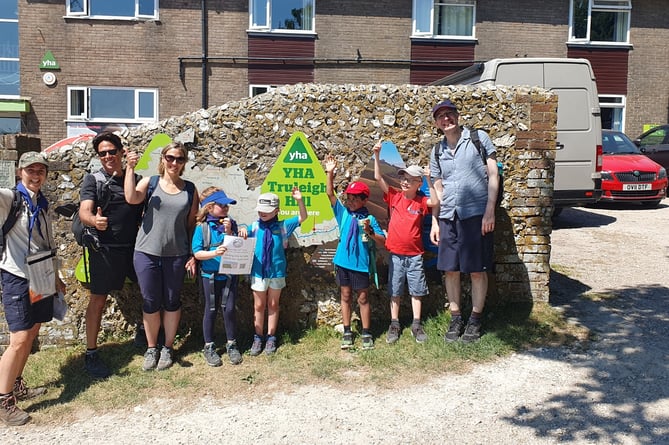 1st Camelsdale Scouts 'Downs in a Day' Challenge – made it to the YHA at Truleigh Hill
(1st Camelsdale Scouts)
"Jacob is off to South Korea for three weeks at the end of July after securing a place on this year's Scout Jamboree. 
"He has raised more than £3,000 to enable him to go on the trip and at the barbecue cooked a Korean kimchi noodle dish over the fire as part of the preparations he has to do. 
"I can personally vouch it was delicious!"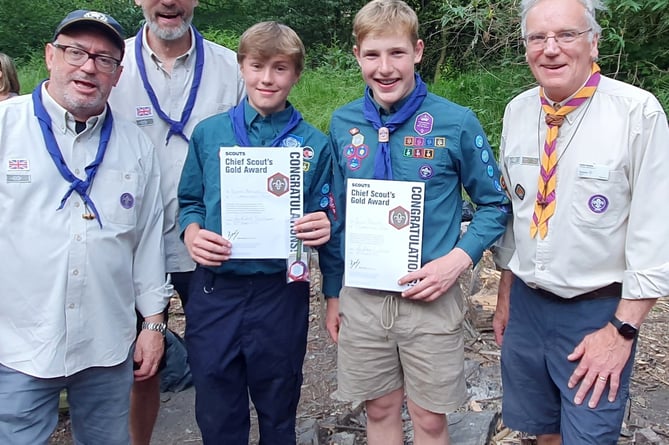 Left to right: Scout Leader David Reckord, Assistant Scout Leader Steve Rose, Scout Ed Nayler, Scout Jacob Brewer, Haslemere Scouting District Commissioner Keith Clayton
(1st Camelsdale Scouts)
1st Camelsdale Scout group has provided life skills, adventures and memories for young people for more than 100 years.
However, the group's headquarters in Marley Lane has seen better days and is in need of repair and modernisation so the group can keep giving local young people amazing adventures and opportunities to develop themselves and make new friendships.