Firefighters remain at the scene of an ongoing wildfire on Frensham Common on Tuesday morning.
Surrey Fire and Rescue Service reported the incident just after 10pm on Monday, May 29.
Members of the public are advised to stay away from the common and close their doors and windows if living nearby.
The below photos of the blaze were captured from the Devil's Jumps near Churt by Emily Cracknell on her Monday evening walk. She said the fire is "pretty central" on the common, north east of Millais Nurseries.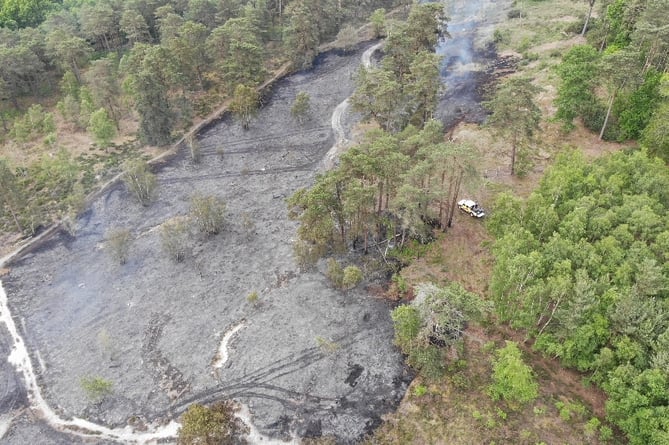 Frensham Great Pond and Common covers roughly 1,000 acres of attractive countryside and is owned by the National Trust. Most of the land is managed by Waverley Borough Council.
The Common is made up of a large area of heathland, together woodland, and two large ponds, known as Frensham Great and Little Ponds, which were built in the Middle Ages to provide fish for the Bishop of Winchester's estate.
The site is a SSSI (Site of Special Scientific Interest) and an area of Outstanding Natural Beauty (AONB) and includes dry heath, wet heath, open water, reedbeds, alder carr and woodland. The heathland is an internationally rare habitat and the common supports a wealth of associated wildlife including sand lizards, Dartford warblers, nightjars, and unusual plants such as the insectivorous sundew.
Frensham Common has been the location of several wildfires over recent years – the most devastating being the 2010 blaze that destroyed almost 90 acres of precious heathland, as caught on the below video by Rowledge photo-journalist Steve Usher.