Firefighters tackling the second major wildfire at Hankley Common in a week have been overwhelmed with donations of food and drink by kind-hearted members of the public.
Surrey Fire and Rescue Service (SFRS) thanked people for their generous donations after a long afternoon tackling the 20-acre fire on the MOD-owned heathland between Elstead and Frensham on Sunday, but have requested any further donations be given to a food bank.
"A huge thank you to the community who have generously donated additional food and drink to our crews at the Hankley fire," said a SFRS spokesman.
"We are at a stage now where we would like to request that no more donations are sent, we are very grateful but we have a great deal already.
"If you would still like to donate to a good cause, we would advise donating to your local food bank. Thank you again."
Firefighters were first called to a fire in the open at Hankley Common just after midday on Sunday, July 24, and a huge plume of smoke could soon be seen rising from the area.
Strong south westerly winds quickly spread the blaze to much of the 'drop zone' area of the common, so-called because it is where Army paratroopers have historically trained, and blew smoke north east towards Elstead and beyond as far as west London.
A 'major incident' was declared by SFRS at around 2.30pm, putting partner organisations including neighbouring fire services and local councils on alert, as the fire threatened to spread further.
SFRS warned the public there was "a great deal of smoke" and advised people to avoid the area, close windows and doors if living nearby, and keep pets kept indoors.
In total, around 20 fire service vehicles including fire engines, specialist units and 4x4s attended the fire, with support given by Hampshire and West Sussex fire services. A fire service helicopter was also seen hovering over the common for much of the afternoon.
At least 20 acres of heathland are estimated to have been affected, equivalent to around 13 football pitches, and some local roads were closed.
The cause of the fire is unknown, but SFRS has reiterated its message to "please help keep our outdoors safe: pack a picnic instead of a disposable barbecue and dispose of cigarettes correctly".
The smoke plume began to subside at around 4pm as firefighters controlled the blaze, and the incident was downgraded as a 'major incident' at 6.40pm. However, fire crews are expected to remain on scene at least until Monday and have asked people to "please continue to avoid the area for safety reasons".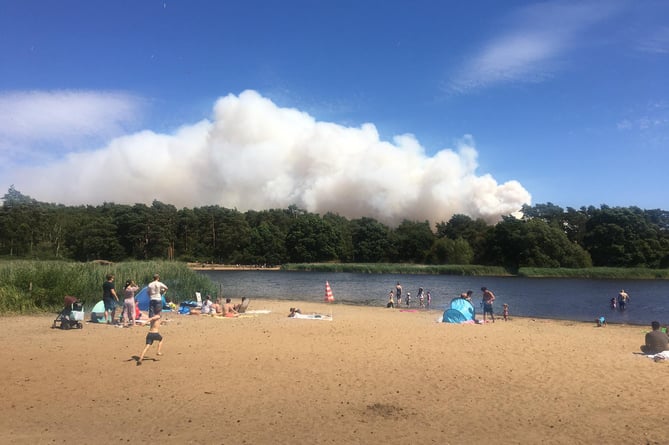 Onlookers watch a plume of smoke rising above Hankley Common from nearby Frensham Little Pond
(Daniel Gee / Farnham Herald)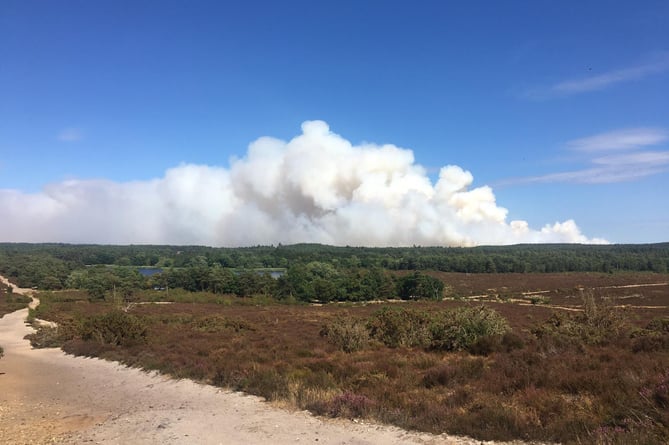 A huge plume of smoke rose above Hankley Common and was blown as far as west London and Heathrow airport – seen here from Kings Ridge, Frensham
(Daniel Gee / Farnham Herald)