Surrey's fire chief has hit out at people who have bonfires when there is a risk of wildfires saying he "cannot fathom" why they would want to do it.
Dan Quin, the chief fire officer in Surrey, said though disposable barbecues were "singled out" as a source of wildfires in the summer of 2022, that wasn't really the case in this county.
He also praised the work of the fire and rescue service which, unlike 14 others, did not declare a major incident during last year's extreme weather which in Surrey saw wildfires at Coldharbour Common in Dorking, Hankley Common, near Elstead, and more.
He said summer 2022 was "unprecedented" and that the hottest day of the year was Surrey's busiest day for at least 70 years, as it was across the rest of the country.
But he wanted to reassure councillors and residents that the Surrey Fire and Rescue Service was prepared to respond to wildfires, which could go on until late September with the weather due to get drier again in the coming month.
While he said there were different policies around using disposable barbecues in Surrey's various open spaces, he told councillors that if used and disposed of correctly and in an appropriate place they should be "absolutely fine".
But he said an issue in Surrey was there was still a "prevalence" of people lighting bonfires.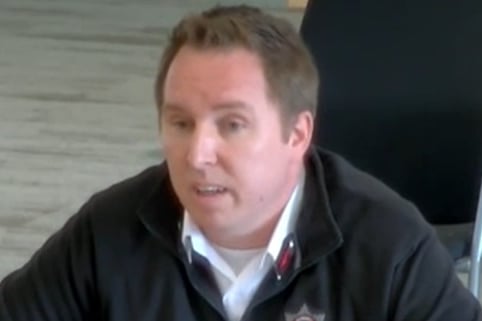 Dan Quin, chief fire officer for Surrey, at a meeting of the Communities, Environment and Highways Select Committee on July 5, 2023
(SCC)
Mr Quin said: "To be honest, I cannot fathom why that would be sensible to do, or why you would want to do it at that time.
"We need to challenge our residents about the rationale for that."
Along with people clearing up litter and not using naked flames, he outlined how the fire and rescue service was prepared for wildfires, including staff having had additional training and being given specialised wildfire personal protective equipment.
He said wildfires were being treated as a "year on year event" now, rather than less likely, as previously.
With "very good support" from the Ministry of Defence around management of its land, after the ministry last year denied that Hankley Common fires were started after a military exercise, Mr Quin said there was more partnership working going on.
He told the meeting that Surrey Fire and Rescue Service had made the Six O'clock News, Channel Five, BBC World and was currently working with Countryfile because it was "recognised as one of the lead fire and rescue services" in its response to wildfires.
Mr Quin said: "Just to reassure you we're very well equipped, our staff are really trained.
"We should be rightly proud of them because they are able to operate and deal with those incidents very, very effectively."