Haslemere Royal Warrant-holders Christopher and Carmen Ashton-Jones have sold their business Sheen Botanical Labels after more than two decades in the town.
Together, they have owned and run a specialist bespoke engraved botanical labelling service in College Hill for the past 21 years and have built up a vast list of clients, mostly in the UK – including the royal household –  but also across Europe.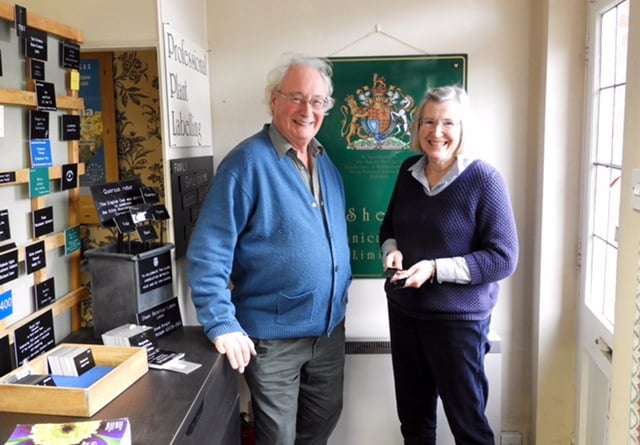 (Christopher and Carmen Ashton-Jones)
But last Friday, the last of Christopher and Carmen's labelling machinery was emptied into a van and transported to new owner Plant Sciences Ltd in Moddershall, Staffordshire.
Christopher said: "We've had a lot of fun, but we couldn't hang on to the business for ever. It has been an important part of our lives in Haslemere for over 20 years but I've reached the age of 75 and the time has come to let it go.
"The business is a success and much of this is down to the support we have had from the community in Haslemere, our membership of the Royal Warrant Holders' Association, the horticultural community and, of course, our clients.
"That most of our new business in recent years has come by recommendation is a wonderful testament to them. We are most grateful for their loyalty to us."
Richard Powell, Plant Science's managing director, trained in horticulture at Merrist Wood and apprenticed at Hilliers Nursery in Winchester. He first approached Christopher and Carmen in February this year and the terms of the sale ensure a continuity of service to Sheen's 1,000 clients.
After stepping back from his previous job of 35 years in the City, Christopher said he had a choice between his two loves: boating or gardening. He chose gardening, and bought the-then East Sheen-based botanical labelling business in the early 2000s.
(Christopher and Carmen Ashton-Jones)
Initially based behind the former Poacher's Pocket restaurant, they relocated to College Hill 16 years ago where they have been ever since.
"Haslemere has been a great town in which to do business," Christopher added. "It is very cordial and both the Chamber of Commerce and Haslemere Town Council have been very supportive over the years."
Last year Sheen Botanical Labels celebrated its 20th anniversary with a reception attended by the-then mayor of Haslemere, Simon Dear, and MP Jeremy Hunt.
It has also exhibited at the RHS Chelsea Flower Show four times, and Christopher and Carmen have had the honour of meeting the Queen several times.
As Royal Warrant holders, they provide botanical labels to the royal household – though  are sworn to secrecy when it comes to which households they supply.
They have also had the opportunity to attend Buckingham Palace garden parties and the Sandringham Flower Show – though Christopher says they "are proud of all our clients and gave no preferential treatment!"
Sheen Botanical Labels will retain its Royal Warrant until at least September next year.