She died at her favourite residence, Balmoral Castle.
Queen Elizabeth was Britain's longest-reigning monarch, coming to the throne at the age of 25 following the death of her father, King George VI, in February 1952.
She celebrated her Platinum Jubilee, marking 70 years of service, at Buckingham Palace in June.
The Queen's husband, the Prince Philip, Duke of Edinburgh, who she married in November 1947, died last year, aged 99.
Today's announcement comes after the Queen met with incoming Prime Minister, Liz Truss, at Balmoral on Tuesday and asked her to form a government following the resignation of Boris Johnson. It was the first time in her reign that the Queen appointed a PM at Balmoral.
Her Majesty then pulled out of a virtual Privy Council meeting on Wednesday, with doctors advising her to rest.
At 1230 today (Thursday September 8) a statement from Buckingham Palace revealed doctors were "concerned" for Her Majesty's health.
But at 6.30pm Her Majesty's death was announced.
In a short statement Buckingham Palace said: "The Queen died peacefully at Balmoral this afternoon. The King and The Queen Consort will remain at Balmoral this evening and will return to London tomorrow."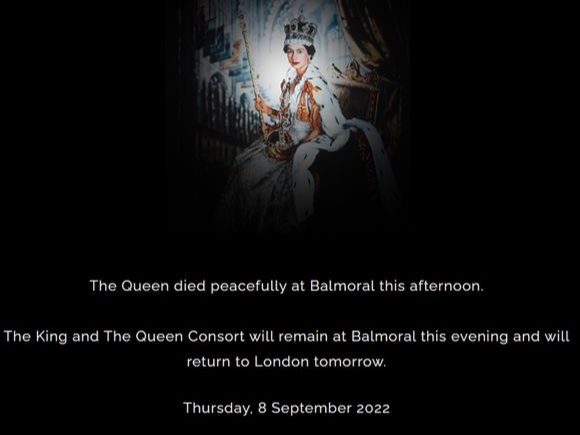 Announcement on the Royal.UK website
( www.royal.uk)
The Queen had four children – her eldest son, Charles, who is 73, succeeds her as monarch, and will be known as King Charles III.
Her other children are Princess Anne, Prince Andrew, and Prince Edward. She had 8 grandchildren, Prince William, Prince Harry, Princess Beatrice, Princess Eugenie, Peter Phillips, Zara Tindall, Lady Louise Windsor and James Mountbatten-Windsor.
Many of the Royal family gathered at Balmoral earlier today.
Known for her sense of duty and her devotion to a life of service, The Queen was an important figurehead for the UK, the British Isles,  and the Commonwealth during times of enormous social change.
She saw public and voluntary service as one of the most important elements of her work, and had links with over 600 charities, military associations, professional bodies and public service organisations. These varied from well-established international charities to smaller bodies working in a specialist area or at a local level.
On her 21st birthday, in a speech broadcast to the UK on radio from Cape Town in South Africa, the then Princess Elizabeth dedicated her life to serving people across the Commonwealth: "I declare before you all that my whole life, whether it be long or short, shall be devoted to your service," she said.