Crest Nicholson has confirmed that stylish eatery Coppa Club is the latest addition to Farnham's Brightwells Yard development.
Coppa Club – whose imminent arrival was revealed by the Herald earlier this year – will take pride of place in the newly-renovated iconic Brightwell House, at the heart of the development.
The chain says the restaurant's "spectacular garden setting", overlooking the new park area being created between East Street and the River Wey, is a particular attraction.
Part of the Various Eateries group, the first Coppa Club opened on the Thames at Streatley in Berkshire in 2015, and they have gone on to become firmly established in 11 locations across the UK from the City of London to Surrey and across to Bristol. 
Coppa Club's growing portfolio includes venues in nearby Haslemere and Cobham, offering an all-day menu and wide selection of drinks typically in historic venues.
The chain claims to create a "members club style-experience for everybody".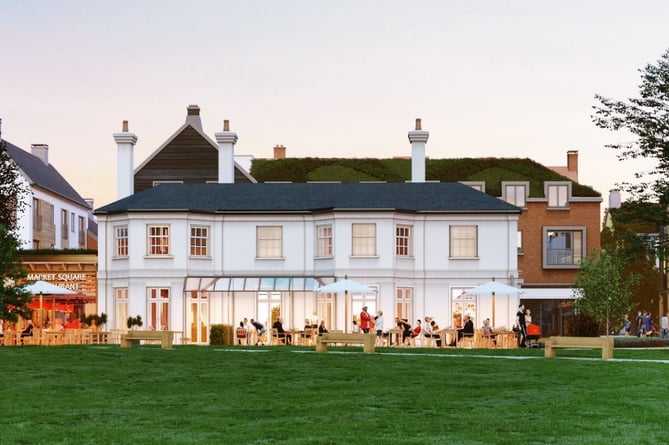 A visualisation of Brightwell House at the heart of the Brightwells Yard development
(Crest Nicholson)
Grade II-listed Brightwell House was built in the 1790s as a domestic residence, and has previously hosted Sir Arthur Sullivan and Florence Nightingale.
The building was originally named Lowlands, but was later renamed Brightwell in 1905, before it went on to become a library, a health clinic, and council offices.
In more recent years, an extension of Brightwell House became the Redgrave Theatre in 1974 before closing in 1998.
Adrian Sims, managing director at Crest Nicholson, said: "Coppa Club's expansion into Farnham is an exciting addition to the town's already impressive leisure offering.
"We have worked closely with conservation officers to carefully renovate Grade II-listed Brightwell House and are pleased that it will be brought back to its former glory at the heart of the town for the whole community to enjoy."
Chief executive officer of Various Eateries, Yishay Malkov, added: "Brightwell House affords a fantastic opportunity to create a unique all-day venue in Farnham very much with locals in mind.
"The spectacular garden setting in particular will provide a wonderful outside dining experience."