Campaigners quiz council about incinerator objections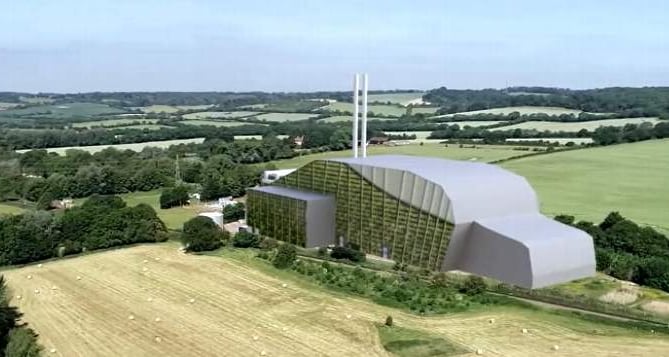 A computer-generated picture of how the incinerator would look
Subscribe newsletter
Subscribe to our email and get updates right in your inbox.
Following Freedom of Information requests, it was worried by two examples of how objections from within the council were handled.
On February 21 the landscape team sent a report to the planning department.
The landscape team said: "It is considered that the proposed development on this site, in terms of its scale, massing and character as currently shown, causes an unacceptable adverse visual impact and does not enhance the distinctive character of the Hampshire landscape within which it sits, and is therefore considered to be contrary to policy 13 of the Hampshire Minerals and Waste Local Plan and an objection to these development proposals is recommended on landscape grounds."
On August 28 the planning department wrote to another department and asked: "In terms of your overall response being an objection (for the reasons stated and understood re policy 28) can you please raise this as a holding objection rather than an outright objection? It's a controversial application and an apparent outright objection is likely to be jumped upon publicly."
Replying on August 31, that department agreed to do so.
No Wey spokesman Ben Stanberry said: "Veolia won a 28-year waste management contract with Hampshire County Council back in 1995.
"But the understandably close relationship that has developed over almost three decades of partnership should not mean that Veolia's planning application gets special treatment – especially when, as other council departments have been trying to make clear to the planning department, it clearly contravenes many policies in Hampshire's own Minerals and Waste Local Plan."
Mr Stanberry said the information could "reinforce people's fears that the planning department's objectivity might be compromised", adding: "The landscape department's objection should have been posted on the council's planning website a short time after their planning department received it, yet it failed to appear. We have therefore made it available ourselves at www.nowey
incinerator.com and hope that, going forward, the planning department will ensure all future objections are published."
Veolia was asked to comment but chose not to do so.
Hampshire County Council deputy leader Cllr Rob Humby is "confident that the planning process has been undertaken correctly" in relation to Veolia's incinerator application.
He added: "Professional opinions provided by county council officers who work in the same department alongside planning team colleagues but specialise in areas that are relevant to an application, such as landscape, should not be regarded as the same as a response from, or objection by, a statutory or external consultee.
"These officers are part of the wider planning team at the county council, and their comments are advice to the planning case officer in formulating his report and recommendations to the committee making the decision."
Cllr Humby put the late appearance of the landscape officer's comments down to the sheer weight of interest in the plan.
He said: "It should be understood that this particular application has received a very high volume of responses and objections from external parties, including statutory consultees, as well as a plethora of Freedom of Information requests from local campaigners.
"It was purely an administrative oversight that led to a delay in the landscape officer's initial comments being published on the planning portal and this was rectified as soon as the omission came to light.
"Furthermore, the comments of the internal landscape officer have been clearly referenced in the reports from the independent landscape consultant who reviewed all landscape responses and are included in all associated reports which have been in the public domain, online, since publication in June."
Cllr Humby acknowledged NoWey's campaign but said public consultation was "not the only consideration".
He added: "I think it is important that the final decisions should be made by democratically-accountable local councillors from Hampshire. The report that the regulatory committee will consider will document the full findings of the planning process and will be made public in advance of the consideration of this planning application by the committee."