So often people question where their food is coming from, especially when it comes to meat. That's not an issue at the Sky Park Farm complex in East Harting as the distance from field to fork is only a few hundred yards.
The farm's Major Selling Point is deer and you'll find a large herd grazing on the field off the entrance track. They are tame and you can feed them, but they're not just a photographic subject or something to go "awwww" at. They're part of the farm's business set-up and are the main foodstuff on the menu at The Grazing Rooms, their impressive onsite restaurant.
Many are squeamish about eating venison because of Bambi and the beauty of these creatures. But deer numbers have grown from 450,000 to two million over the past 50 years and they are considered pests by many farmers as they will make light work of some crops.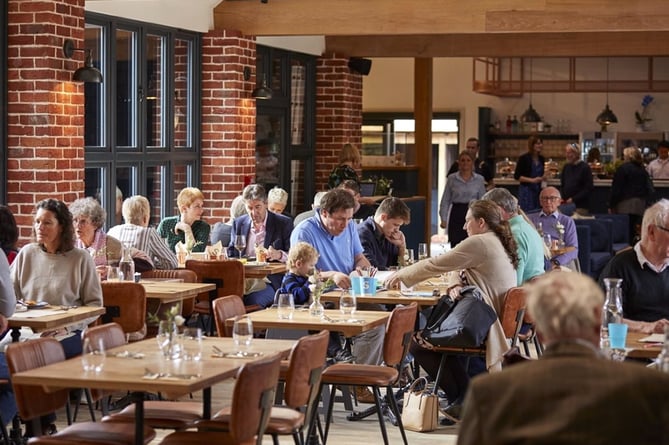 The Grazing Room is part of the impressive Sky Park Farm complex in East Harting.
(Sky Park Farm)
Venison is also a lean meat, so if it's reared in the best, free-range, possible way, then surely it's worth farming on a commercial scale?
To be honest, it's hard to order something from the menu at the Grazing Rooms that doesn't include venison. You could have a venison parfait or Scotch egg for starters, or opt for a venison steak, pie or burger from the mains. Now I love a Scotch egg but I feel I should temper my love for this leanest of meat as having a venison-themed starter and main might be overkill.
So I opt for the duck rillette (£9) an unctuous combo of a confit duck leg, madeira jelly and toast. The confit was meaty, yet surprisingly light, and was nicely offset by the sweetness of the jelly and the crunch of the toast. There was also just enough balsamic on the unfussy lettuce accompaniment.
While venison is king at The Grazing Rooms – attentive staff wear shirts with 'yes deer' on them – there are other meat and vegetarian options. There's classics like pork belly and lamb rump along with a fish section, with octopus and bouillabaisse catching our eye.
The mains were terrific. My wife said her venison haunch steak (£18, shown below) was the best she ever had. She didn't even need a steak knife to perforate the tender meat, cooked within our eyesight on a large outdoor grill. The steak also had the slight grassy smell and taste associated with well-reared meat and the adorning chimichurri was fresh, herby and lemony.
The braised meat in my venison pie came apart like the best pulled pork you've ever had, while its shortcrust pastry, buttery mash and jus made each mouthful a rich, moreish experience. Both portions were just the right size, and left just enough room for desserts.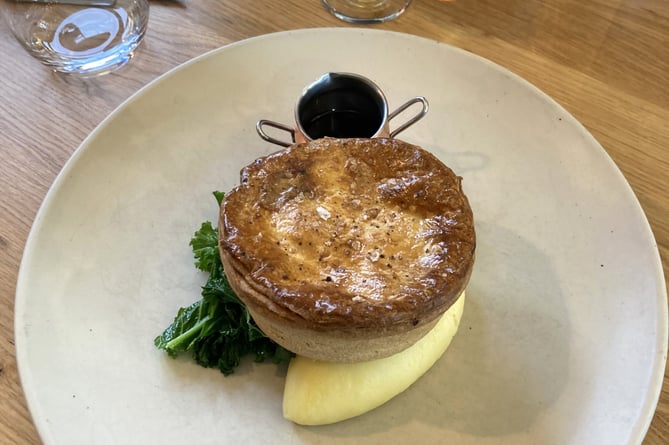 I opted for the braised venison pie as a main, and it was good.
(Tindle/Paul Ferguson)
My wife's crème brulee was given top marks for its crunchy topping and light interior while my sticky toffee pudding left me needing a lie down. Oozing with toffee goodness and a hint of ginger, it rounded off a memorable dining experience
There's a good wine list but we opted for locally-sourced beer and cider with the former from Langham Brewery being produced exclusively for the farm.
Given you can see deer from the dining table, you could argue that eating at the Grazing Rooms is a bit like eating one of those posh seafood restaurants where you can pluck a lobster from a tank. 
But the French have this word terroir, where a foodstuff or drink takes on the character of its surroundings. We tasted that in our meals, and every bite was confirmation that the journey from field to fork at Sky Farm was a good one. 
* We've teamed up with Sky Park Farm to offer a lucky reader a £100 voucher to eat at their onsite restaurant, The Grazing Rooms.
Venison features heavily on the menu but there's something for all tastes with plenty of meat, fish and vegetarian options for diners with mains priced £14 to £26. There's also a good array of starters and desserts to choose and a comprehensive wine and cocktail list.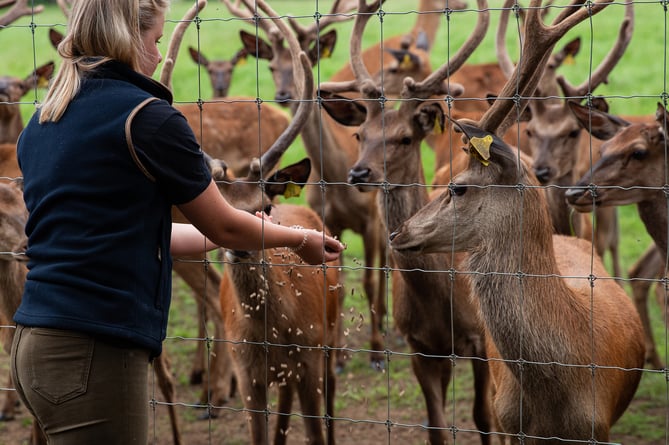 Deer at Sky Park Farm
(Sky Park Farm)
To stand a chance of winning this money-off voucher just send the completed form to our address and we'll pick out the winner at random. Send the completed form to:
Sky Park Farm Competition, 
Only coupons cut from the paper will be entered into the draw. No photocopies are permitted.
Closing date: Midday on Thursday, August 31, 2023.