Farnham at one time had at least two mineral water factories. Fenns in West Street is often remembered standing where the Farnham Carpet Company is now located.
However, there was a second factory in Castle Street – Quinette was based in what later became the Castle Theatre and is now Zizzi restaurant.
This unsigned drawing (right) shows the interior of the offices of the works – a scene that be familiar to those who visited the Castle Theatre though now somewhat modified in the restaurant.
I believe the Quinette name was taken from the house of the same name in Churt, where owners of the business the Palin-Evans family seemingly set up home after moving from Farnham.
But quite how the family arrived in Farnham to launch their water enterprise remained something of a mystery – until Pat Seale was again able to fill in many of the gaps responding to a post on the Peeps Facebook page.
"First, a bit about the business itself," writes Pat. "The adverts placed in the newspapers from 1930 to 1940 (some of which are reproduced on this page) suggest the company dealt more in flavours for ice cream and cold drinks than the bottled mineral water produced by Fenn's in West Street.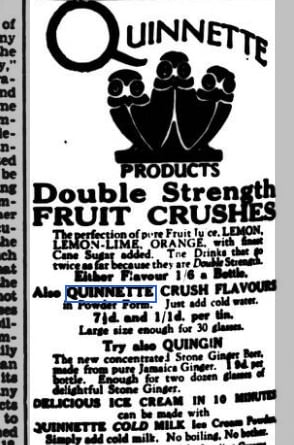 The Quinette factory in Castle Street, Farnham, didn't just produce mineral water it seems, with this advert also offering 'double strength fruit crushes' as well as 'delicious ice cream in 10 minutes with Quinette cold milk ice cream powder'
(Peeps into the Past)
"Now the Palin-Evans family: Dorothea St Clair Tallack was born in 1893 in Boston, Massachusetts, the daughter of shipping broker Frederick Montague Tallack of South Norwood, Surrey. 
"She married John Richard Palin Evans (at this stage the Palin was a forename) in 1915 in Cheam, Surrey. The Evans family was also in the shipping business, and lived in Liverpool, Cardiff and Bristol at various times.
"Dorothea and John had two children: Peter, born in 1919 and John, born in 1921 and the family home at this time was in Penarth, Wales.
"Tragedy struck in 1928 when Mr Palin-Evans shot himself. The Western Mail reported the death, commenting that he had no financial worries (he was managing director of the South Wales Concrete Company), he had a wide range of interests outside of work, but he had been indisposed for three weeks.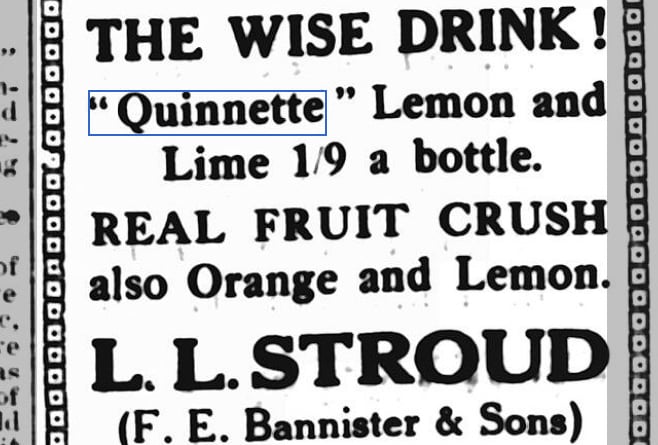 Mine's a 'Quinette' lemon and lime!
(Mine's a 'Quinette' lemon and lime!)
"His estate was initally valued at over £65,574, mostly in trust for his widow and sons, so it would appear superficially that Dorothea had no need of setting up her own business in Farnham. 
"Why Farnham? There was a connection: Dorothea's parents were living in Greenhill Road, Farnham in 1931, although by 1939 they had moved to Guildford.
"In 1939, Dorothea and son John were living in Hampstead, London, that is, not in Farnham. John was an insurance broker's agent.  Son Peter wasn't with them: it is likely he had enlisted before the 1939 Register was compiled.
"The family were dealt another blow in 1942 when 2nd Lieutenant Peter of the Royal Armoured Corps was killed in Egypt. 
"The probate record lists his executors as his mother, Dorothea, widow, and brother John, of 'no occupation'. So who was running Quinnettes?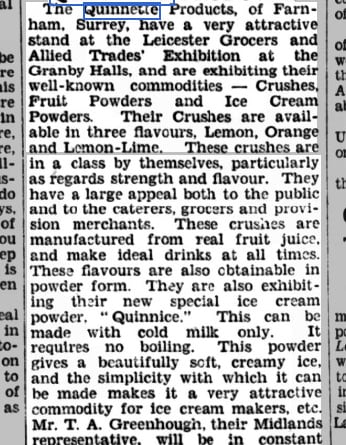 Quinette's popularity wasn't limited to Farnham, with this article commending the brand's 'very attractive stand at the Leicester Grocers and Allied Trades' Exhibition at the Granby Halls'
(Peeps into the Past)
"We can turn to the electoral registers: in 1945 Dorothea and John were living with Dorothea's widowed mother, Katherine Tallack, in Guildford; in 1946 Dorothea and John were living at The Gables in Frensham.
"From 1947 until 1962 Dorothea and John were living at 46 Castle Street, Farnham. They were joined in 1953 by Dorothea's mother, who lived with them until her death in 1960, age 94.
"In 1950 there was another reference to Castle Street in a newspaper report: John had the misfortune of being fined 10 shillings for parking his car in the wrong place in Alton.
"Dorothea died in 1983. John died in 2001."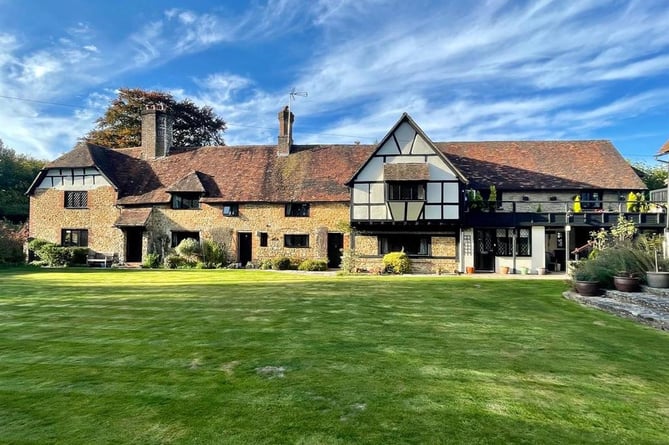 Quinettes House is a former medieval farmhouse in Churt, south of Farnham. It has served many purposes over the years – and for many years provided a retirement home for foreign missionaries
(Eddystone Housing Association)
Thanks Pat for another wonderful insight into a very well-travelled local family.
I wonder if any Churt-based readers can shed any more light on the Palin-Evans family, and when they made the switch from Farnham to the village?