Dylan's Ice Cream parlour in Weyhill, Haslemere, has made the final three of the UK's first ever Ice Cream Parlour of the Year competition.
Founder Ben Govier sold his first ice creams from a van at the Liphook Carnival fun day in 2008 and now runs two parlours, in Weyhill and at The Shed in Bordon.
But winning the prestigious title of Ice Cream Parlour of the Year would really be the cherry on his sundae, and Ben hopes to break out the sprinkles and celebrate after the winner is announced later this month.
Dylan's is one of just three finalists in the UK's first ever Ice Cream Parlour of the Year competition, organised by the Ice Cream Alliance (ICA) – the industry's trade association.
After all finalists have been 'mystery shopped' by a team of sector experts, a winner will be announced by the end of May.
"We are so delighted to have all our hard work recognised by our peers in the UK ice cream industry," said Ben Govier of Dylan's.
"We are really well supported by our customers locally in Haslemere, but if we win this will be a massive boost to our business and will enormously raise our profile over a much wider area."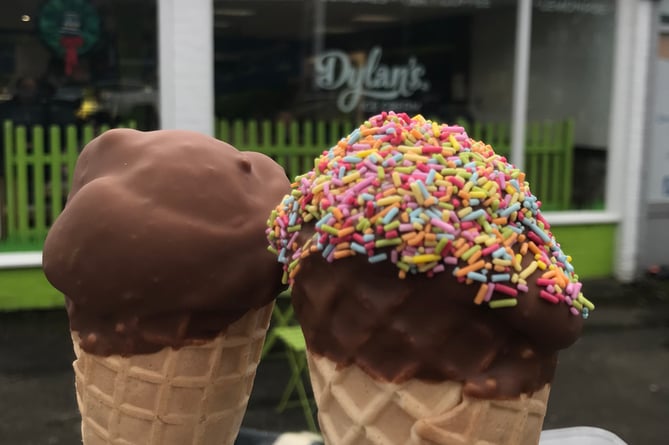 Dylan's ice cream is created from the freshest ingredients plus a lot of love, at a local factory in Fernhurst, West Sussex
(Dylan's Ice Cream)
Entrants are judged on their premises, machinery, equipment and utensils, working practices, hygiene standards, allergen information, packaging type, management controls and, finally, ice cream quality and display.
Finalists will be visited by an independent and professional mystery shopping company. The results of the visits and subsequent reports will be analysed and a winner selected by the judging panel. The winner will be announced at the end of this month.
"This award gives parlours a chance to shout about their creativity, professionalism and customer service in an industry that is still growing despite all the challenges of the last few years," said ICA president Katy Alston. 
"This competition is about promoting the very best and giving the winning parlour the accolades and the recognition it deserves."
The Ice Cream Alliance Parlour of the Year 2023 is sponsored by Antonelli.co.uk – a major UK manufacturer of waffle, wafer and sugar cones and supplier of ice cream ingredients to the trade. The company was founded in 1912.
"There is a wealth of creativity and professionalism in this sector and we welcome a chance to recognise it," said Mark Antonelli, Antonelli's director of sales and technical support.