Ellel Ministries is to close its centre at Pierrepont in Frensham, after its executive leadership unanimously agreed "the Lord is leading us" to do so to cut costs.
In a statement, the ministry acknowledged Pierrepont has been a "significant blessing" for people from all over the world who have received training and ministry on courses and retreats.
The Ellel executive leadership stated the decision to close Pierrepont was not taken lightly and was made after "almost a year of focused prayer and seeking the Lord", and considering the financial and practical picture.
With massively increasing mortgage costs, utility bills and other operating costs, the ministry was facing a significant budget shortfall, and there is a need for major renovation work at the centre.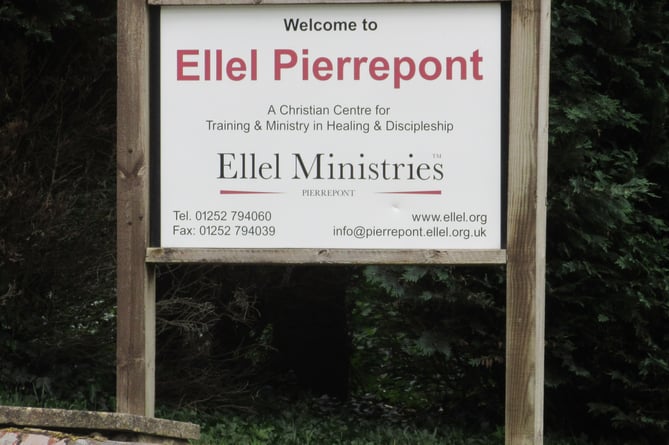 A sign at the entrance to Pierrepont House off Frensham Road
(Creative Commons)
Andy Taylor, international director of Ellel Ministries, said: "Selling the Pierrepont centre will mean we can pay off burdensome mortgages carried by the UK ministry, and we also plan to re-invest resources and bring the remaining UK centres to standards sufficient to secure them for future generations."
The statement added the executive leadership of Ellel Ministries believes the Lord is wanting to recalibrate the ministry to prepare it for the future, and to "prune" Ellel Ministries in the UK "to enable greater fruitfulness for Him".
The ministry plans to re-invest the resources from the sale of Pierrepont back into the rest of the UK ministry.
The ministry says it will prioritise Christian ministries as potential purchasers, and during the sale process Pierrepont will continue with events until the latter part of the year.
Mr Taylor continued: "The ministry will be focused on helping the team at Pierrepont transition to the next place God has for them, either at another Ellel centre or elsewhere."
Ellel Ministries is a non-denominational Christian ministry founded in the United Kingdom in 1986 by Peter and Fiona Horrobin. It purchased the 19th-century Pierrepont House off Frensham Road in 1995, two years after the closure of the private co-educational Pierrepont School.