From the charming characters to the exceptional use of colour, light and sound, Churt Amateur Dramatic Society's pantomime Mother Goose is a must-see, writes SARA WILSON-SOPPITT...
It's first night, I can feel the excitement coming through the ether from the performers I know are backstage, impatient to get out front and bring the special magic that is panto.
I know that CADS always delivers a cracking panto, so I'm looking forward to seeing what they do with Mother Goose, the Scandi version.
The tale is of Mother Goose's quest to find her magical snow goose, Heidi. The setting is a magical northern land of snow, troll-caves and a palace of lights. The characters, good and evil, are a smorgasbord of everything you want in a pantomime. Delicious.
I wasn't disappointed. From the moment the evil, but strangely endearing troll Smorg (Dom Kirk on his usual excellent form) to the final full cast finale song, it was a panto with the usual terrible gags, bonkers costumes, madcap antics and fantastical characters all bound together with a story thread made of silly string.
But, it was more than that. Ruth Ahmed has created a panto with a heart. This was a panto with warmth. Everyone, from the oldest to the youngest, smallest to the largest, was lovable.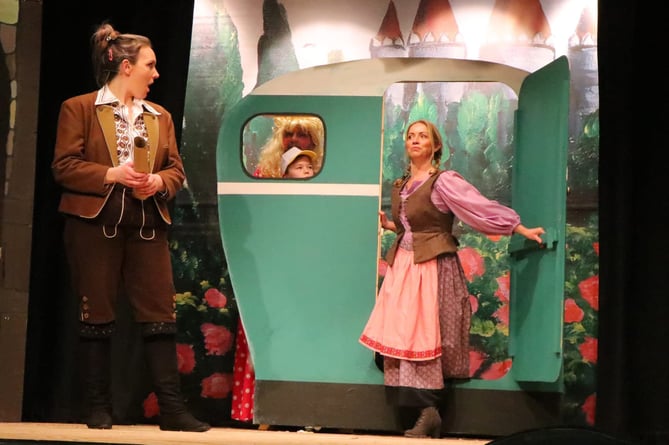 This was the first appearance on a stage for Mother Goose's heroine Freya (Sian Gray) and she was utterly charming
(CADS)
The 'goodies' first. The fairies Tatty and Batty (Margot Tringham and Maggie Stock) made only a few but most entertaining appearances, carrying their modified B&Q bag. Our heroine Freya (Sian Gray) was utterly charming. This was her first appearance on a stage and I sincerely hope to see her again.
Mia Bicknell gave us an enchanting Heidi Goose, a silent role she performed beautifully. The hero who won our heroine's love, Sven, was played with confidence and swagger by Beth Amero. They looked great together.
The 'baddies' – as well as Dom Kirk's lovable evil troll, we were treated to two quite extraordinary villains in Baron von Rumpensmakka (wonderful Chris Deacon) and Gonk, his crazy henchman, (Francis Farrell channelling a cross between Frank Spencer and Margot Fonteyn to a degree that had to be seen to be believed). These two were simply marvellous and I loved them both.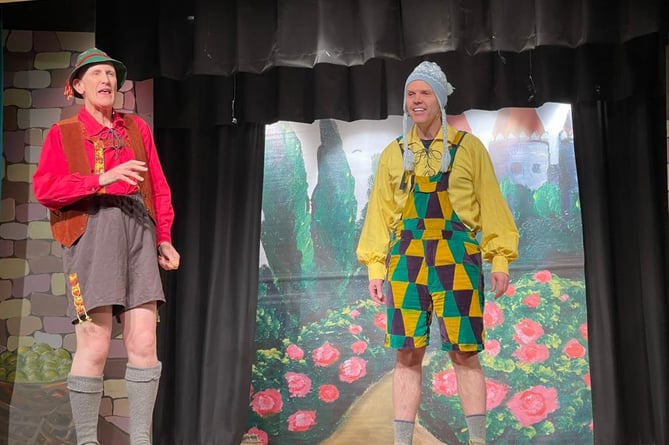 We were treated to two quite extraordinary villains in Baron von Rumpensmakka (wonderful Chris Deacon) and Gonk, his crazy henchman, (Francis Farrell)
(CADS)
We were treated to more villains – scary, hairy trolls of various sizes and a strangely similar, adorably evil gang of snowpeople, led with gusto by their Boss (Dylan Amero). The jolly troupe of trolls and snowpeople were Isabella Amero, Ella Couchman, David Forster, Cassian Gray, Bethany Nicholson, Chloe Peters and Bella Smith. Even the grumpy Portrait (Chris Angwin) was understandably grumpy, and very dashing in his cavalier's hat.
Crossing the line between good and evil, the Grand High Goose (April Showers combining strength and warmth) bestowed goosy wisdom in the final scene, bringing everything to a most satisfactory happy ending.
But what of the dame, I hear you cry! The most important character of all, what of her? In this Mother Goose, our dame was played by Buff Cooper in his first appearance in a CADS production. What a warm-hearted, gentle, funny, sympathetic dame he is. We all felt genuinely happy for Mother Goose when she believed she had been transformed into a ravishing beauty by Smorg's magical bog. An absolute highlight was watching Mother Goose and Baron von Rumpensmakka sing and dance to Rod Stewart's Do Ya Think I'm Sexy?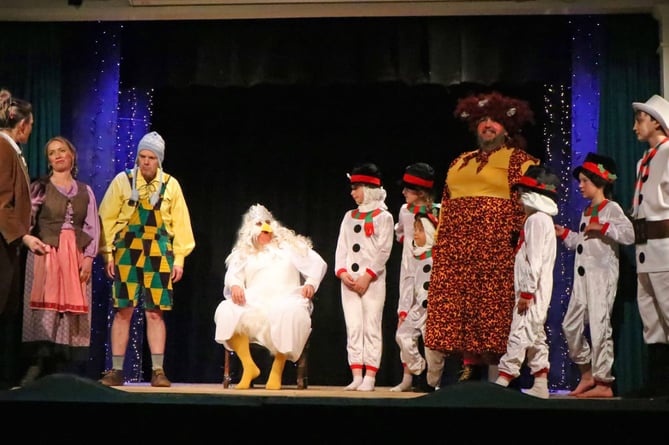 The cast of CADS' Mother Goose clearly had a ball
(CADS)
There were many wonderful treats for ear and eye in Mother Goose. It never fails to amaze me what CADS can do with a few bits of wood, some paint and the odd bit of fabric. True to form, Ruth Ahmed's creativity and clever use of colour, light and sound made something extraordinary out of thin air.
After joining in with the finale song, a rousing Reach for Stars, sung by a happy cast who had clearly had a ball, I walked out into the freezing January night full of warmth.
There is still time to catch a show – with performances at 7.30pm this Friday and Saturday, plus a 2.30pm show on Saturday. For tickets – £12.50 adults, £8 under-18s, over-65s, concessions and students, £6 Cubs and Beavers, £35 family of four – see www.ticketsource.co.uk/cads