More than 40kg of dog poo was collected as an intrepid charity walker trekked the 65-mile long Serpent Trail in the South Downs National Park.
Henry Rawlings collected hundreds of dog poos as he walked the beautiful heathland route that snakes its way through the National Park from Haslemere to Petersfield.
The four-day walk was in memory of his beloved Beagle-cross Alfie and has raised more than £3,000 that will now be split between two canine charities – Canine Arthritis and Vetlife.
The four-day walk was in memory of Henry's beloved Beagle-cross Alfie Rawlings
(Henry Rawlings )
Henry urged dog walkers to bag and bin dog poo because of the harm dog faeces can do to heaths.
Heathlands make up just one per cent of the National Park and are one of the rarest habitats in the world, providing a home for a clutch of precious animals such as sand lizards, smooth snakes, silver-studded blue butterflies and Dartford Warblers.
Looking back on his adventure, Henry, 46, from Storrington, West Sussex, said: "Alfie enjoyed several parts of the Serpent Trail, particularly Lords Piece and Ambersham Common, as it suited his mobility issues.
"I had planned to do the whole of it with him in 2020 over several weekends but Covid got in the way.
"When he passed away, I decided to do the trail in his memory and raise money for organisations that were close to both of us.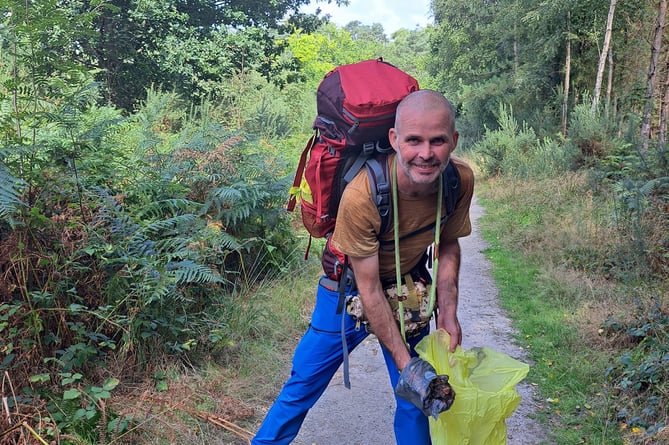 Henry Rawlings collected 40kg of dog poo on his charity South Downs trek
(Henry Rawlings / Heathlands Reunited )
"I couldn't help but notice the amount of dog poo that had been left, so I decided to tidy those areas up. I thought collecting the dog poo would make the fundraiser a bit more of a challenge, as well as help protect the habitat.
"I lost count of the number of poos I scooped up but I reckon it was well over 40kg in total.
"I think not picking up dog poo is disrespectful to other people and the countryside. Not only is there the hygiene element, there are also health risks for humans and creatures alike. It's not difficult to pick and bag, and even take home if there is no bin available."
And Henry added: "Aside from a shower on the Friday afternoon I got lucky with the weather.
"The main high point was meeting people on the trail, giving dog owners treats in Alfie's name and raising awareness of the two organisations."
Olivia French, engagement officer for Heathlands Reunited, which is working to conserve and enhance the habitat, explained why dog poo is so bad for heathlands.
"Heathlands are an incredibly specialist habitat that have developed over thousands of years and are rarer than the rainforest," she said.
"It's actually the nutrient-poor soil that has led to this incredible biodiversity because there's not one single plant species that can dominate the landscape.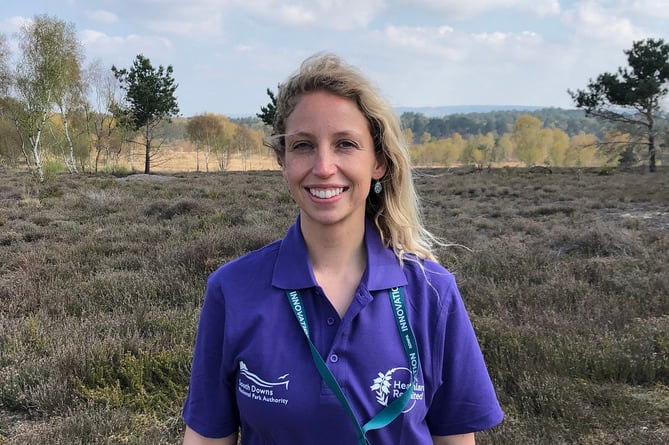 Olivia French, Heathlands Reunited engagement officer
(Heathlands Reunited / Henry Rawlings )
"Introducing an outside influence such as dog poo changes the nutrient profile of the soil and this can then have a harmful impact on this very fragile wildlife haven.
"When you have hundreds of these dog poos scattered across the landscape, you can imagine the cumulative damage this could cause over several years.
"Dog poo, in particular, contains bacteria that can be extremely harmful to grazing livestock such as belted galloways, which graze areas along the Serpent Trail to support conservation efforts.
"If there's no bin, the message is simple, bag it and take it home with you or dispose of it in the nearest public waste bin.
"As part of Heathlands Reunited, we want to help educate dog walkers that they can play their part in nature recovery by doing a very simple thing such as picking up dog poo."
To donate to Henry's fundraising, visit https://www.justgiving.com/crowdfunding/alfie-rawlings or for more information about Heathlands Reunited see www.southdowns.gov.uk/help-your-heaths/heathlands-reunited/