Was South West Surrey drilling decision 'payback' for MP Hunt's Boris vote?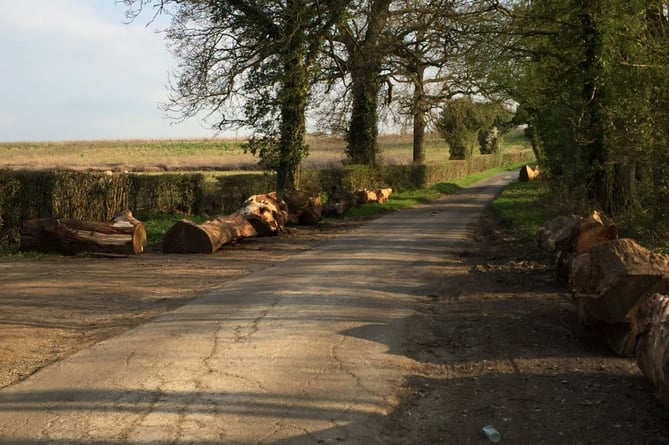 The Dunsfold drill site is in beautiful countryside, accessed by narrow lanes
(Weald Action Group )
Subscribe newsletter
Subscribe to our email and get updates right in your inbox.
Jeremy Hunt has written to cabinet minister Michael Gove to "protest in the strongest possible terms" against the Government's decision to approve gas drilling in the scenic South West Surrey countryside.
The appeal decision, announced by housing minister Stuart Andrew on Tuesday just a day after Mr Hunt voted to oust the Prime Minister in Monday's Tory confidence ballot, allows UK Oil & Gas to explore a site at Loxley near Dunsfold for three years.
The original planning application, for an exploratory well, was refused in December 2020 by a Surrey County Council planning committee. It cited concerns regarding highway safety and the impact on the landscape as reasons for refusal.
But applicant UK Oil and Gas (UKOG) has successfully appealed the decision, following a public inquiry which began on July 27, 2021.
Michael Gove, the Secretary of State for Levelling Up, Housing and Communities, recused himself from the verdict as his constituency is in nearby Surrey Heath.
South West Surrey MP Mr Hunt, together with Waverley Borough Council, environmental campaigners and local residents, have consistently expressed their opposition to the plans, which it is feared could have damaging repercussions for the environment, local businesses and residents.
In a letter to Mr Gove, Mr Hunt said: "I am writing to protest in the strongest of terms against your decision to grant the appeal that will allow drilling and exploration of fossil fuels in Dunsfold.
"As you know the proposals to carry out such activity have been decisively rejected by Surrey County Counciland the entire local community. Ignoring the strength of local opinion goes entirely against the government's commitment to the devolution of powers and strengthening local communities as well as out net zero commitments.
"It goes against your personal and long-standing commitment to localism and has caused enormous anger and disappointment across all political parties locally.
"In addition, with the government's commitment to reaching net zero, its recent welcome announcements regarding the move to nuclear and renewable energy, and the continued moratorium on fracking, I cannot see how this site has any role to play in our future energy supply needs.
"It will take years to ascertain if there is anything worth actually drilling commercially for by which point we will be well on our way to reducing our reliance on fossil fuels. In short it will create enormous disruption and environmental damage for little if any economic benefit.
"I therefore urge you to reconsider this decision and find time to meet with me to discuss how we can resolve this issue for the benefit of the local community."
Waverley Borough Council's executive also expressed "profound dismay" at the outcome of the planning appeal.
Councillor Steve Williams, Waverley's portfolio holder for environment and sustainability, said: "This is the worst possible outcome for the people of Waverley, and we are bitterly disappointed at the Secretary of State's decision. Without doubt, allowing this planning application will lead to irreversible harm to our environment and to local people.
"We are very concerned about the lack of a risk assessment relating to the release of extremely toxic hydrogen sulphide gas, the loss of ancient woodland, impacts on local businesses, protected species and other local wildlife and the detrimental impact on the landscape and adjacent area of outstanding natural beauty."
The council also has concerns that UKOG does not appear to have the funds to pay for reinstatement of the site so that if oil is not found in commercially viable quantities, the company can simply walk away, effectively transferring liability for clean-up and restoration costs to the local community.
Councillor Williams added: "The success of this appeal is deeply troubling for the people of Waverley. UKOG can effectively ruin part of the environment, decide that drilling won't make them any money and then dump the problem of clearing the mess up on the people of Waverley. This is simply not acceptable."
The timing of the decision has also raised eyebrows, with The Telegraph reporting a 'Government source' saying it was "a bit suspicious" that the decision came just a day after Mr Hunt opposed the Prime Minister at this week's confidence vote.
The Telegraph source added: "It's entirely possible that this is a coincidence, but I can see Gove enjoying approving this particular application after Jeremy tried so hard to get it rejected."
Sir Peter Telford, a former Lib Dem election candidate in Farnham, added on Twitter: "Timing is awful. Someone might mistakenly think @Jeremy_Hunt is being punished for encouraging MPs to vote against @BorisJohnson!"
UKOG welcomed the decision, saying that Surrey County Council had "twice refused planning consent, going against the advice of its planning officers, forcing UKOG to undertake a lengthy and costly appeal process".
The company has estimated that the site could hold 43 billion cubic metres of gas, and the drilling will allow it to determine the extent of the reserves.
Stephen Sanderson, UKOG's chief executive, said: "We welcome this decision and its backing for Loxley's gas as a secure, sustainable energy source with a far lower pre-combustion carbon footprint than imports. Backing UK domestic gas makes strategic, economic and environmental good sense.
"We look forward to moving the Loxley project forwards and to working constructively with the local community."
Comments
To leave a comment you need to create an account. |
All comments 0