A High Court legal battle over plans to drill for oil in the Waverley countryside could potentially mark the "beginning of the end" of fossil fuel production in the UK, a leading barrister has said.
Campaigners, including Extinction Rebellion activists, have travelled to the Royal Courts of Justice in London today (Thursday) to show solidarity with local community group Protect Dunsfold and Waverley Borough Council.
They are seeking to get the government decision to allow exploratory oil and gas drilling by UK Oil & Gas (UKOG) at Loxley, near Dunsfold in the countryside south of Godalming, overturned at a judicial review hearing.
Not only could the outcome of this legal fight have consequences for other areas of rural Surrey, Hampshire and Sussex within the so-called 'Weald Resource Area' (see map above) – but it could also set a precedent for future fossil fuel projects like Rosebank in the North Sea, and even call into question whether the government should have approved a new coal mine in Cumbria.
Leading barrister Sam Fowles, who specialises in planning and environment law at Cornerstone Barristers, has said the case could potentially mark the "beginning of the end" of fossil fuel production in the UK.
In 2020, Surrey County Council twice refused UKOG permission to drill, but the government reversed this in 2022, following a public inquiry.
In March this year Waverley and Protect Dunsfold, supported by the Good Law Project, sought and were given permission for a judicial review of this decision.
The judicial review was allowed on the basis of two legal arguments – the first relating to landscape impacts and the second, crucially, relating to greenhouse gas emissions and climate change.
Significantly, if the decision to allow drilling is overturned on the basis of the second argument, this could impact the outcome of future fossil fuel planning applications as it will confirm emissions taking place at the project site should be taken into account.
It is likely the judge will not make a decision on the outcome of the judicial review today – but that this will come some time after the hearing.
Sarah Godwin from Protect Dunsfold said: "This project must be stopped now. 
"UKOG's plans would have considerable negative impact on the natural environment around Dunsfold. There is also growing evidence that greenhouse gas emissions must be factored into planning decisions."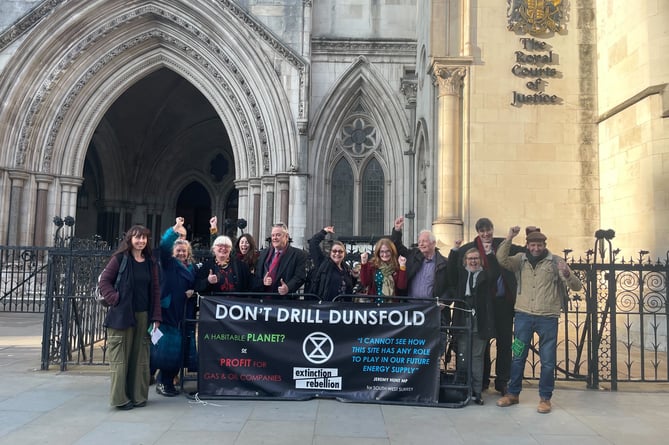 Protect Dunsfold campaigners celebrating outside the Royal Courts of Justice in March, after winning permission for their judicial review
(Good Law Project)
Steve Williams, Waverley's portfolio holder for environment and  sustainability, said: "Waverley Borough Council has consistently opposed the proposal of UKOG to drill for hydrocarbons in our borough as bad for the people of Dunsfold, bad for our natural environment and bad for the planet. 
"The outcome of this judicial review could have a potential impact on the future of onshore drilling for fossil fuels across the country.
"I would be absolutely delighted if our actions to date in opposing drilling for fossil fuels in Dunsfold puts a stop to new fossil fuel exploitation. 
"This would represent a significant step forward in terms of meaningful action on the climate crisis we now face."
Paul Follows, the leader of Waverley Borough Council, said: "Drilling for fossil fuels is completely at odds with our declared climate emergency and similar declarations made by the county council and the government.
"Our partnership with Protect Dunsfold, local parish councils and residents right across Waverley has been crucial to opposing this scheme. A successful judicial review could be important for future fossil-fuel extraction decisions not only locally but nationwide."
Local MP Jeremy Hunt also continues to oppose drilling for gas in Dunsfold. After the court decision to allow the judicial review in March he said: "Despite the latest judicial review, it is again disappointing that plans for this potential gas exploration have not been formally shelved.
"The idea of drilling on this beautiful area continues to be inappropriate – what's more, UKOG's data and mapping of the sub-surface is sparse, old and simply not detailed enough…."
Farnham resident Clive Teague, a retired engineer, who is 75, and will be attending the protest, said: "I want to be able to look my grandchildren in the eye and say I did all I could to stop runaway climate change. 
"This might be just one new gas drilling project, but it is one too many. Every fossil fuel project allowed to go ahead adds to the burden of greenhouse gas emissions in our atmosphere, pushing us ever closer to climate chaos".
In February, an independent report indicated UKOG's "Loxley gas discovery" could produce around 31 billion cubic feet of gas worth £123.7m.