After the Covid-enforced two-year layoff, last year's Farnham Carnival saluted The Queen's Platinum Jubilee with tremendous spirit and enthusiasm. So it was going to take something special to match this regal return to form – and Carnival 2023 certainly delivered in style.  
With the weather gods playing their part in ensuring a glorious day, this year's Farnham Carnival celebrated the growing national passion for reading with its theme of The Wonderful World of Books.
Carnival chairman Graham Noakes said: "Like last year, it has been an absolute joy to see the planning right through once again and see so many people around the town enjoying themselves, both as participants and spectators."
After the suitably stentorian tones of new town crier Michael Stevens brought everyone to order, Farnham town mayor Councillor Alan Earwaker opened the Gostrey Meadow Fayre at 2pm which was immediately on form in its typically vibrant self, with lots of food, drink and a variety of other stalls.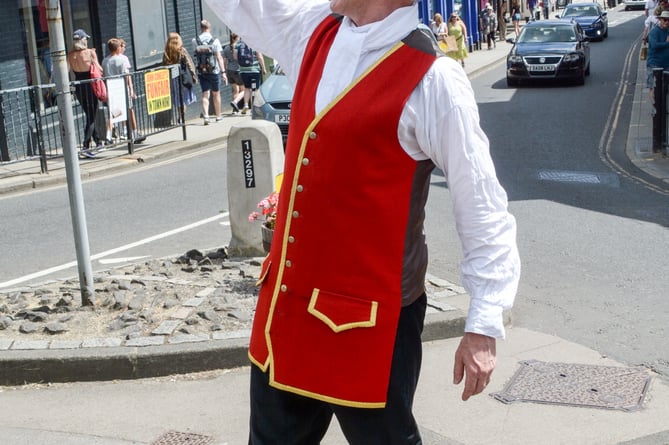 Now listen up! Farnham town crier declares the carnival parade is coming
(Farnham, Aldershot & Fleet Camera Club)
And with children's performers keeping the young families occupied throughout the afternoon, there was something for everyone. 
This year also included new activities adding yet more variety to the range of entertainment on offer. Underlining this year's literary theme, the youngest visitors were kept fully entertained with Bexy Belle, Lovely Lydia, Nanny Rose and Stellar Simone reading a range of children's favourites including We're going on a Bearhunt, The Giant Sandwich, The Detective Dog and The Owl that was Afraid of the Dark.
A wide range of craft stalls organised with Anytime Artisan reinforced Farnham's specialist craft town status. 
And though the dog show had to be cancelled because of the high temperatures, hosts Farnham Veterinary Hospital were present with a wide range of items to appeal to the town's many dog lovers.      
The usual high quality of musical entertainment too was on show, put together by Weyfest supremo Ritchie Elmer and made possible by the skills and expertise of Barry Coggar and his experienced back-stage team.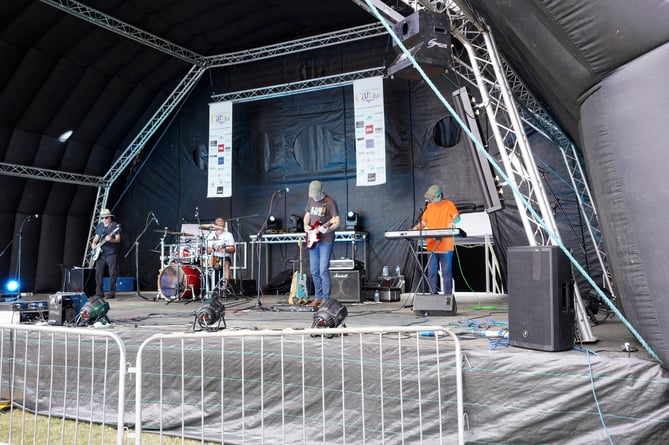 The Weyfest organisers brought a selection of local artists to the Farnham Carnival Fayre stage
(Farnham, Aldershot & Fleet Camera Club)
This year's line-up brought local bands new to Carnival, yet audience feedback made it clear the standard of performance was as good and exciting as any in recent years. 
The afternoon started with rock-cover band Off the Record, followed by Two Weeks in Nashville, True Deceivers and rock and soul band, The Sleeping Dogs. 
Tradition was not totally ignored, however, and the day's entertainment was brought to a rousing finish by local legend Brodie Mauluka and his band Brobed Stills with their heady mix of blues, rock, reggae and soul.
At 6pm, the centre of Farnham came alive with colour and noise, as the parade began its route around the town. 
Lacking nothing in spectacle, all the  participating schools, youth groups, clubs, bands and other entrants thrilled the crowds with the scale of their imagination, effort and enthusiasm in reflecting this year's theme.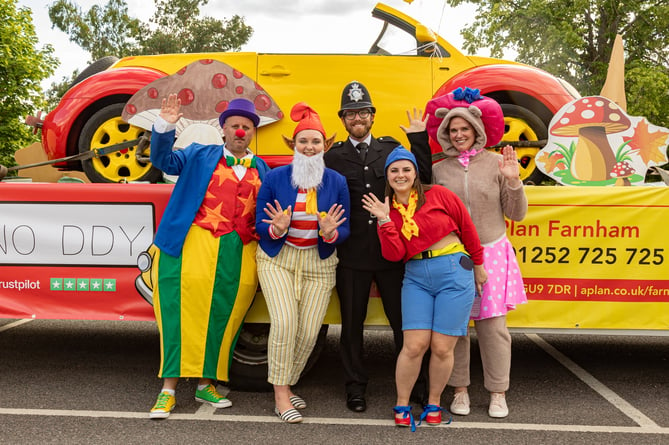 A-Plan Insurance brought the Noddy car to Farnham Carnival 2022
(Farnham, Aldershot & Fleet Camera Club)
"Wherever you looked, there were larger-than-life characters from Matilda, Alice in Wonderland, Noddy, The Hungry Caterpillar, Horrid Henry and all the animals from Dear Zoo, to name just a few," said parade chairman Chris Wilson. 
"And who can forget the visual impact of James and his Giant Peach! 
"Supporting all this, at the Upper Hart car park, we were grateful to Farnham Baptist Church for providing loos and refreshments for the participants free of charge – and to the entertainers who delighted everyone with their antics as the parade entrants got ready for the judges."
Once the parade was under way, spectators were their usual generous selves, filling buckets and tapping electronic devices, with all money collected to be shared by the charities, schools and youth groups taking part.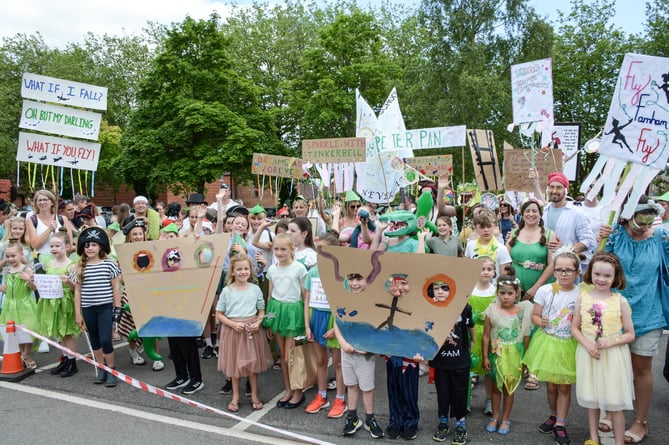 Potters Gate Primary School's Peter Pan-themed Farnham Carnival 2023 entry
(Farnham, Aldershot & Fleet Camera Club)
In opening the day's events, the mayor thanked Farnham Lions and The Hedgehogs in particular for all their efforts in putting on such a great show for everyone.
"Members of Lions and Hedgehogs give freely of their time over many months to make Carnival happen," adds Graham. "Just about all members of both clubs take part in Carnival and there is no doubt that all thoroughly enjoy it. So if it's something that appeals to you, they would love to encourage new members and welcome you to their clubs and share the load!"
Yet in some ways this is just the tip of the organisational iceberg. The Carnival Committee and fayre and parade working groups receive support in so many ways from local organisations and individuals, both on Carnival Day itself and throughout the previous months' planning, without which there would be no Carnival.
"ATC 229 Squadron provided invaluable help throughout the day in Gostrey Meadow, for example," Graham points out. "In the parade, too, essential support was provided by Ahmadiyya Youth Organisation, Farnham 41 Club, Bourne and Frensham Guides and Summit Scout Network to name just a few, as well as many other individuals to whom we are hugely grateful.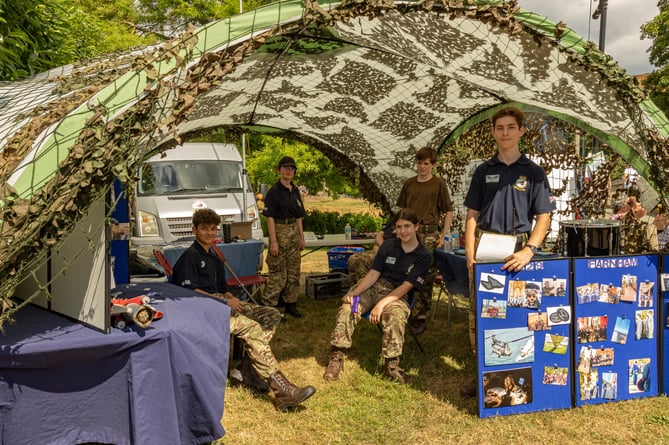 ATC 229 Squadron offered invaluable marshalling support at Farnham Carnival 2023
(Farnham, Aldershot & Fleet Camera Club)
"Equally, Surrey 4x4 Response did a magnificent job in manning road closures and ensuring the safety of the whole parade, effectively and unobtrusively.
"This complex logistical feat has to be underpinned by excellent communications planning and control, of course, and special thanks must go to Bob Gentry, our comms supremo, for keeping the show – in the case of the parade, literally! – on the road."   
In advance, essential financial and logistical assistance was provided by principal parade sponsor Greenlife Designs UK Ltd, who took part in the procession, and fayre sponsor Biffa whose provision of more than 50 of their iconic red bins helped the organisers ensure the parade route and then Gostrey Meadow were clear in just minutes – an amazing effort by organisers and visitors. 
Special mention too must go to gold sponsors Farnham Estates, Farnham Institute Charity and new sponsor Challenge Fencing. Silver sponsors included BakerLaw, Magimix Spares (BBS), Elphicks, Farnborough Airport, Farnham Chamber of Commerce, Farnham Town Council, Itchen Valley Transport Services, Squires Garden Centres, Surrey County Council, Tindle Newspapers, Weyfest and Wise & Co, joined this year for the first time by A-Plan Insurance, the Bush Hotel Farnham, First Stone Worktops and Moran Roofing Specialists.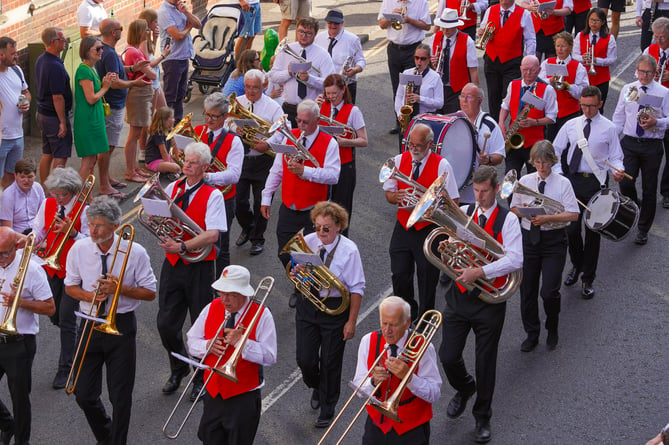 Farnham Brass Band take part in the Farnham Carnival 2023
(Farnham, Fleet & Aldershot Camera Club)
John Beer, fayre chairman and head of sponsorship, said: "Such support, both financially and in kind, is invaluable to us. Particular thanks here also for the support provided by the Farnham Town Council team throughout what at times has been an especially complex and challenging planning process, in the face of increasingly demanding regulatory pressures."  
Graham then added his thanks, "to The Lost Boy who once again generously offered to host the mayoral volunteer reception in the afternoon and to Jack & Alice Restaurant, who opened up their balcony especially before the restaurant's official opening to host the judges' viewing platform for the carnival parade.   
"And last, but certainly not least, all of this captured for posterity by David Fisher and stalwart fellow members of the Aldershot, Farnham and Fleet Camera Club." 
In bringing the evening's events to a close in Gostrey Meadow, he said: "The greatest appreciation, however, must go to the many thousands of you who have turned out to support both the fayre and parade again today. 
"We're already looking forward to another great Carnival in 2024, so get the date of June 29 firmly in your diaries now!"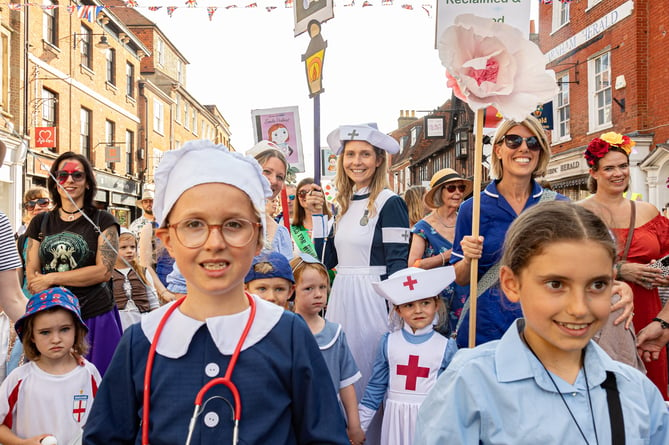 Wise & Co Trophy winners St Peter's CE Primary School at Farnham Carnival 2023
(Farnham, Aldershot & Fleet Camera Club)
Farnham Carnival 2023 parade results:       
Best in Show: St Andrew's School
Henry Liu Trophy: William Cobbett Primary School
Wise & Co Trophy: St Peters C of E Primary School
South Farnham School 
Farnham Swimming Club
Brightwells Gostrey
St Peter's Primary School
Potters Gate Primary School
Rowledge Primary School
Phyllis Tuckwell/Rock Choir
Potters Gate Primary School
Highfield South Farnham School
William Cobbett Primary School
Tootsies Private Day Nursery
The Rural Life Museum
A-Plan Insurance
Farnham Round Table
Stellar Gymnastics
Farnham Rugby Club
Aldershot & Farnham Hockey Club
Farnham Gymnastics Sailability