A tireless servant of the Farnham community and councillor is one of just 450 recipients of the British Empire Medal to be invited to King Charles III's Coronation Service in Westminster Abbey this Saturday.
Carole Cockburn, who has been a councillor for The Bourne since 1999 and is deputy leader of Waverley Borough Council's Conservative group, was recognised with the BEM in the 2021 Queen's Birthday Honours List for her services to Farnham.
Cllr Cockburn said: "Like most people, I thought the preliminary email was spam and nearly deleted it on the spot! When I realised that the invitation was genuine, I was beyond thrilled, although a little apprehensive about some of the warnings – a very early start and long queues!
"However, now that the huge official invitation and more portable entry ticket are safely here and the flat shoes and hat have been dusted off, I am really looking forward to being part of such a wonderful celebration."
Cllr Cockburn was first elected to represent The Bourne in 1999 after a long and varied career in education, and has fought tirelessly to ensure Farnham retains its unique character over the past two decades.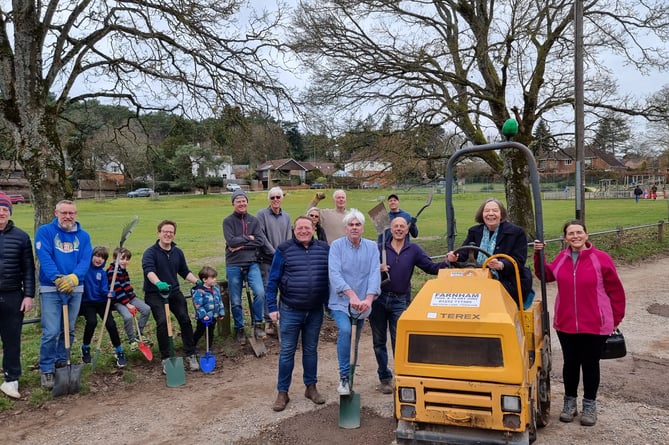 Councillor and Lower Bourne resident Carole Cockburn takes the wheel after neighbours in Dene Lane and Cricket Lane in Lower Bourne filled potholes with 17 tonnes of scalping material
(Ashley Jones)
She masterminded the Farnham Neighbourhood Plan and has twice served as mayor of Farnham, and once as mayor of Waverley.
Cllr Cockburn continued: "My love for Farnham remains undiminished and I shall continue to do what I can to help it thrive but my medal is shared with all the outstanding volunteers who have helped me over my years of service as a councillor. I was put forward for the BEM by members of the community and that makes it all the more special."
More than 450 British Empire Medal recipients have been invited to attend the Coronation Service in Westminster Abbey to recognise their contributions to their local communities, particularly during the Covid-19 pandemic.
The recipients are volunteers, charity representatives and community champions from across the UK who have made a sustained commitment in support of local charitable or voluntary activities.
The Coronation Service will take place on May 6 and will also include a special private viewing for 400 young people representing charitable organisations at St Margaret's Church, Westminster Abbey.
The guests will have the opportunity to watch the Coronation Procession departing Westminster Abbey at the end of the service.
Are you heading to London for the Coronation? We'd love to hear your accounts of the day and see your photos afterwards! Email us at [email protected]