Farnham couple live to tell the tale of 50 years
Monday 4th November 2019 10:00 am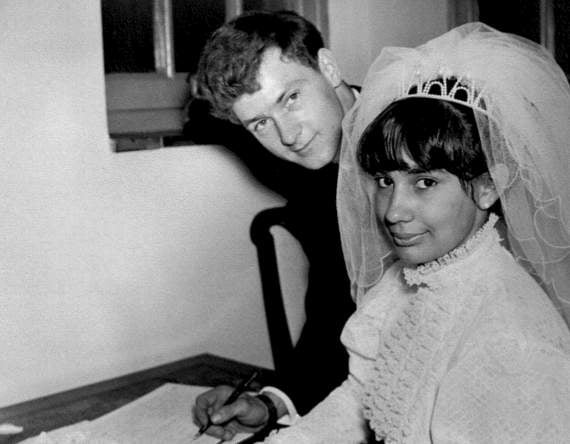 Derek and Aly, pictured on their wedding day
Subscribe newsletter
Subscribe to our email and get updates right in your inbox.
A COUPLE who celebrated their golden wedding anniversary this year have looked back at their challenging years of marriage – but no love has been lost between the two.
Aly and Derek Buckle married on August 9, 1969, at East Sheen Congregational Church, 11 months after a chance meeting outside church.
Speaking to the Herald, Aly said: "For Derek, it was love at first sight, and for me – love grew."
On their initial meeting, Aly was hesitant, adding she "didn't expect to see him again, and didn't really want too".
"I never remembered giving him my number and address, I thought my friend had.
"But years and years later, he produced this piece of paper in my writing, showing him that I'd given it too him."
Talking about the wedding day, Aly said: "The wedding was a nice day, we had to arrange the day ourselves because my grandparents were very elderly, and Derek's parents weren't involved.
"I had my two sisters, Derek's sister, a four year old pageboy and five year old bridesmaid, and I walked down the aisle very proudly on my grandfather's arm."
Aly wore a white, Victorian style gown, which she later wore again at her 50th anniversary celebrations, adding that it was something which "not many people can say they've done again".
Despite their successful wedding day, the day of their honeymoon was the turning point.
The couple were on their way to start their honeymoon in Weymouth, when their car was involved in a collision in Poxwell, with the pair choosing to "hitchhike to our second place of honeymoon destination".
In 1984, the couple were also victim to a burglary, after returning from a holiday.
Aly said: "We went on holiday, and when we came back we could tell before we entered our house that someone had been in it and we disturbed a burglar, and the whole house was ransacked.
"Our rings were stolen, Derek's wedding ring, his engagement ring and my engagement ring, so the only original left is my wedding ring."
The couple later replaced these missing rings, with two gold rings bearing their initials – and Derek's ring will be passed onto their youngest grandson who was born on his 70th birthday.
They have also faced other challenges while on holiday, including earthquake tremors in Afghanistan, and being "rescued in a snow plow" during a snow avalanche in Pakistan – both in 1998.
"Along the journey of 50 years, we have been in many occasions when we thought – are we going to survive this?," Aly said.
However, the most challenging of events was in 1994, when Derek, at the age of 46, had his first heart attack.
While he was successfully treated for it in 1996, he was victim to another spate of heart attacks, being taken to Royal Surrey County Hospital, which resulted in him having triple bypass surgery. Aly worked as a nurse and gave him the care needed to get back to work. He had a pacemaker fitted two years later.
"Since then, he's had three pacemakers and about seven stents, but at the end of the day, he is still ticking and is here to tell the story," Aly added.
On looking back on the years, the couple said they were surprised at what they had faced, adding: "It wasn't until we reflected, as you do, and we thought 'gosh, we've survived this, we've survived that, and we've done this and that!'"
Comments
To leave a comment you need to create an account. |
All comments 0