Farnham Infrastructure Programme team need to know residents' views
Wednesday 10th August 2022 4:00 pm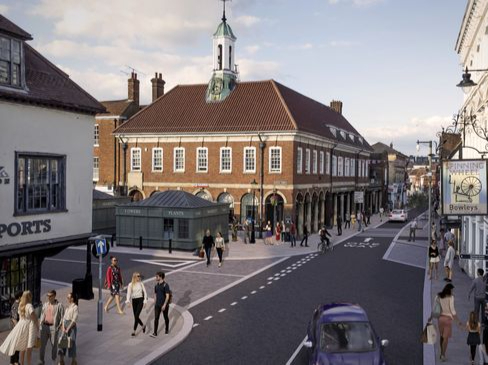 (Farnham Infrastructure Programme )
Subscribe newsletter
Subscribe to our email and get updates right in your inbox.
How we use the space between our listed buildings in the town centre is a critical question for the Farnham Infrastructure Programme – and the programme team needs to hear your views.
Your local knowledge and everyday experiences are very important.
Currently there are a couple of narrow areas of road and pavement, particularly on The Borough and on Downing Street. These are areas where the air quality is worse because of the narrow streets with high buildings on either side. They are also part of the A287 going south and north respectively.
Closing the A287 through the town would be a pre-requisite for full pedestrianisation. Based on where we are today, there are two ways that this could happen in the future:
Very significant shift in the road traffic coming to and through the town. This would then allow the traffic that would be displaced on to other routes to be safely absorbed. This would require not just a significant local modal shift with people leaving their cars at home and walking and cycling into or through town instead, but also a shift to public transport for local and through traffic.
Building of a western/Wrecclesham bypass with connectivity to the A31. The FIP team have reviewed the funding opportunities for both bypasses which would at least in part address the A287 displaced traffic and have concluded these could not attract funding unless they were necessary to support significant local development in terms of increased housing or business facilities.
Both the options currently being consulted on for the town centre could form a platform for full pedestrianisation in the future, so the question is which is a better option now and how it could be improved. What are your views?
The permanent narrowing of the roadway on Downing Street is included in both options and the second option also includes permanently narrowing of the roadway on The Borough. The question is how should this space be used?
The space isn't wide enough for a single carriageway, a segregated cycle path and standard width pavements on both sides of the road. So priority has been given to pedestrians, as all final access to shops and other facilities will always be on foot.
This results in no dedicated cycle paths but the pavements being widened all the way along Downing Street and The Borough.
Is this balance, right? It is important to consider a 20mph zone is being introduced across the town centre later this year.
We need the people of Farnham to engage in this consultation. Tell us how you use the town and contribute your local knowledge. Individual perspectives are critical to ensuring we find the solution that the majority will support.
Another critical challenge is getting people to use more public transport. What would encourage you to use the bus more?
By Cllr Catherine Powell – SCC councillor, Farnham North, Cllr Andy MacLeod – SCC councillor, Farnham Central, Cllr Michaela Martin – SCC councillor, Farnham South, Cllr Peter Clark – WBC councillor, deputy leader of WBC, Cllr David Beaman – FTC and WBC councillor, joint leader of FTC
Comments
To leave a comment you need to create an account. |
All comments 0