Farnham Repair Cafe (FRC) is back this Saturday, from 10am to 1pm, at The Spire Church on South Street, Farnham.
FRC is a free event that brings together skilled volunteers and people who have items in need of repair.
The event offers six repair stations for electrical, laptops, mechanicals, bikes, furniture and clothing. 
Visitors are encouraged to take along up to three products to be repaired. However, only one item will be examined per person at a time.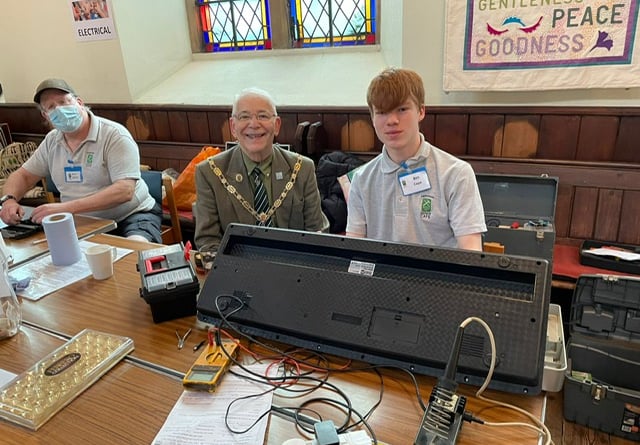 The mayor of Farnham at last month's Farnham Repair Cafe session with 15 year old volunteer repairer Ben Cope whose dream is to become an aeronautical engineer
(Farnham Repair Cafe)
The FRC volunteers aim to help fix products where possible, but the event does not accept petrol-driven products, industrial devices, three-phase power tools, mobile phones or alteration of clothing.
In addition, if you have an item that is larger than hand luggage or unusual, email Ros to enable FRC to assess the feasibility of repair.
Farnham Repair Café is a UK registered charity, number 1172613.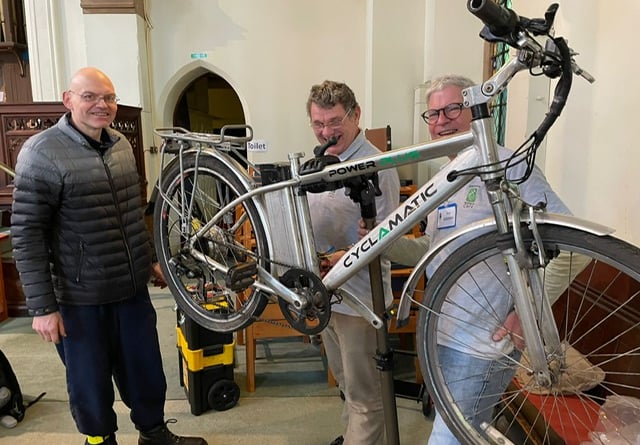 The Farnham Repair Cafe volunteers recently fixed their first electric bike
(Farnham Repair Cafe)
Pre-registration is not required, but if anyone wants to beat the queue, they should pre-complete two forms that can be downloaded on the FRC website and take them along. 
FRC does not accept products for re-use. Details of re-use schemes in Farnham can be found on the website's Frequently asked questions page.