During Heritage Open Days (HODS), the Farnham Theatre Association (FTA) is celebrating the history of Farnham's first professional theatre, The Castle Theatre.
68 Castle Street (now Zizzi's) was originally built as a barn in the 16th century and over time had many uses, but first became a theatre in 1939.
As The Castle Theatre developed, it became nationally-renowned for the quality of its productions, a few even reaching the West End in the 1960s. 
Because of its very limited size – only 162 seats – a new larger venue was sought and eventually the Redgrave Theatre was built at Brightwells.
As a repertory theatre, The Castle served as a valuable training ground for young actors who went on to become household names in their day. 
Some actors who worked at The Castle can still be seen on our TV screens today, for example Jenny Agutter in Call the Midwife, Robert Fyfe in The Last of the Summer Wine and John Nettleton in Yes, Minister.
One may wonder why the borough no longer contains a theatre in the way it once did. It was recently announced in the local press that the borough of Waverley was the most prosperous area to live, a fact revealed in the 2021 Census. 
Surely, with an increasing population, a theatre would be supported now? FTA intends to keep this ambition firmly in minds.
FTA has published a Castle Theatre leaflet which will be freely available at Zizzi's during the HODS week (September 8 to 17).
Chairman, Farnham Theatre Association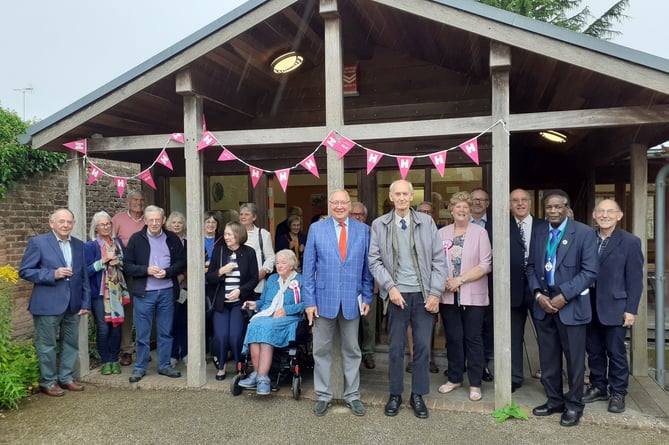 Heritage Open Days 2023 is launched at the Museum of Farnham's Garden Gallery
(Farnham Society)
Guests gathered at the Museum of Farnham's Garden Gallery last week for the launch of this year's Heritage Open Days programme.
Heritage Open Days has become a serious affair in Farnham in recent years under the stewardship of the Farnham Society, and there is a packed programme of openings and events to look forward to from September 8 to 17.
Incredibly, tickets for the Herald's own tours of the Old Court House in Union Road sold out within the first hour of going on sale last Friday.
But there is plenty more to see and do next week.