WELL-WISHERS who bought tickets for a charity concert in Petersfield are helping wounded soldiers in Ukraine as organisers have made a life-saving purchase.
Money generated from the Ukrainian Two Colours Choir concert which Hugh Bonneville fronted in March allowed the group to buy a field ambulance.
Rodney Clark believes supporters should be proud of their efforts as he's provided support to choir founders Olena Petrovska and Olena Ivanchuk.
The pair worked with the Ukrainian Christian Partnership (UCP) and Ukrainian community organisation, Reduit, to purchase the armoured evacuation vehicle. There was also money left over to buy a portable lung resuscitator thanks to their astute partnership.
He said: "Buying a field ambulance is not like dropping in at your local garage," said Mr Clark.
"Reduit organised an inspection of the vehicle, ensured the bonafide nature of the seller and undertook secondary checks."
The armour-plated vehicle, which was driven to the frontline by Maksimu and Oleksandr Shpaku, can cope with the most difficult terrain and can accommodate up to eight lightly injured troops or two on stretchers.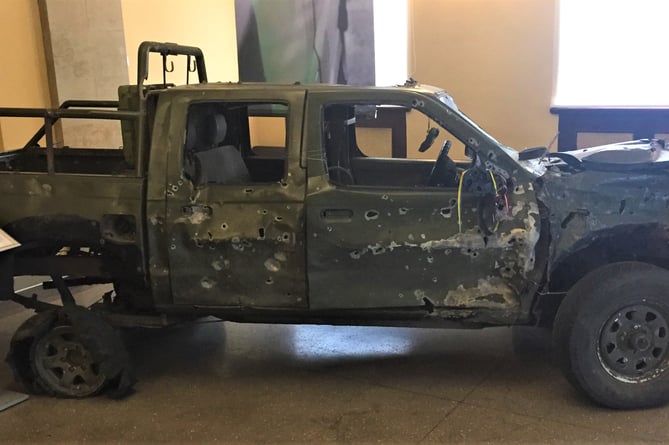 The field ambulance will replace this battered Orlik vehicle which has seen duty near Bakhmut and other war-torn parts of The Donbas.
(Petersfield Post / Rodney Clark)
The ambulance will replace a vehicle like the battered 'Orlik' (above) which saw extensive service around the Donbas. The vehicle, which has been donated to a Latvian museum, evacuated the wounded and supplied food and water to troops involved in skirmishes near Izium and Bakhmut.
Mr Clarke added: "The new field ambulance is a huge improvement on what Orlik offered.
"Post readers and concert-goers can rightly feel pride in what they achieved, and there will be many wounded troops more than grateful to have proper medical transport back to a field hospital."