FEBRUARY 21 was the day everything changed.
Tetiana Malieieva was at home in her Kyiv apartment when the first bombs fell on the Ukrainian capital.
Within a week she and her son began a journey that would take them from a threatened country to the tranquil safety of a farm in Hawkley.
Now, nearly 18 months after leaving home, she wants to thank the people of her adopted village for providing the safe haven she and her 12-year-old son desperately needed.
"In Hawkley there are a lot of kind and open-minded people who came to us and constantly asked if everything was fine and how they could help," said Tetiana about her early days in the village.
"We went to church two or three times and we got involved in village life. It was so different to Kyiv."
Tetiana is an optimist and thought 'maybe everything will be fine' when the invasion began. But then the bombs started falling and word of Russian atrocities started spreading, especially as her sister lived close to the now-infamous town of Bucha.
The three of them, along with her sister's son, left for the border city of Uzhhorod on February 26 but their four-week stay was terrible with 11 people living in the same flat.
A two-month residency in Spain followed before a pal in England told them about the Homes for Ukrainians project.
They were sponsored by a family at Uplands Farm and remained for a year before moving to a rental property in Petersfield.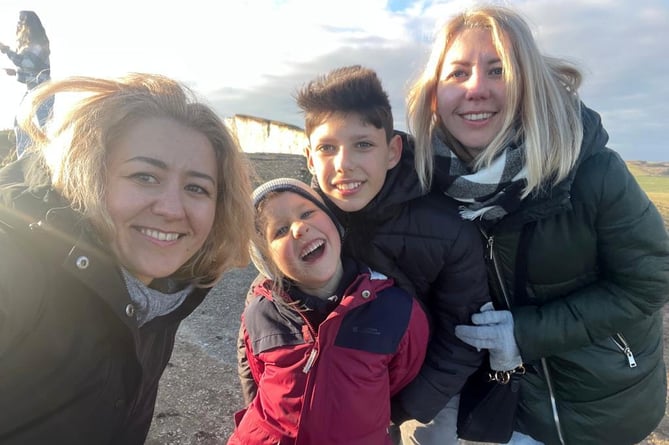 All smiles on the coast
(Tetiana Malieieva)
Although it's been a bit of a cultural shock – her son struggled with cricket, buses to Hawkley are non-existent and the trains here 'aren't good' –the refugees have settled well and speak good English. 
Her son is a happy student at The Petersfield School and Tetiana's previous employers have included the NHS.
She said: "The main reasons for leaving Spain were the language and expense in renting. 
"I studied English along with my son and sister so it was difficult trying to explain to people in Spain what we needed. They were nice but there was a language problem.
"We found sponsors in Hawkley at Uplands Farm and it was so different. It was so nice and so peaceful.
"The people were so kind and supported us. When we arrived in Hawkley everything was new and they really helped us to settle in.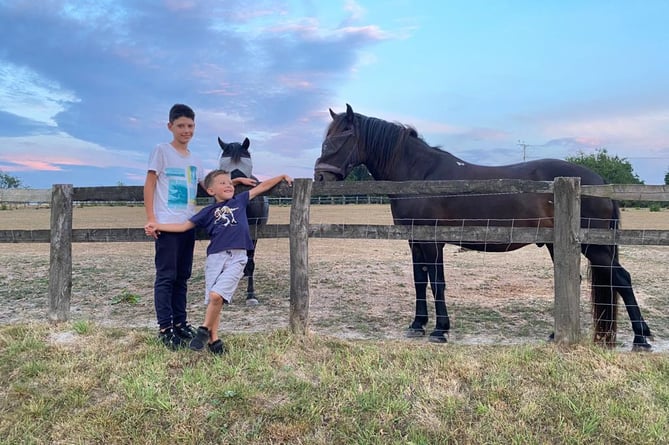 The children have enjoyed the peace of Hawkley
(Tetiana Malieieva)
"One thing I really like about living here is all the nature and people try to preserve it and take care of it."
The quartet were hopeful of returning to Ukraine permanently a couple of months ago as the conflict seemed to be quietening but increased bombing around Odesa and the destruction of the Kakhovka dam changed things. 
They're praying for the conflict to end, especially as Tetiana's husband stayed behind to continue his IT work, but even the most optimistic 'Mama'  can't see a ceasefire happening soon.
She said: "When we got here we decided we would stay for a year in the UK but then there was this terrible disaster in Kherson and it influenced our decision to stay longer.
"I think if people want the war to finish then it could finish, but I think there are many reasons why people want to keep it going."
The good news, if you can call it that, is they are definitely not alone in East Hampshire and have made plenty of friendships as there are many Ukrainians living in the district. They weren't even the only Ukrainians in Hawkley as more of their countrymen and women were staying with a host family up the road.
Tetiana added: "It's really nice when you meet with someone and talk in your own language, especially when you've been adopted into another culture.
"I really want to go back but I don't know when that will be, and I'm especially sad for the children because they're missing their dads. But here, there is no threat, and because of that we will stay."