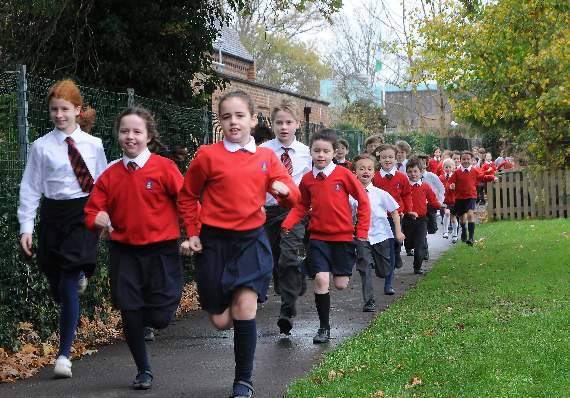 St Polycarp's pupils on their running challenge
Subscribe newsletter
Subscribe to our email and get updates right in your inbox.
AS obesity among primary school children throughout the South East continues to rise, schools across Farnham including St Polycarp's and St Peter's primary, paint a somewhat different picture.
According to latest statistics a third of year six children (33.2 per cent) are overweight or obese in England. Obese children are more likely to be obese as adults, which in turn increases their risk of a heart attack or stroke.
As part of the Government's Childhood Obesity Strategy, to help improve children's health, the British Heart Foundation (BHF) has called for a ban on all junk food TV adverts advertising before 9pm.
One of the most popular programmes for children is the X Factor with up to 1.2 million children aged four to 15 watching.
During one episode last year, 13 junk food adverts were shown, promoting unhealthy snacks such as crisps, chocolate bars and pizzas.
St. Peter's CoE Primary School, in Farnham, highlighted that while it is parents who decide what their child consumes, schools can play a part in encouraging children to make healthy lifestyle choices.
Deputy headteacher Sarah Marshall said: "We are naturally aware of the national concerns about children's health with regard to obesity. Aside from the PE and PSHE curriculum, there are other ways in which schools can encourage all round health.
"At St Peter's there are many sports and activity clubs on offer. We are going to be introducing a regular morning running slot for all children which will be open to adults as it is important for children to have good role models."
St Peter's also includes Forest School in the curriculum which gives children the opportunity to engage and learn to take risks.
And last year the school introduced cookery linked to the wider curriculum, which teaches children essential skills, so that they learn to prepare basic meals from scratch.
Sarah added: "We participate in Living Streets – an initiative which encourages children to walk or cycle to school. If children enjoy these health-focused activities in school, we hope that they will be more likely to make sensible choices regarding diet and exercise when they are older."
Analysis by the BHF shows that weak regulations are creating loopholes that mean that food companies can advertise junk food – high in fat, saturated fat, sugar and salt – during programmes watched by children throughout the region. Current regulations mean that foods of this nature are banned from being advertised during children's programming.
But the latest Ofcom figures show that two-thirds (65 per cent) of children watch TV during what is considered adult airtime. Peak viewing for children is between 7pm and 8pm when up to 1.8 million children are glued to their TV screens.
The chairman of Farnham Sports Council, David Gill, believes that there is plenty of evidence to suggest that obesity is a symptom of the current times and is undisputedly on the rise everywhere.
He said: "As identified by the BHF, and other public agencies, those of a young age are particularly vulnerable to today's temptations, whether it be technological or dietary.
"Unquestionably, though children in Farnham exercise more than the national average, children everywhere have less exposure to the natural outdoors and spend far less time exercising than the previous generation.
"Of course, not everyone chooses sport as a lifestyle choice or as a leisure activity and, though the evidence locally suggests that organised club sport is showing a gradual decline in adult sports participation, children's sport in a club setting is holding up relatively well in Farnham."
Mr Gill highlighted that the challenge for today's society is how to break the inactive momentum stemming from more sedentary lifestyles.
Health and public agencies, aiming to work in partnership with schools and local communities, are producing health and physical activity strategies to manage the problem of the obesity crisis and being overweight.
Mr Gill added: "If you live in the Farnham area, you're luckier than most. We have fantastic community sports clubs, a superb community leisure centre and great health clubs in the town, not forgetting the easy access to some amazing countryside."
The BHF says current regulations are "failing" families in the South East because they are allowing junk food companies to target children with advertising that would be banned during children's programming.
The 'daily mile' scheme which started at one school in Scotland to tackle obesity, has now been rolled out at St Polycarp's Catholic Primary School, in Farnham, to encourage children to be fit and healthy. Its main aim being to get children to run or walk a mile every day.
Headteacher Ann Gunn said: "All children are encouraged to live a healthy life-style. We are aware that some children today have a more sedentary life-style and we try to counteract this with two hours of PE lessons in schools, running each day and a range of sporting and physical activities that children can access.
"The vast majority of our children do additional sports as we run clubs before and after school as well as at lunch time. Our children continue to enjoy their running and my staff are sharing our experience with other schools."
Comments
To leave a comment you need to create an account. |
All comments 0