Hampshire dad shares emotional story of seriously ill daughter ahead of Father's Day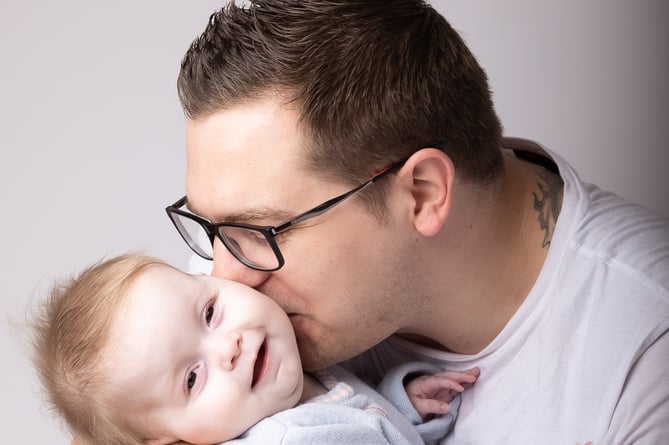 (JESSICA SHARP PHOTOGRAPHY )
Subscribe newsletter
Subscribe to our email and get updates right in your inbox.
A dad of two from Hartley Wintney in Hampshire, whose sixteen-month-old daughter has been diagnosed with a terminal illness, is sharing his experiences of Rainbow Trust Children's Charity this Father's Day which provides vital support to his family.
Steve Wright is sharing his story to help raise awareness and funds for the charity, which supports families with a seriously ill child.
Steve and his wife Beth have received support from Rainbow Trust since August 2021 after their daughter Olivia was diagnosed with a rare genetic condition known as ALG6-CDG when she was just 12 weeks old. Doctors told Steve and Beth the devastating news that Olivia's estimated life expectancy is just two years old.
Steve said: "We first knew something was wrong when Olivia lost interest in her feeds when she was five weeks old. When she started to lose weight, she was admitted to Frimley Park Hospital before being rushed to Southampton General where she remained for almost four months undergoing a series of tests. Eventually they diagnosed Olivia with a very rare genetic congenital condition that affects her whole body.
"The diagnosis has been incredibly hard for us to accept - doctors have estimated she might only live until she is two years old, which is only eight months away. But you see her now and most of the time she is a very happy, playful baby."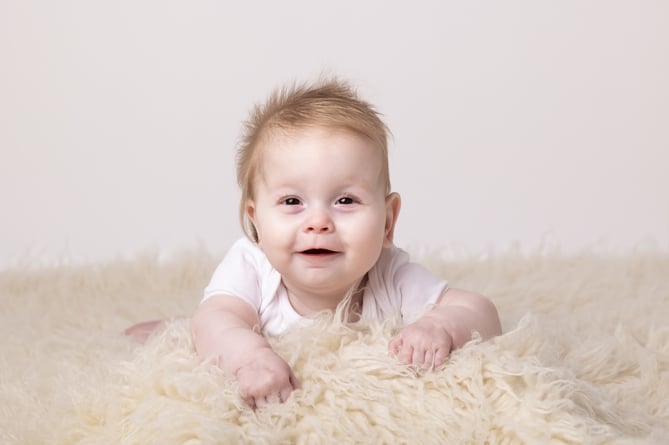 Olivia
(JESSICA SHARP PHOTOGRAPHY ) (JESSICA SHARP PHOTOGRAPHY)
Rainbow Trust started supporting Steve and his family after they were referred to the charity by staff at Southampton General. Since July their Rainbow Trust family support worker, Nicki Phelan, has provided vital emotional and practical support to the family in any way she can, to ease some of the pressures on them of having a seriously ill child.
Steve said: "If we didn't have Nicki's support things would be a lot harder. Everyone has full time jobs so they aren't able to help out as much. But Nicki can spend time with us and she understands what we are going through.
"Nicki's visits make a huge difference to us. It's easy to take adult interaction for granted, but when I am at work Beth is often at home with just Olivia for company. When Nicki is there, she listens and provides emotional support to Beth. She looks after Olivia or lets her nap on her, so that Beth can shower or do tasks around the house, knowing that Olivia is safe.
"Nicki also helps with our many appointments by driving us to the hospital, which can be stressful. It would be very difficult for me to hold down my job if I had to constantly be at home to take Beth and Olivia to all her appointments they have. It takes a huge weight off my mind when we have a 'Nicki day' as I know Beth has the support she needs whilst I'm at work. It's also nice to know that I have Nicki to talk to if I need to – I have found that emotional support for dads like me is rare to find, so Nicki's understanding and compassion is a very valuable resource."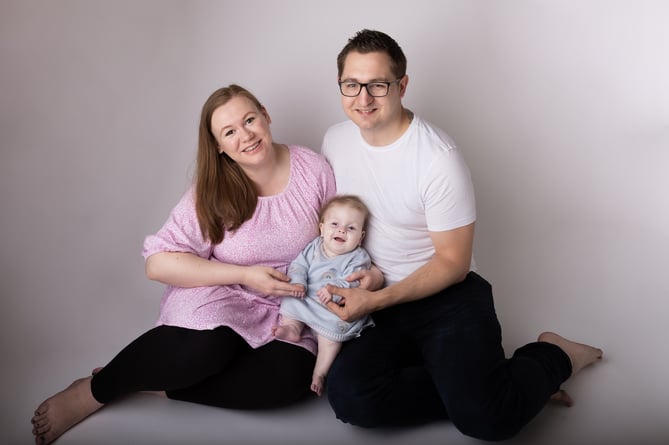 Beth, Steve and Oliva
(JESSICA SHARP PHOTOGRAPHY ) (JESSICA SHARP PHOTOGRAPHY)
Steve continues: "Beth and I both suffer from a mental health point of view, simply due to the strain it puts on us caring for Olivia and her bleak prognosis. Everyday life is a very strict and complicated medical routine and we are limited to how far we can travel comfortably and when we need to be home. Although Nicki can't help with the medical care, she really supports us by taking so much stress out of the day and offering us an extra set of hands for a few hours."
The family welcomed their new baby, George, to the family in May and are enjoying adjusting to life as a family of four. The new baby has been a very happy addition to their home, despite the continued challenges of caring for a seriously ill child whilst also looking after a newborn.
Steve is calling on members of the public to support Rainbow Trust this Father's Day to help the charity continue to provide a lifeline to other families like his.
Steve said: "I would urge anyone who is looking to donate to charity to remember Rainbow Trust. It is such a great support to my family during these immensely tough times and Nicki will continue to support us for as long as we need her help."
Oonagh Goodman, director of Fundraising at Rainbow Trust Children's Charity, said: "I am so grateful to Steve for bravely allowing us to share his experiences this Father's Day. It costs Rainbow Trust just £26 to deliver one hour of specialist support to a family in desperate need. If you are able, please consider donating to help us support families who have a child with a life-threatening illness to provide expert practical and emotional support, where they need it, for as long as it is needed."
Rainbow Trust supports families who have a child with a life-threatening or terminal illness. When a child has a serious illness, family life is turned upside down and time becomes more precious than ever. Rainbow Trust pairs each family with an expert Family Support Worker who enables them to make the most of time together, giving them practical and emotional support, whenever they need it, for as long as is needed. The COVID-19 pandemic piled further unimaginable pressure onto these parents and children, and the charity's Family Support Workers continue to provide a lifeline to them.
To make a donation to Rainbow Trust visit rainbowtrust.org.uk/donate or text RAINBOW followed by your donation amount to 70490 to give that amount. Texts will cost the donation amount plus one standard network rate message.
Comments
To leave a comment you need to create an account. |
All comments 0