As part of Haslemere Community Hospital's 100th birthday celebrations an afternoon tea party with entertainment was arranged for current and retired staff on Saturday, July 15. 
Eighty retired members of staff sheltered from the terrible weather in the Hunter Centre on the hospital site for the event.
Fifteen children from Surrey Theatre Academy, aged from six to 13 years old opened the event with a truly heart-warming performance of Both Sides Now by Joni Mitchell. 
The children are learning Makaton (British Sign Language) and they signed the words to the delight of all those in attendance - many of whom were brought to tears by the performance.  
The Simpson Duo then took over the entertainment, their performance - and outfits! - a love letter to the 1950s and 60s. 
The centenary event was organised by current staff and volunteers to celebrate this very special birthday. Everyone in attendance remarked on how lovely it was to spend an afternoon meeting old friends and colleagues.
Dennis Parry, the hospital's former clinical manager, said: "The first Guildford Knee replacement was performed at Haslemere Hospital by Mr Peter Stiles. There has been a Minor Injuries department at Haslemere since 1973. This service has gone from strength to strength with the development of Emergency Nurse Practitioners and greatly appreciated by the community."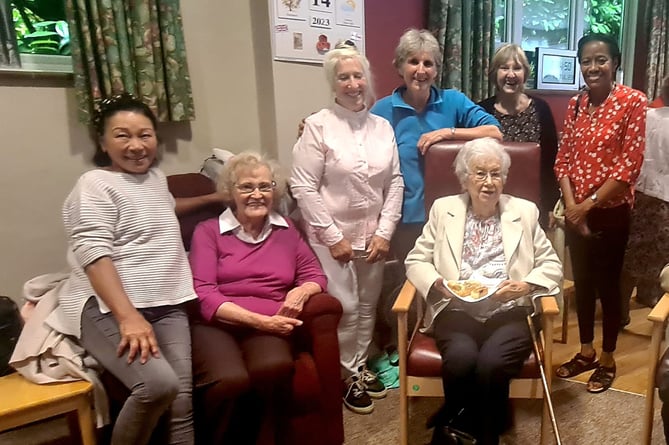 From left to right: Sister Liza Hill, Sister Jean Young (sitting), Sister Rose Parry, Sister Ruth Jansoen, Sister Mavis Welland (sitting), Sister Maureen Keenan and Sister Laniora Lay.
(Haslemere Community Hospital)
Emily Bellerby, niece of a retired member of staff made a centenary banner which will be laminated and displayed in the Outpatients department. A silent auction raised £500 for the League of Friends to spend on the garden which provides a haven to patients. Mavis Welland, a retired nursing sister now aged 88-years-old who trained at Haslemere Hospital, did the honours of cutting the birthday cake.