Haslemere dementia pioneer who co-founded the Alzheimer's Society dies aged 96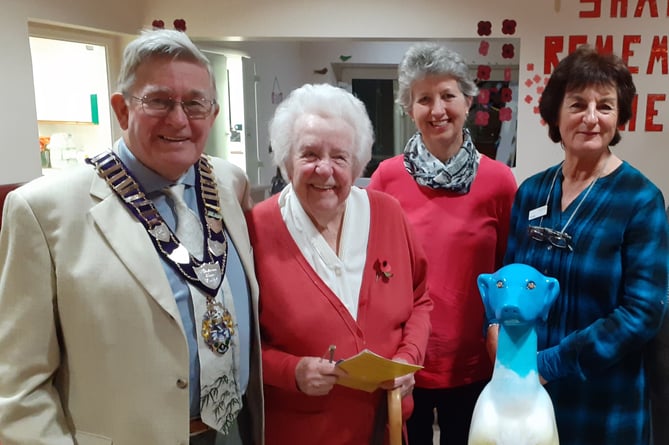 Left to right: Former Haslemere mayor Cllr John Robini with Dr Hunter, Anne Downing, the chairman of The Hunter Centre, and Margaret Barlow, a trustee of the centre
(The Hunter Centre )
Subscribe newsletter
Subscribe to our email and get updates right in your inbox.
DR ANNE Hunter, co-founder and honorary vice-chairman of the Alzheimer's Society, died on Thursday, March 3, aged 96.
As an associate specialist in neurology at the Royal Surrey County Hospital in Guildford and Holy Cross Hospital in Haslemere, Dr Hunter developed a specialist interest in dementia and was a founder member of the National Alzheimer's Society.
She trained at the Royal Free Hospital, at a time when the Royal Free accepted only female medical students. This changed in 1948.
In the late-1970s Dr Hunter oversaw all patients at Holy Cross Hospital, which included a moderate number suffering from dementia.
At that time 'dementia' was treated under one label – although some awareness was beginning to emerge concerning specific symptoms, something in which Dr Hunter was particularly interested in investigating more deeply.
Encouraged by two wives struggling with care of their husbands, one of whom was a patient at Holy Cross, they persuaded Dr Hunter to consider creating a society to reach out to families offering advice, special needs and support, as many hundreds of people were beginning to emerge as the result of their letters to the press.
After much thought, Dr Hunter agreed and with her late husband Brian's help on the legal side, in 1979 the Alzheimer's Disease Society was formally created.
In the mid-1990s Dr Hunter, being a Haslemere resident, was approached by the two 'nurse visitors' to the elderly who worked out of Haslemere Health Centre to discuss the plight of dementia patients locally.
The nurses recognised there was a significant shortfall in services to support a large cohort of dementia patients and their carers.
A steering committee was established, drawing representatives from the local authority, churches, town council and community health.
After initial discussions it was resolved a pilot scheme be set up under the auspices of Alzheimer's Disease Society, resulting in the forming of the Haslemere branch in November 1993.
Rose Parry, matron at Haslemere Hospital, was approached to see if there was any area on the hospital site which would be suitable to facilitate a day care centre.
The Marjorie Gray Hall, which was originally built by the Haslemere Hospital League of Friends as a recreational hall for staff, was identified as a possibility.
With the support of the League of Friends and the chief executive of the community trust, an embryonic day centre was formed and opened.
An enclosed shared garden was also made accessible for users.
Within a short period of time the centre needed to be open five days a week, plus provide other support such as outreach and education.
The aim was to improve the quality of life of carers by providing respite and for those with the diagnosis, the ability to live in the community longer
It soon became apparent the building would need to be modernised.
With a lot of hard work and determination, Anne Hunter and the management team fundraised locally to cover the costs.
The newly-refurbished day centre was officially opened by Princess Alexandra on November 15, 2000.
The day centre is still operating today as The Hunter Centre, named in honour of Dr Anne Hunter and her late husband Brian, who, along with others, worked so tirelessly to ensure those living with dementia had the support they needed.
Elaine Clement, operations manager at The Hunter Centre, said: "Dr Hunter was a well-known and well-loved figure in Haslemere and will be sadly missed by so many. We are proud to be carrying on her legacy.
"Anne Hunter was always willing to share her knowledge, empathy and networks to support clients and carers' and was always most generous in her thanks to anyone who did anything to help the day centre."
Kate Lee, chief executive of the Alzheimer's Society, added: "We are deeply saddened to hear of the death of our vice-president, Dr Anne Hunter OBE. Dr Hunter was a valued and long-standing supporter and founder member of the charity.
"She was a key member of the steering committee that established the UK's largest dementia charity, Alzheimer's Society, in 1979, along with her late husband Brian.
"As an assistant neurologist, Dr Anne's passion to support people living with dementia in her local area saw the opening of The Hunter Centre in Haslemere in 2005, named after her and Brian.
"Dr Anne was a founder member of the Haslemere branch for Alzheimer's Society, and even in her retirement remained a steadfast and loyal support of the charity."
Although Anne and Brian did not have children themselves, the children of Brian's brother and their families and the son of Anne's brother were and continued to be significant people in Anne's life.
A thanksgiving service will be held on Tuesday, April 12 at midday in St Bartholomew's Church, Haslemere.
Comments
To leave a comment you need to create an account. |
All comments 0