An "overwhelmed" and "inundated" NHS needs to "move ahead with the times", according to one medic aiming to keep people away from busy A&E departments in Haslemere.
Longer opening hours at the minor injuries unit (MIU) at Haslemere Hospital mean issues can be seen to earlier and quicker, which the clinical lead says patients are "over the moon" about.
Charlotte Morley took over at the site just under a year ago, when people used to queue up outside the door to be let in at 9am.
She says opening from 8am has gone down "really well" and with the unit open seven days a week throughout February, she hopes her team can keep more people away from A&E.
Where Monday is ordinarily a busy day in A&E departments — Mrs Morley thinks people assume the weekends will be busiest, but they aren't — surveys at the MIU showed people were turning up with injuries on a Monday that had happened on the previous Thursday, Friday and Saturday.
With A&Es under even more pressure through the winter, Mrs Morley said: "It was clear there was going to be a huge benefit to opening at weekends, which we've done since the beginning of November."
The lead emergency clinical practitioner said it was "sobering" to see 57 per cent of those surveyed at the unit said they would have gone to A&E if not to Haslemere.
A January board meeting of the Royal Surrey Trust, which runs the unit as well as Guildford's Royal Surrey County Hospital, heard Haslemere had also provided support during the critical incident declared across Surrey in the same month, with patients being redirected there.
Board papers said: "The unit has been providing a very high level of care and service. We have a number of new colleagues in the team and they have really pulled together to make some impressive advances."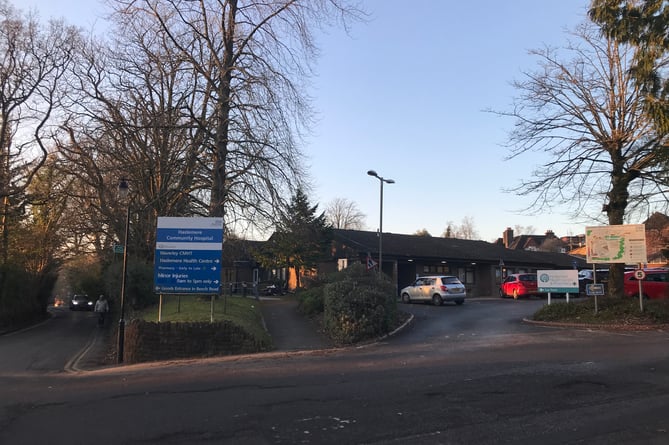 Haslemere community hospital in Church Lane, Haslemere
(Emily Coady Stemp)
Mrs Morley, who started out as a paramedic with the London Ambulance Service and then with SECAmb, said all her team have worked in emergency departments, and have seen the challenges faced there.
She said at the minor injuries unit they aren't "struggling for space" or with the "huge numbers" of patients who go through A&E, leaving staff to get on with the job without those other "challenges".
"Here we're in our little microcosm. So we can do what we do, and we can do it really well," she said.
Being seen earlier is beneficial for many of the issues that can be treated at the MIU, which include sprains, strains, cuts, bruises and minor broken bones on those over two years old. But in terms of the solution to the strain the NHS sees itself under now, Mrs Morley doesn't think there is "one answer to the whole situation".
She said many patients just need reassurance, and she and her team need to just keep "plugging on" making services available to patients who need them, as well as providing resources on how to treat issues such as burns.
On the NHS more generally, she said: "It's just a different environment now.
"I don't think the models that we've had historically are fit for purpose anymore, so we just need to move ahead with the times."
She said in an "overwhelmed" NHS, many people are frustrated with not being able to get into other services, such as their GP.
"We're all utterly overwhelmed really and just trying to keep up with everything," she said.
Despite running the MIU, and pushing to keep the longer opening hours, Mrs Morley is in no doubt what her priority is.
She said: "This is where I belong – in front of the patients."