This month 160 years ago, the people of Alton were celebrating the wedding of the-then Prince of Wales, Prince Albert Edward (the future Edward VII) and Princess Alexandra of Denmark.
The royal couple were married at St George's Chapel, Windsor, on March 10, 1863, but celebrations were held in Alton on the following Saturday, March 14, which had been declared a general holiday.
Events to mark the occasion involved parades by school children singing of the national anthem, food and refreshments for the marchers and a meal for many of the town's workers. A specially-created commemorative arch was erected in the high street and in the evening the town was illuminated and there was a fireworks display.
This was before the days of the Herald, but the Hampshire Chronicle recorded the scene: "A magnificent triumphal arch of large and noble dimensions spanned the High Street, near the Market Street. The framework of timber was completely covered with trees and evergreens. On one side, in large letters, were the words 'Albert and Alexandra', on the other, 'England and Denmark'.
"All the infant school children assembled at the National Schools then paraded the High Street, and were drawn up under the arch, when they sang an anthem composed by the Misses Crowley for the occasion, and set to the tune of the national anthem. They then marched to the town hall and were regaled with oranges and plum cake."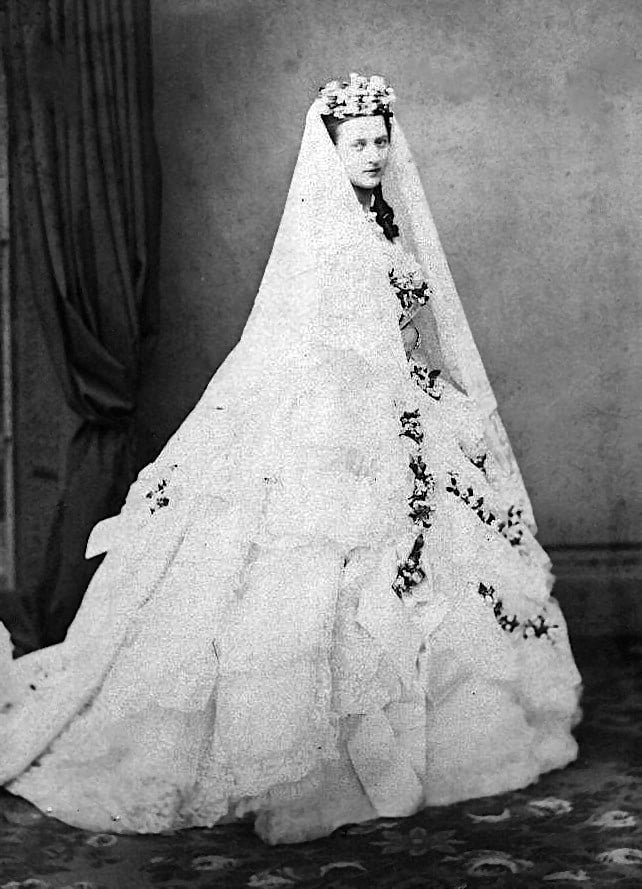 The future Edward VII and Queen Alexandra – the first royal couple to be photographed in their wedding clothes. Hand coloured print of photograph by John Jabez Edwin Mayall (1813-1901)
(Peeps into the Past )
The Misses Crowley were most likely daughters of the brewing family who owned a brewery where Sainsbury's now stands and produced the once-famous Alton Ales & Stouts.
National Schools – so-called because they were founded by the National Society for the Promotion of Religious Education – were set up across England and Wales, with the backing of the church to provide schooling for the children of the poor. In Alton they ran an infant, boys' and a girls' school for "the children of the labouring, manufacturing and other poorer classes of the parish". 
For these underprivileged youngsters, the abundance of cake and oranges provided for the royal wedding celebrations would undoubtedly have been a much-appreciated treat. But they were not the only children to take part in the event.
For, as the Chronicle states: "Later in the day all the children of the town, about 1,000, from five years and upwards, assembled at the railway station and, preceded by the band, marched in procession, carrying flags and banners through the town.
"They were all drawn up under the arch, where they sang the anthem with the greatest spirit and enthusiasm. After this they were regaled with tea and cake at the town hall. The principal employers of labour provided a meal for their employees."
The newspaper summed up the day, saying Alton "celebrated the wedding of the Prince and Princess of Wales in a very loyal and national spirit."