How to get your copy of the Herald without leaving the house
Thursday 2nd April 2020 8:12 am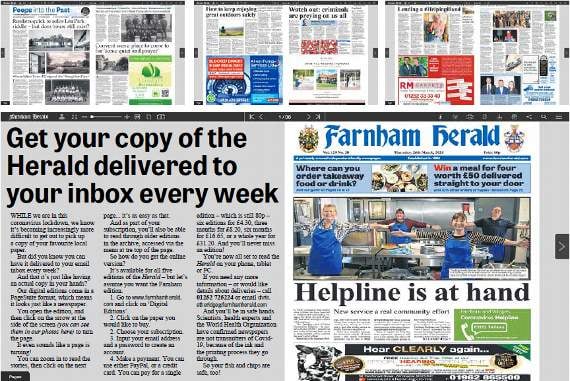 Our digital editions come in a PageSuite format, which means it looks just like a newspaper
Subscribe newsletter
Subscribe to our email and get updates right in your inbox.
WHILE we are in this coronavirus lockdown, we know it's becoming increasingly more difficult to get out to pick up a copy of your favourite local paper.
But did you know you can have it delivered to your email inbox every week?
And that it's just like having an actual copy in your hands?
Our digital editions come in a PageSuite format, which means it looks just like a newspaper.
You open the edition, and then click on the arrow at the side of the screen (you can see them in our photos here) to turn the page.
It even sounds like a page is turning!
You can zoom in to read the stories, then click on the next page... it's as easy as that.
And as part of your subscription, you'll also be able to read through older editions in the archive, accessed via the menu at tre top of the page.
So how do you get the online version?
It's available for all five editions of the Herald – but let's assume you want the Farnham edition.
2. Click on the paper you would like to buy.
2. Choose your subscription.
3. Input your email address and a password to create an account.
4. Make a payment. You can use either PayPal, or a credit card. You can pay for a single edition – which is still 80p – six editions for £4.30, three months for £8.20, six months for £16.65, or a whole year for £31.20. And you'll never miss an edition!
You're now all set to read the Herald on your phone, tablet or PC.
But if you or a friendly neighbour are heading out on an essential trip to the shops, we are continuing to distribute thousands of print copies every week to the outlets listed at the bottom of this article.
If you need any more information – or would like details about deliveries – call 01252 725224 or email [email protected]
And you'll be in safe hands. Scientists, health experts and the World Health Organization have confirmed newspapers are not transmitters of Covid-19, because of the ink and the printing process they go through.
So your fish and chips are safe, too!
Herald sale points as of Thursday, April 2:
ALTON FOOD AND WINE, ALTON (GU34 2RA)
C & G PRICE, ROPLEY (SO24 0DP)
CHERITON POST OFFICE, CHERITON (CT19 4ET)
SIX WEST, ALRESFORD (SO24 9AT)
R G RIVERS, FOUR MARKS (GU34 5DL)
JADE NEWS, LISS (GU33 7DP)
ROWSWELLS, PETERSFIELD (GU32 3JT)
HEATHSIDE STORES, PETERSFIELD (GU31 4ER)
FROXFIELD STORES, FROXFIELD (GU32 1EH)
DUMMERS NEWS, MIDHURST (GU29 9NF)
WILLIAMS BROS, GUILDFORD (GU2 7NU)
HAMMONDS PAPERS, HASLEMERE (GU27 2PE)
GABLES NEWS, LIPHOOK (GU30 7AB)
BENTLEY STORES, BENTLEY (GU10 5HY)
WHS ALTON, ALTON (GU34 1HZ)
THREADGOLD NEWS, ALTON (GU34 1BX)
SOUTHERN CO-OP ALTON (GU34 1BD)
PORTERS NEWS, ALTON (GU34 1AB)
HOLYBOURNE SHOP & POST OFFICE (GU34 4ES)
MARTINS HEADLEY (GU35 8PP)
MARTINS BORDON (GU35 0TN)
DRIFT ROAD STORES, WHITEHILL (GU35 9DZ)
LINDFORD STORES SPAR (GU35 0QA)
MCCOLLS WRECCLESHAM (GU10 4PU)
AHAYWEH STORES (LONDIS), ALTON (GU34 2AB)
TESCO EXPRESS ANSTEY LN ALTON (GU34 2NF)
HILLTOP STORES (GU34 2HR)
ALTON S.STATION MOTORFUEL LTD (GU34 1LH)
SAINSBURYS ALTON (GU34 1SS)
SAINSBURY ALTON PFS (GU34 1SS)
TESCO ALDERSHOT (GU11 1SQ)
BP FOUR MARKS SF (GU34 5HR)
HANDY STORES, MEDSTEAD (GU34 5LW)
BOWTELL FARM SHOP, EAST TISTED (GU34 3QP)
TESCO EXPRESS FOUR MARKS ALTON (GU34 5HG)
RAVEN SQUARE CONVIENCE STORE, ALTON (GU34 2LL)
KINSLEY ORGANISATION ENTERPRISES (GU35 9ND)
WAITROSE ALTON329 (GU34 2PZ)
SOUTHERN CO OP FOUR MARKS (GU34 5HG)
JADE NEWS, LISS (GU33 7DP)
ROWSWELLS, PETERSFIELD (GU32 3JT)
HEATHSIDE STORES, PETERFIELD (GU31 4ER)
HAMMONDS PAPERS, HASLEMERE (GU27 2PE)
PASSFIELD GENERAL STORE (GU30 7RH)
GABLES NEWS, LIPHOOK (GU30 7AB)
ONE STOP COMMUNITY SHOP, BORDON (GU26 6TU)
SOUTHERN CO-OP LIPHOOK (GU30 7NP)
THE ROYAL PARADE STORE, HINDHEAD (GU26 6TD)
SAINSBURYS LIPHOOK (GU30 7TW)
BENTLEY STORES (GU10 5HY)
PORTERS NEWS, ALTON (GU34 1AB)
HOLYBOURNE SHOP & POST OFFICE (GU34 4ES)
MARTINS HEADLEY (GU35 8PP)
MARTINS BORDON (GU35 0TN)
WOOLMER SERVICE STATION, BORDON (GU35 9QF)
WHITEHILL STORES (GU35 9BT)
DRIFT ROAD STORES, BORDON (GU35 9DZ)
LONDIS SLEAFORD (GU35 0QP)
LINDFORD STORES SPAR (GU35 0QA)
SAINSBURYS ALTON (GU34 1SS)
ONE STOP, BORDON (GU35 0LQ)
BORDON SERVICE STATION (GU35 0AW)
KINSLEY ORGANISATION ENTERPRISES (GU35 9ND)
JADE NEWS, LISS (GU33 7DP)
ROGATE VILLAGE STORES & PO (GU31 5HQ)
ROWSWELLS, PETERSFIELD (GU32 3JT)
DUMMERS NEWS, PETERSFIELD (GU29 9NF)
TESCO GUILDFORD (GU2 7UN)
MCCOLLS BURPHAM (GU4 7JS)
MARTINS EPSOM ROAD, GUILDFORD (GU1 2RE)
WILLIAMS BROS, GUILDFORD (GU2 7NU)
WHSMITH GUILDFORD (GU1 3ES)
OCKFORD RIDGE P O, GODALMING (GU7 2NW)
A&R CONVENIENCE STORE LTD, GODALMING (GU7 3HJ)
BIP NEWS LTD T/A T E FRANCIS, WITLEY (GU8 5LP)
SAINSBURYS GODALMING (GU7 1LQ)
WHSMITH GODALMING (GU7 1DU)
N N TRADES (SPAR), GODALMING (GU7 3TW)
PASSFIELD GENERAL STORE (GU30 7RH)
CHILWORTH STORES (GU4 8LU)
TUDOR EXPRESS, BROOKWOOD (GU24 0AS)
MAPLE NEWS, CRANLEIGH (GU6 8AJ)
ONE STOP COMMUNITY SHOP, GRAYSHOTT (GU26 6TU)
THE ROYAL PARADE STORE, HINDHEAD (GU26 6TD)
SAINSBURYS LIPHOOK (GU30 7TW)
BLAKEMORE (SPAR) ELSTEAD (GU8 6DD)
TESCO HALE FARNHAM EXPRESS (GU9 0JH)
U & S NEWS FOOD + WINE, FARNHAM (GU9 9ET)
ONE STOP, ALDERSHOT (GU11 3RD)
NISA LOCAL, TONGHAM (GU10 1AA)
BENTLEY STORES (GU10 5HY)
SOUTHERN CO-OP ALTON (GU34 1BD)
PORTERS NEWS, ALTON (GU34 1AB)
HOLYBOURNE SHOP & POST OFFICE (GU34 4ES)
MARTINS HEADLEY (GU35 8PP)
MARTINS BORDON (GU35 0TN)
DRIFT ROAD STORES, WHITEHILL (GU35 9DZ)
LONDIS SLEAFORD (GU35 0QP)
LINDFORD STORES SPAR (GU35 0QA)
MCCOLLS WRECCLESHAM (GU10 4PU)
SAINSBURYS ALTON (GU34 1SS)
WHSMITH FARNHAM (GU9 7NH)
TESCO EXPRESS RIDGEWAY RD FARNHAM (GU9 8NN)
SAINSBURYS WATER LANE PFS (GU9 9NJ)
SUN AND MOON (COSTCUTTER), FARNHAM (GU9 8LQ)
WAITROSE FARNHAM692 (GU9 7HD)
WEST STREET NEWSAGENTS, FARNHAM (GU9 7EH)
SAINSBURYS FARNHAM (GU9 7RP)
SIX BELLS MURCO S.S. (GU9 9RD)
SAINSBURYS WATER LANE FARNHAM (GU9 9NJ)
SAVE SUPERMARKET, HALE ROAD, FARNHAM (GU9 9QH)
AKSHAR NEWS, ALDERSHOT (GU11 3PS)
NK STORES, ASH VALE (GU12 5LN)
JP & S SERVICES LTD, ASH (GU12 6LR)
WILLOW WAY NEWSAGENTS, UPPER HALE (GU9 0NT)
CRONDALL STORES (GU10 5QT)
HEATH END SERVICE STATION (GU9 9AZ)
MCCOLLS ALDERSHOT (GU11 3LA)
WHSMITH ALDERSHOT (GU11 1DB)
TAYLORS, ALDERSHOT (GU12 4LU)
MELITA STORES, ALDERSHOT (GU12 4SG)
TESCO ALDERSHOT (GU11 1SQ)
BOXALLS LANE MINI MARKET, ALDERSHOT (GU11 3QJ)
TESCO EXPRESS FOUR MARKS ALTON (GU34 5HG)
SMART FOOD & WINE, ALDERSHOT (GU11 1JE)
KINSLEY ORGANISATION ENTERPRISES (GU35 9ND)
FRENSHAM VILLAGE SHOP (GU10 3BJ)
WELLS BP SERVICE STATION, ALDERSHOT (GU12 4ES)
COSTCUTTER, UPPER HALE (GU9 0NT)
SOUTHERN CO-OP LOWER FARNHAM RD (GU12 4EN)
CO-OP WRECCLESHAM (GU10 4PL)
SOUTHERN CO-OP ROWLEDGE (GU10 4AA)
ESSO HOGS BACK (GU10 1EU)
TILFORD VILLAGE SHOP LIMITED (GU10 2BL)
BP CRONDALL SF (GU10 5RP)
PREMIER 4S CONVENIENCE STORE, WEY HILL (GU27 1HN)
JADE NEWS, LISS (GU33 7DP)
ROWSWELLS, PETERSFIELD (GU32 3JT)
NORTHCHAPEL RETAIL LTD (GU28 9HL)
THE CORNER SHOP, GUILDFORD (GU2 9PY)
WILLIAMS BROS, GUILDFORD (GU2 7NU)
OCKFORD RIDGE P O, GODALMING (GU7 2NW)
A&R CONVENIENCE STORE LTD, GODALMING (GU7 3HJ)
BIP NEWS LTD T/A T E FRANCIS, WITLEY (GU8 5LP)
SAINSBURYS GODALMING (GU7 1LQ)
GENERAL STORE, CHIDDINGFOLD (GU8 4TU)
SIMRANS, GODALMING (GU7 3LH)
DUNSFOLD POST OFFICE (GU8 4LE)
WAITROSE HASELMERE478 (GU27 2AB)
HAMMONDS PAPERS, HASLEMERE (GU27 2PE)
TESCO HASELMERE (GU27 1LD)
C EDE NEWSAGENT, HASLEMERE (GU27 3EE)
GABLES NEWS, LIPHOOK (GU30 7AB)
ARNOLD GARAGE, SHOTTERMILL (GU27 3RB)
CO-OP GRAYSHOTT (GU26 6JJ)
MAPLE NEWS, CRANLEIGH (GU6 8AJ)
ONE STOP COMMUNITY SHOP, GRAYSHOTT (GU26 6TU)
SOUTHERN CO-OP LIPHOOK (GU30 7NP)
THE ROYAL PARADE STORE, HINDHEAD (GU26 6TD)
SAINSBURYS LIPHOOK (GU30 7TW)
WAITROSE GODALMING216 (GU7 1HY)
ROBERTS LONDIS STORE, CHIDDINGFOLD (GU8 4UF)
SAINSBURY LIPHOOK PFS (GU30 7TW)
PORTERS NEWS, ALTON (GU34 1AB)
MARTINS HEADLEY (GU35 8PP)
MARTINS BORDON (GU35 0TN)
DRIFT ROAD STORES, WHITEHILL (GU35 9DZ)
LINDFORD STORES SPAR (GU35 0QA)
HAMBLEDON VILLAGE SHOP (GU8 4HF)
SAINSBURYS GRAYSHOTT (GU26 6LE)
WHS HS HASLEMERE (GU27 2AB)
ESSO HASSLEMERE (GU27 1LE)
LIPHOOK BAKERY (GU30 7DR)
TESCO LISS EXPRESS (GU33 7RL)
JADE NEWS, LISS (GU33 7DP)
ROGATE VILLAGE STORES & PO (GU31 5HQ)
TESCO PETERSFIELD (GU31 4JR)
ROWSWELLS, PETERSFIELD (GU32 3JT)
BP M&S PETERSFIELD CONNECT (GU31 4AT)
SOUTHERN CO-OP MOGGS M, PETERSFIELD (GU31 4PJ)
HEATHSIDE STORES, PETERSFIELD (GU31 4ER)
EAST MEON STORES (GU32 1NW)
WAITROSE PETERSFIELD209 (GU32 3JA)
DUMMERS NEWS, MIDHURST (GU29 9NF)
ESSO RAMSHILL, PETERSFIELD (GU31 4AT)
HAMMONDS PAPERS, HASLEMERE (GU27 2PE)
PASSFIELD GENERAL STORE (GU30 7RH)
GABLES NEWS, LIPHOOK (GU30 7AB)
SOUTHERN CO-OP LIPHOOK (GU30 7NP)
SAINSBURYS LIPHOOK (GU30 7TW)
SAINSBURY LIPHOOK PFS (GU30 7TW)
PORTERS NEWS, ALTON (GU34 1AB)
MARTINS HEADLEY (GU35 8PP)
MARTINS BORDON (GU35 0TN)
DRIFT ROAD STORES (GU35 9DZ)
LINDFORD STORES SPAR (GU35 0QA)
Comments
To leave a comment you need to create an account. |
All comments 0