Archaeologists have uncovered a remarkable historical treasure hidden beneath an Alton building site.
Remnants of an ancient building were found beneath Crest Nicholson's Ackender Hill development off Chawton Road in late 2019.
And after an investigation by excavation experts Cotswold Archaeology, it is now thought the building could date back more than thousand years.
Specifically, archeologists believe it was built between the 10th to 12th centuries – a period of enormous social, political and religious turmoil in England.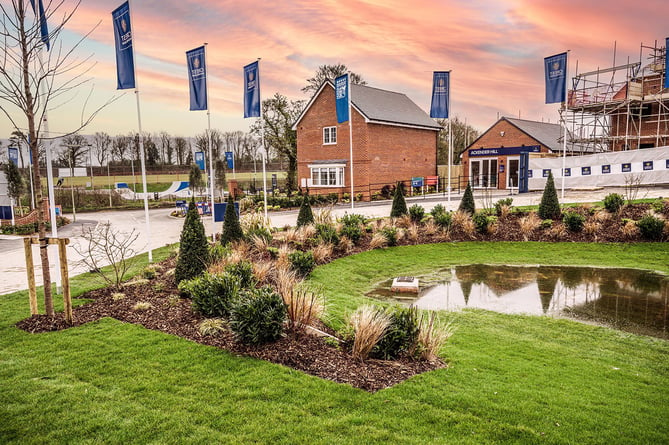 Crest Nicholson's Ackender Hill development off Chawton Road
(Crest Nicholson)
The excavation unveiled a network of pits and post holes, indicating the large rectangular post-built structure measured a staggering 18 metres in length and seven metres in width.
Of particular interest is a cluster of post holes adorning the north-west side of the structure, hinting at an entrance that might have boasted an elegant porch or canopy, welcoming residents and visitors alike.
Delving deeper, the excavation also yielded insights into the lifestyles of those who once roamed these historic grounds.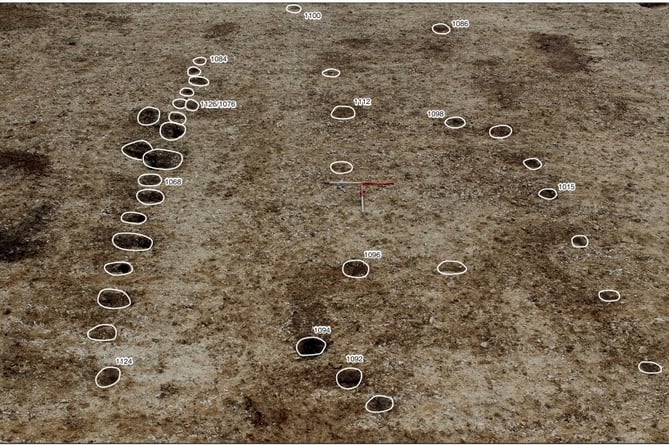 An excavation at the Ackender Hill site unveiled a network of pits and post holes
(Cotswold Archaeology)
Evidence of agricultural pursuits abound, with the bones of sheep, cattle, pigs and even dogs making an appearance.
But it's not just about livestock – the traces of crops such as barley, wheat, oats and beans provide a window into the dietary habits of the time.
In addition, the discovery of a 'pin beater' crafted from bone hints at the possibility of weaving activities taking place at the site. This modest yet essential tool was used to work among the weave and weft where fingers would not be fine enough to fit.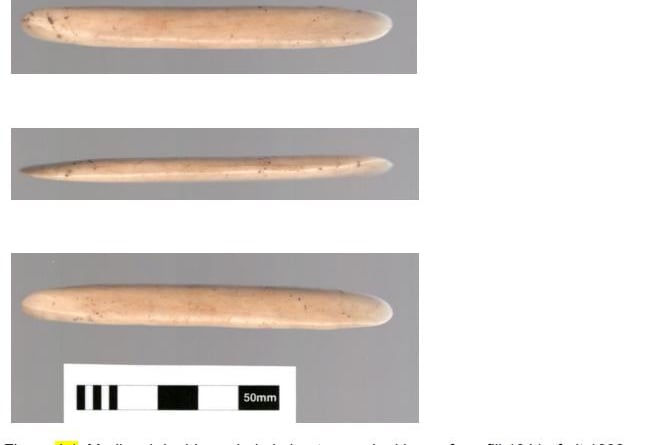 A medieval double-ended pin beater, found on the Ackender Hill site
(Cotswold Archaeology)
The discovery presents an intriguing window into the lives of individuals who inhabited the Alton region a millennium ago.
This revelation comes from an era marked by profound societal shifts, encompassing the aftermath of Viking invasions, the consolidation of the Anglo-Saxon realms under the reign of King Athelstan in the 10th century, the pivotal Battle of Hastings in 1066 and its consequential Norman Conquest, and the ensuing legal reforms, religious upheaval, and political turbulence that defined the dynamic landscape of the 12th century.
10th to 12th Century British history timeline
10th Century: Viking invasions lead to establishment of Danelaw in England (865-954). King Athelstan unifies Anglo-Saxon kingdoms (937). Dunstan becomes influential Archbishop of Canterbury.
11th Century: Battle of Hastings (1066) results in Norman Conquest of England under William the Conqueror. Domesday Book (1086) surveys land ownership. Construction of Tower of London begins.
12th Century: King Henry II strengthens royal authority, initiates legal reforms. Thomas Becket's murder in Canterbury Cathedral (1170) leads to religious and political turmoil. Richard the Lionheart goes on Crusade (1189-1192). Magna Carta signed by King John in 1215, limiting royal power.