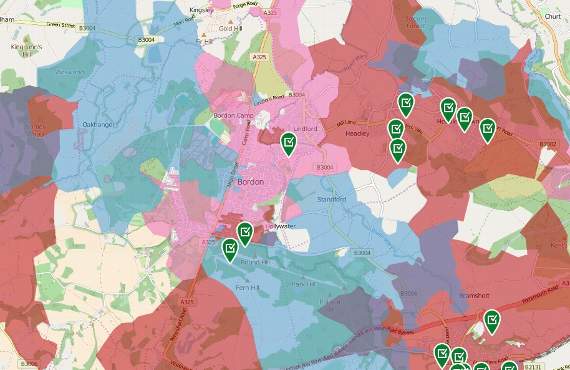 The county council's sponsored broadband roll out: commercially funded (pink areas); Hampshire wave one, up to 2015 (red), and Hampshire wave two, which will be rolled out between now and 2018 (blue)
Subscribe newsletter
Subscribe to our email and get updates right in your inbox.
LONG promised provision of top-of-the-range broadband in Whitehill and Bordon is looking more likely, with the Digital Economy Bill.
Plans to improve access to broadband across the UK will help thousands of under-served businesses in the M3 corridor and support the area's position as a "national leader in the digital and technological sector", according to the Enterprise M3 Local Enterprise Partnership.
The Government's Digital Economy Bill, announced in the Queen's Speech, proposes minimum broadband speeds and better infrastructure.
While much of Whitehill and Bordon is "relatively" well served at present, more rural areas around the town are not as high on the list for top-quality provision. But Hampshire County Council's sponsored roll out of superfast broadband is steadily filling in the gaps.
As part of Whitehill and Bordon's regeneration, the highest standard of broadband and mobile-signal provision (contentious issues for some residents) have been promised - digital infrastructure that is considered essential for a thriving local economy.
Geoff French, chairman of the Enterprise M3 LEP, welcomed the impact the bill would have on businesses. "The Enterprise M3 area is one of the most productive and fastest growing digital economies in the UK, yet there are too many areas where broadband coverage is weak," he said.
"This area consistently ranks as one of the UK's leading digital economies across a range of indicators and our science and technology corridor is an asset of national importance which provides a home to thousands of innovative, high-tech companies.
"However, there are important pockets of low speeds in both urban and rural areas which need to be addressed and the Government's Digital Economy Bill will begin to do that."
The bill aims to make the UK a world leader in digital provision through: a minimum broadband speed of 10 megabits per second for every home and business; new and simpler planning rules for building broadband infrastructure; new measures to make switching providers easier, and protecting consumers from spam email and nuisance calls. The Enterprise M3 area is home to businesses in "high-value niche sectors" such as 5G mobile communications, cyber security and satellite technologies which could also benefit from the proposals.
Mr French said the whole technology industry would have to work together to achieve the bill's aims. "We recognise the importance of the digital economy in driving innovation, productivity and competitiveness and the LEP fully supports initiatives, such as this bill, which help local businesses seize the opportunities presented by digital technology," he said.
"We will work with the Government to help speed up any financial or planning changes that will overcome unnecessary barriers to building important telecommunications infrastructure. The Enterprise M3 area is already home to nationally recognised companies in the digital-technology sector, covering games, cyber security, aerospace, defence and telecommunications companies. However, we must guard against complacency. There are many businesses which do not have access to the services they need while many more would benefit from higher speeds and more education to make full use of the opportunities on offer.
"We are also competing against international markets where speeds of 100 megabits per second are considered standard."
The Enterprise M3 LEP has contributed millions of pounds toward the town's regeneration and led the bid for the multi-site Enterprise Zone, with Whitehill and Bordon receiving the status in December.
Comments
To leave a comment you need to create an account. |
All comments 0