Lady Beryl Tindle has been happy to spend a lifetime in the shadow of one of the giants of regional newspapers, Sir Ray.
But behind the scenes, Lady Tindle has been a tour de force in Farnham – and has received official recognition of her dedication.
She picked up a Services to Farnham award at the town hall – and received the medal that had been designed and introduced by her husband in 2010.
Lady Tindle, 96, opened the Downing Street Charity Shop in 1987, running it for 35 years with the help of many volunteers.
During this time, more than £30,000 was raised for various charities, the majority of them local to Farnham.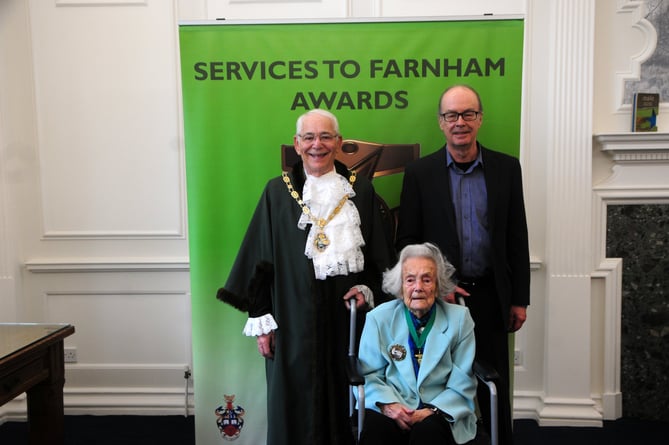 Lady Tindle with her son Owen and farnham mayor Cllr Alan Earwaker
(Tindle)
Before this, Lady Tindle was heavily involved in adult education in West Street, running courses to teach adults to read and helping foreign students to learn English, and was previously head of the Clare Centre, a remedial centre for children in Dorking.
On moving to Farnham in 1961, Lady Tindle became president of Homemakers, a role she held for more than 50 years.
Lady Tindle has also been a governor of Pilgrims Way Primary School in Farnham and patron of the Children's Centre, at Potters Gate School.
Throughout her life, Lady Tindle has been involved in the support of the more disadvantaged in society.
She said: "I am deeply, deeply honoured to receive the award. Everything I have done in Farnham I have really enjoyed.
"Ray was always totally absorbed in Tindle Newspapers and it was lovely to be able to spend time doing other things. I would do it all over again if I could.
"I was always supported by so many wonderful people and I thank them for working with me over so many years.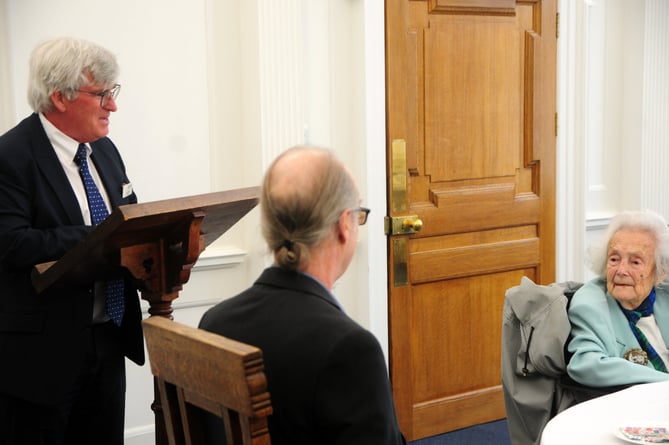 Town clerk Iain Lynch reads the citation watched by Lady Tindle
(Tindle)
"I remember Herald staff used to come and help out in the shop in the old days too – it was very much a team effort."
Lady Tindle remembered one day when a man went through the shop to the menswear section at the back.
"We didn't have staff stationed back there all the time," she said.
"A little later a man walked out of the shop, and one of the assistants said she thought she recognised the shoes – when we went out to the back, on the floor were a shirt, trousers, jacket and shoes.
"The man had kitted himself out with the new clothes and left his old ones in a heap – and then walked out without paying for any of it!"
Lady Tindle also remembered the time the company bought the Tenby Observer in north Wales. It had a history of losing money, but Sir Ray and the staff turned it around.
"The first time it made a profit, Ray called the editor to congratulate him," said Lady Tindle.
"It had made the grand profit of £1 – and the phone call to the editor lasted so long that it must have cost more than £1 to make!
"They were wonderful days. So many people have helped me over the years and I thank them all for their support."