Neil Witney, a Michelin-trained, multi-award winning chef, knows a thing or two about culinary excellence. But when the pandemic struck, even his impressive background couldn't shield him from the economic fallout. Suddenly out of work and unsure of what to do next, Neil found himself at a crossroads.
He recalls: "The economy had gone to pot, I found myself out of work, and was thinking what do we do?"
It was Mother's Day in 2020 when Neil's wife Justine asked him to make sushi for the family. Little did they know that this seemingly innocent request would set off a chain of events that would transform their lives.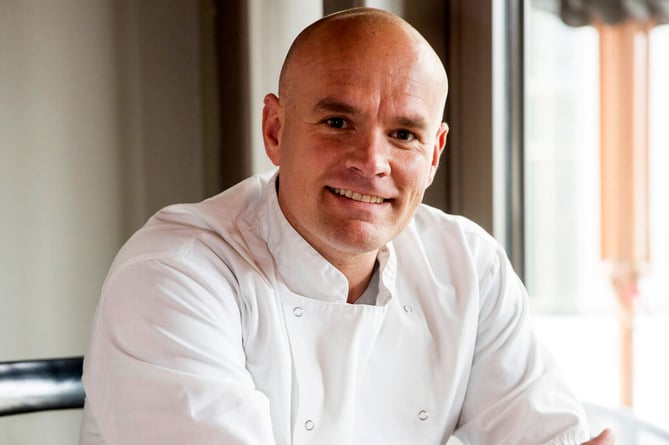 Little Fish co-founder Neil Witney, whose Mother's Day meal gave rise to a new sushi empire
(Little Fish)
Justine shared pictures of Neil's sushi creations on Instagram, and before they knew it, people were clamouring for their sushi and asking if they delivered.
Recognising an opportunity to make ends meet during uncertain times, Neil took a leap of faith and said "yes" to the growing demand. Orders poured in, and what started as a cottage industry quickly outgrew their home kitchen. Little Fish was born.
Justine found herself swamped with the task of taking orders and collecting payment details over the phone. "It was such a laborious task," said Neil.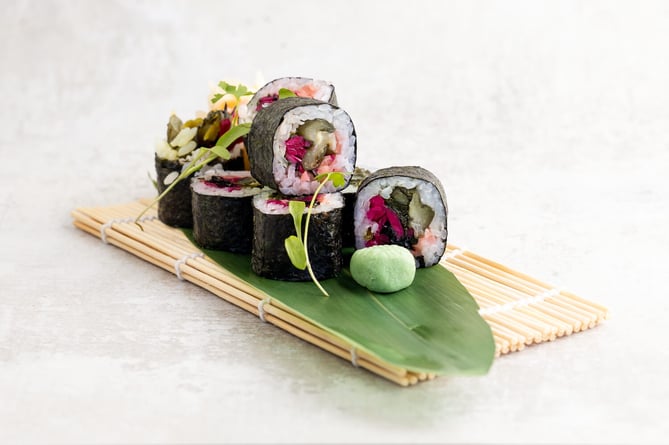 Little Sushi's fish is sourced from Reach Food, London, which also delivers to Michelin-starred restaurants like Luma, Nobu, and El Celler de Can Roca
(Little Fish)
Recognising the need for a more streamlined process, Neil teamed up with Neill Ghosh, a business partner with experience in sales and customer service from his time at luxury travel company Original Travel.
Together, Neil and the 'other Neill' founded Little Fish, an ambitious venture that embodies the home delivery revolution accelerated by the lockdowns. Operating out of a professional kitchen in Liphook, the company now boasts 15 staff members, five mobile vans, and 26 collection points – all with the intention of delivering "sushi in the sticks".
Little Fish has even launched a refrigerated locker outside Red.h in West Street, Haslemere, providing customers with convenient access to their mouthwatering creations every Tuesday to Sunday. And this spring, it launched a collection point in central Farnham too, at The Bush Hotel.
"We're busier than ever," Neil proudly shares, reflecting on the remarkable growth of Little Fish. But it's not just about meeting demand; quality remains at the heart of everything they do. Neil emphasises the importance of sourcing the best fish and during the lockdown, his loyal suppliers ensured he had access to top-notch ingredients. Reach Food, London, supplies the fish, delivering to Michelin-starred restaurants like Luma, Nobu, and El Celler de Can Roca. Japanese produce comes from Tazaki Foods, further guaranteeing an authentic taste experience.
Neil's attention to detail extends to every aspect of sushi preparation. Little Fish employs a team of 'sushi robots' to automate and expedite the crucial step of washing the rice. Neil explains sushi rice is notoriously difficult to master, requiring the removal of starch, precise temperature control and correct seasoning. The sushi robot handles it all, while the rice is kept warm in a thermal box. This lesser-known fact surprises many: sushi should be served warm, as chilling diminishes its flavour and dries out the rice. Neil is adamant chilled sushi should be discarded, and he meticulously maintains the rice at eight degrees, even subjecting it to a pH test.
Neil's culinary journey has been filled with diverse experiences. Prior to Little Fish, he ran a food consultancy for the Dubai government in the United Arab Emirates. He also worked at Blakes Hotel in South Kensington, renowned as the world's first minimalist boutique hotel, and managed some of the UK's top pan-Asian restaurants in the Ricker Restaurants group. His sushi skills were honed under the guidance of a skilled Japanese chef.
While the life of a professional chef can be gruelling, with long hours and modest compensation, Little Fish offers an alternative. Neil proudly points out the kitchen staff start early and finish early, avoiding split shifts and late nights. The work environment is "luxurious" compared to many kitchens he has worked in, he says, fostering a culture of camaraderie rather than hierarchy. The company's success has allowed them to attract a talented team, even in a challenging recruitment market.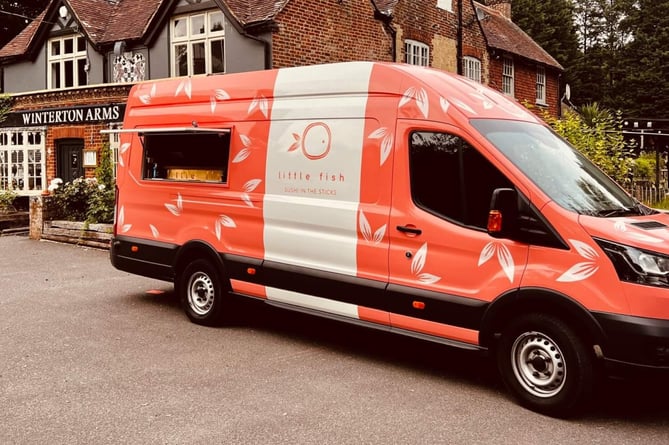 Little Fish now boasts 15 staff members, five mobile vans, and 26 collection points
(Little Fish)
Little Fish's mission is to bring exceptional sushi and pan-Asian cuisine to those who struggle to find it in their local area. Their food is prepared fresh daily, available for pre-order only, and distributed through a network of local partners, collection points and direct delivery.
What started as a simple act of Neil making sushi for his wife has transformed into a thriving business with a bright future.
To learn more about Little Fish, explore their list of collection points, and place an order, visit their website at https://little-fish.uk/
WHERE TO GET YOUR SUSHI FIX...
Little Fish fixed collection points:
Red.h, Haslemere
The General Wine Company, Petersfield
The General Wine Company, Liphook
The Fish Shop, Camberley
Secretts of Milford
Cowdray Farm Shop
Thyme & Tides Deli, Stockbridge
The General Wine Company, Petersfield
Seasons Farm Shop, Windlesham
Stansted Park Farm Shop, Rowlands Castle
Applegarth Farm Shop, Grayshott
Organically Speaking, Hartley Wintney
Goodwood Farm Shop, Goodwood
Anyfish in Bishop's Waltham
Caviste, Overton
Thyme & Tides, Firsdown
Bush Hotel, Farnham
The Hungry Guest Food Shop, Petworth
West Meon Village Shop
Lavender Fields, Selborne
Williams & Bunkell, Claygate
The Gourmet Grocer, Fordingbridge
The Cobham Larder, Cobham
Mobile collection points:
Cobbs, Winchester
Cobbs Farm Shop, Hungerford
Little Fish also run events throughout the year, with upcoming dates this month including:
Sushi & Beer @ Farnham Brewing Co, June 18
Supper Club @ Noahs Ark, Lurgashall, June 21
Supper Club @ The Greyfriar, Chawton, June 28