A PETERSFIELD veteran is to receive a long overdue Christmas present for his part in Britain's nuclear test programme.
Kenneth Roberts survived the fallout from four atomic tests in the central Pacific despite having no protection.
The 91-year-old vividly remembers feeling the heat from the blasts and seeing the distinctive mushroom cloud while being stationed on Christmas Island during the tests in 1958.
Now he's getting a reward as the Bramble Road pensioner is to receive a medal to commemorate the work of armed forces, scientists and employees in the test areas. Around 22,000 veterans will be eligible for the Nuclear Test Medal that commemorates the 70th anniversary of Britain's first nuclear test off the Australian coast.
Mr Roberts, who served with the Royal Engineers, considers himself "very fortunate" as quite a few veterans he knew have died from leukaemia and associated cancers.
He said: "Depending on what way the wind was blowing they would move us to the south of the island at four in the morning, and the test would take place around six to nine.
"There was no protection and we just wore khaki. As the plane approached the place where they dropped the bomb we turned our backs on it and there would be a 20-second countdown. 
"I had to put my palms over my eyes and you would have to keep them there until 20 seconds after the explosion, when you would turn around and see the mushroom cloud."
He added: "One of the things I most remember is how colourful it was as there was lots of blues and pinks.
"Obviously I knew about Hiroshama and Nagasaki but to see it was quite something. One thing I also remember is also feeling the heat." 
The decision to launch the 'Plutonium Jubilee' medal follows years of pressure from the likes of the British Nuclear Test Veterans Association and Labrats International.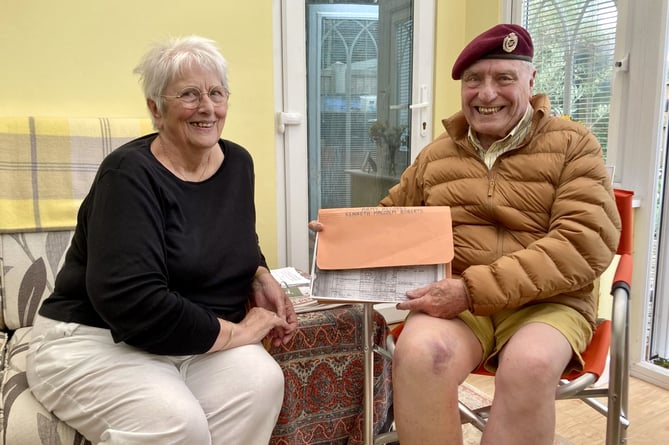 Sylvia and Kenneth Roberts at their Petersfield home.
(Tindle/Paul Ferguson)
The medals are in production and should be issued by November 11, but Kenneth and his wife, Sylvia, don't know where the ceremony will take place or who will present them. 
They are hoping King Charles might be involved, especially as the monarch is Colonel in Chief of the Parachute Regiment.
"Nothing has been said about whether the medals will be presented formally or if they will be sent through the post," said Mrs Roberts.
"Another thing that has come out of this is that Kenneth is really interested to know if there are any other veterans in the Petersfield area who are getting a medal.
"It would be a lovely thing if people came out of the woodwork as we just don't know."
If you were involved in the British nuclear tests or know a veteran who was, Kenneth and the Post would love to hear from you. Contact Mr Roberts via our Petersfield Post reporter, Paul Ferguson, at [email protected]