MP Jeremy Hunt: The impacts of price hikes are everywhere
Thursday 23rd June 2022 6:00 am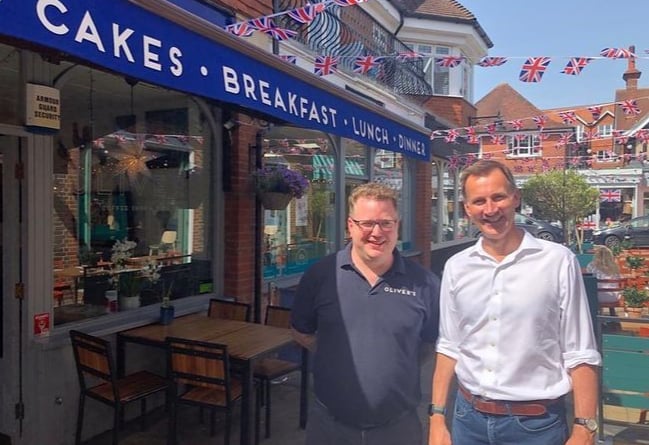 MP Jeremy Hunt with cafe owner Oliver Leach
(Tindle )
Subscribe newsletter
Subscribe to our email and get updates right in your inbox.
How do you bounce back from a pandemic?
This has been something I and many of my parliamentary colleagues have been thinking about.
In Haslemere last week I spent the afternoon discussing it with local businesses and residents. The biggest concern for local businesses was, unsurprisingly, inflationary price rises. They are, of course, part of the reason for this week's rail strikes and the very real dilemma for the government is how to settle such disputes without further fuelling inflation.
You can see the impact of such price hikes everywhere: I visited a cafe in Haslemere where the owner talked about massive increases in the cost of frying oil and I met a business owner who has seen his electricity bill triple.
I also spoke to the Chamber of Trade who said these issues were casting a major shadow over the otherwise healthy recovery of business to pre-pandemic levels.
The government is doing a lot to help: support announced by Rishi Sunak will cover over 80 per cent of the total cost of increases in fuel bills. That will make a big difference in helping sustain consumer demand for products and services, very important for local businesses.
But we can also do our bit by shopping, eating and visiting locally.
I have been spending the past six months promoting local businesses through my BounceBack South West Surrey campaign.
I visit local shops and businesses, promote them on social media and distribute Bounceback stickers for people to put in their cars or front windows.
If you would like one (they are fully recyclable) please email me at [email protected]
The other area that needs to recover from the pandemic is of course the NHS. It has been a double whammy for our hard-working health and care staff: not just the pressure of looking after so many Covid patients, but over six million people now on NHS waiting lists as part of the post-pandemic backlog.
I am looking at this issue carefully with my select committee and still think we should be training more doctors and nurses than we currently are.
This was a big theme for me even before the pandemic when I was health secretary. I increased doctor, midwife and nurse training places by 25 per cent, one of the biggest-ever rises, and opened six new medical schools in Aston, Anglia Ruskin, Edge Hill, Lincoln, Sunderland and Preston – good progress but I suspect we need to go even further.
Locally, of course, one of the biggest things we can do to help the NHS is to support the Royal Surrey in getting its new Cancer and Surgical Innovation Centre off the ground.
Following a meeting I had with Simon Stevens, the NHS has released £25 million – but there is still more needed if we are to equip it with the very latest robotic equipment.
So far we have had a terrific response, with donations reaching £140,000. But there is much further to go, so Guildford MP Angela Richardson and I are running in the Race for Life in Stoke Park in Guildford on July 24.
Comments
To leave a comment you need to create an account. |
All comments 0