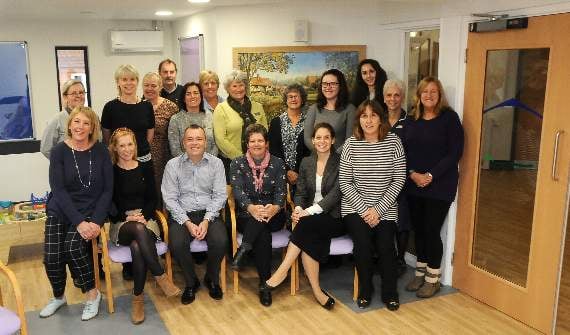 Subscribe newsletter
Subscribe to our email and get updates right in your inbox.
THERE was a heroes' welcome for returning Chiddingfold GPs, nurses and staff when their rebuilt and revamped surgery reopened on November 25.
On top of the trauma of witnessing their building being gutted by fire in the early hours of January 7, the team had to make emergency arrangements to continue patient care.
As an immediate stop gap, the team ran clinics at Milford Crossroads Surgery. In February, Guildford and Waverley Clinical Commissioning Group (CCG) arranged for the practice to relocate to Cedar Ward at Milford Hospital.
Delighted to be home again, Dr Claire Willett said: "The idea was to get back and provide the service as quickly as we could.
"Everyone has been so patient with us being away from Chiddingfold. The new surgery is more modern. It's on the same footprint but has a bigger dispensary and the whole build was covered by insurance.
"We would really like to thank patients – and staff – for their resilience in coming out to Milford.
"Milford has been very good as a temporary home but we have been squashed. The main thing is we are back. We are just really relieved, really pleased and thankful.
"When it happened, we had such a feeling of responsibility to our patients and how we could maintain their care.
"We were called out at 4am by the fire alarm. We were so concerned because it's a community facility that lots of people rely on. Thanks to the CCG we were able to move into Cedar Ward quite quickly.
"The surgery reopened midday on Monday and has offered a full service for patients from Tuesday morning."
A huge outpouring of support following the fire, raised more than £15,000 for an emergency appeal launched by The Friends of Chiddingfold Surgery, which funded the emergency replacement of vital equipment and will continue to help ensure the practice has what it needs.
Chairman Simon Inchbald said: "In common with everyone in Chiddingfold, we are delighted the surgery is back and with an even better service.
"The main issue has been to get the work done as soon as possible. Obviously the move to Milford has not been as convenient for patients and less than ideal for staff. But they were lucky to find somewhere reasonably close.
Comments
To leave a comment you need to create an account. |
All comments 0