"This is not the end. It is not even the beginning of the end. But it is, perhaps, the end of the beginning."
Those words, so famously ascribed to Winston Churchill, were recycled by Farnham councillor Peter Clark last week as councillors hailed the Farnham Infrastructure Plan (FIP) at last entering its "implementation phase" – three years after its launch.
Perhaps another Churchill quote would have been even more fitting: "The era of procrastination, of half-measures, of soothing and baffling expedients, of delays is coming to its close. In its place we are entering a period of consequences."
Cllr Clark's comments came after the FIP's decision-making board agreed to send the latest town centre plans for detailed traffic modelling at its meeting last Friday.
These plans centre around the Royal Deer crossroads in the centre of town, as well as South Street and East Street between the Brightwells and Woolmead development sites.
They come after councillors agreed to progress plans for the rest of the town centre in December, including proposals to reverse the one-way system in the southern section of Downing Street and in The Borough between the Castle Street and Downing Street junctions.
Opening last Friday's meeting at Farnham town hall, Surrey County Council leader and FIP board chairman Tim Oliver told councillors the FIP is now "in a place where in the coming few months, residents will see further improvements to their town".
"It has been a journey," continued Cllr Oliver, adding his thanks to councillors for "driving discussions hard" since the last meeting in December.
To date, Surrey's dedicated FIP team has implemented an HGV ban in Castle Street and Upper Hale to mixed success, and erected seven of the town centre's 13 new wayfinding totems – with a 20mph limit in the town centre and Weydon Lane to follow shortly.
In December, councillors also gave the nod to a 'hybrid' option for the town centre, which could see the lower section of Downing Street, and The Borough between the Downing Street and Castle Street junctions, made two-way.
And at last Friday's board meeting, councillors agreed to send further plans for a new Royal Deer junction, complete with wider pavements and clearer crossing points – but no barriers – as well as two possible options for South Street, Bear Lane, Woolmead Road and East Street, for detailed traffic modelling.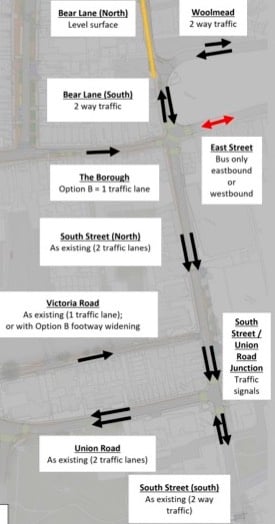 The Farnham Infrastructure Programme's board has agreed to send 'Option Y' for the Royal Deer junction, South Street and East Street for traffic modelling
(Surrey County Council )
This modelling will assess each proposal's likely impact on traffic flows; with county councillor Catherine Powell pressing for this to not only assess the impact in the town centre, but across the wider town area including her division in north Farnham.
It is hoped the results of this modelling will be presented to the FIP board in June, at which councillors will decide which schemes to progress.
Addressing councillors at the end of Friday's meeting, borough councillor Peter Clark hailed the discussion as the "end of the beginning" and challenged county leader Cllr Oliver to agree detailed designs and capital spending for the FIP proposals at Surrey's first cabinet meeting after the FIP board's June meeting.
Cllr Oliver responded: "My commitment is to get this moving. We've got the programme to this point, now we need to get on and deliver it."
The Conservative council chief added as the project progresses towards the detailed design phase, there will be a series of "regular and frequent" workshops where Farnham, Waverley and Surrey councillors can actively contribute to the project's implementation.
Following feisty exchanges at Farnham's annual town meeting – and in the Herald – Cllr Powell also proposed inviting the Farnham Cycle Campaign and other stakeholders to join a new 'Active Travel Working Group', to review the FIP's proposed cycling and walking infrastructure plans.
This has since been welcomed by Peter Goodman of the cycle campaign.
New plans for the Royal Deer and South Street get the nod
Councillors agreed to send two options for new traffic flows in the South Street area for detailed traffic modelling at last Friday's Farnham Infrastructure Programme board meeting.
'Option Y' proposes wider footways and clearer pedestrian crossings at the Royal Deer junction, two-way traffic in Bear Lane (south) and Woolmead Road, as well as limiting East Street to buses and delivery vehicles one-way only between the Brightwells and Woolmead developments (pictured above).
But 'Option V' is the "minimal change" and "low cost" option and delivers only the Royal Deer improvements.
Further options proposing a cycle track or bus lane in South Street; the full pedestrianisation of East Street between the two developments; and a reversal of the East Street and Woolmead Road one-way system were dismissed by councillors as not feasible.