Six months of rolling road closures in West Street, Farnham, and the A31 Alton Road, for a £1.3 million water upgrade are not expected to begin until Monday, January 23, South East Water has confirmed this morning.
It comes after the water company provided more detail on the specific location and dates of the rolling road closures, which are necessary to protect motorists and pedestrians from the working area, and will be split into the following three phases:
* Phase 1 (Mead Lane to Crondall Lane) – January 23, 2022 to early February
* Phase 2 (Crondall Lane to Crosby Way) – Early February to end of February
* Phase 3 (Crosby Way to A31) – End of February to late April
The route of South East Water's new £1.3 million Farnham pipeline
(South East Water)
A spokesperson for South East Water stated that the works have not been delayed and that they are currently focusing on areas that do not require road closures, which are located on private land.
The first connection to the company's existing network will take place between Crondall Lane and Mead Lane, and "to minimise disruption", the initial work will be undertaken overnight from 10pm on Tuesday, January 24 until 1am on Wednesday, January 25.
The spokesman added: "Due to the nature of this work, there may be some bright lights and noise from the use of equipment but please be assured our team will do everything possible to keep disruption to an absolute minimum."
South East Water has though confirmed the rolling road closures will be in place 24 hours a day, seven days a week during its works.
Traffic will be diverted via the A31 and Farnham town centre one-way system.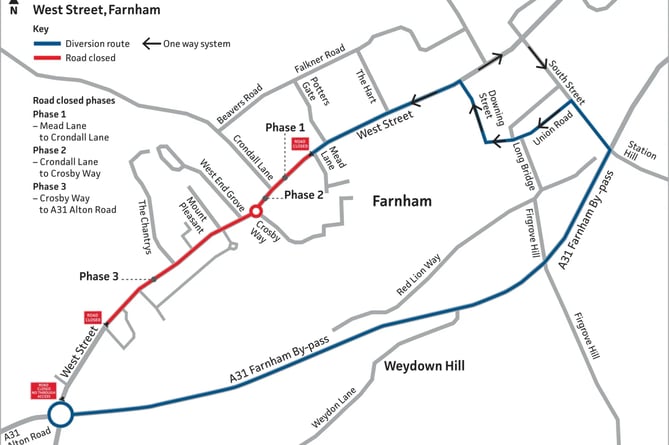 South East Water's confirmed diversion route
(South East Water)
The project will involve the installation of more than two kilometres of pipe in West Street, on private land and the A31 Alton Road.
South East Water says it is working closely with residents and businesses in the area to minimise the impact of the project and has stated that the closures are a "last resort".
This project is part of South East Water's £433 million investment in improving its water network between 2020 and 2025.