With summer well and truly on the way, Peeps is taking a look back in time at one of our area's popular beauty spots – Frensham Ponds.
Home to an SSSI (Site of Special Scientific Interest) and rare heathland habitat, the location has, controversially, been promoted to Londoners as Surrey's "secret beach" in online articles in recent years.
But postcards from more than a century ago show this rural idyll was no secret even back then as it drew visitors from as far afield as Cambridge, Devon and Jersey!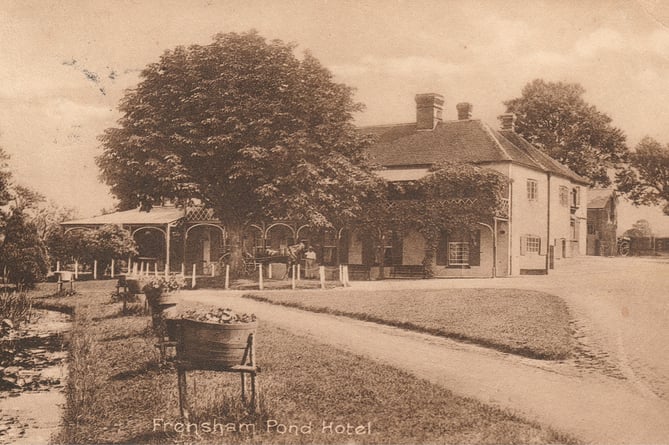 An undated postcard of Frensham Pond Hotel
(Guy Singer)
Nevertheless, numbers of tourists have clearly increased particularly since the pandemic when people who would have jumped on a plane to go abroad on holiday were forced to explore closer to home.
In the early part of the last century, many visitors would have stayed at the Frensham Pond Hotel and could have enjoyed boating on the ponds or walking on the heathland.
Most visitors would have travelled to Farnham by train and made the last part of the journey to Frensham by pony and trap or carriage. Very few had cars, so the verges and lanes would have been free from hordes of vehicles. Throw-away barbecue sets, disposable cups and plastic bags hadn't been invented, so there was little to litter the countryside.
The rear of a 1911 postcard of Frensham Pond – with the timeless advice to reply 'before the post office folk strike'!
(Guy Singer)
Interestingly, though, some things haven't changed. On one of the postcards – shared with Peeps by Guy Singer and dated 1911 – the sender requests a reply "before the post office folk strike"!