THE 92-year-old father of the late Jon Walker completed an amazing tribute to his son on Saturday by abseiling down a Portsmouth landmark.
A large crowd gathered by the Spinnaker Tower as Peter Walker went over the edge for Fitzroy.
But although he got the biggest cheer, the elderly fundraiser didn't feel like a celebrity after a blustery descent to terra firma.
"My first aim of doing this abseil was to raise the profile of Fitzroy," said Mr Walker, who has built strong links with the Hylton Road charity which provides a range of services for adults with learning disabilities, autism and similar conditions.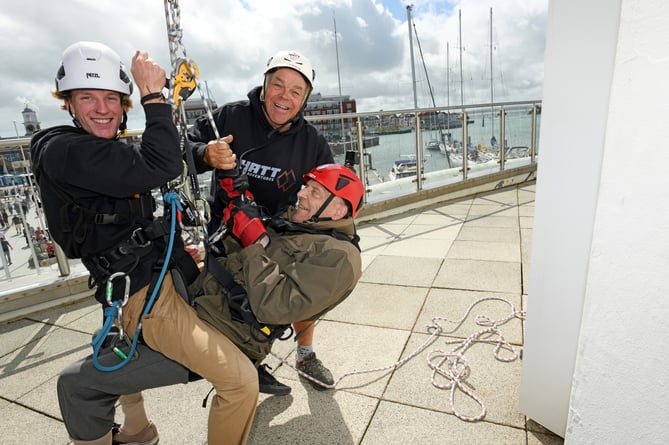 All over!
(Photographer: Malcolm Wells )
"I've had the opportunity to get to know them but I've only done the easy bit and some of the work they do is extremely difficult.
"When you talk about celebrities, the people that work there are the real celebrities."
Mr Walker wanted the abseil and the donations raised for Fitzroy to be a "legacy" for his much-missed son, with close to £500 being pledged through a www.justgiving.com page set up by Peter's granddaughter, Laura.
He admitted to feeling shaky on the launchpad and was accompanied down, but felt completely assured throughout the whole experience and called the organisation "absolutely brilliant".
He said: "Up there I was shaking like a leaf and the first step is quite big because you're stepping into the unknown. But you relax into the harness and it went really smoothly."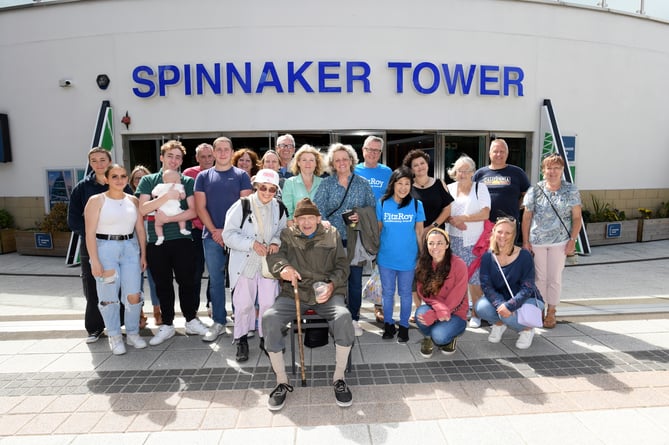 Peter Walker with family, friends and Fitzroy support.
(Photographer: Malcolm Wells )
Questions have already been asked about his next fundraiser, with a skydive being mentioned. But don't expect Mr Walker to become an adrenaline junkie overnight, especially when Peter feels his son is watching.
He added: "I can almost imagine him looking at me in that way of his and thinking 'what are you doing now?'."
If you would like to donate look for Peter Walker Ontrack on www.justgiving.com