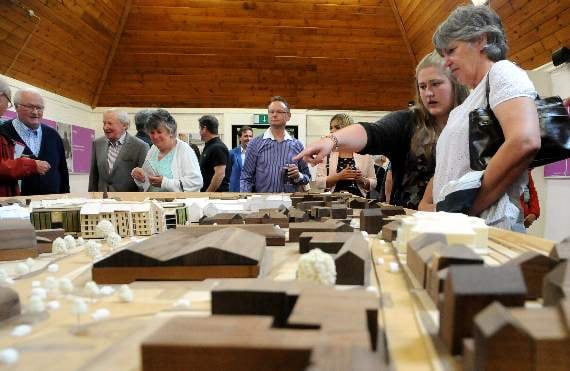 Attendees studying the model
Subscribe newsletter
Subscribe to our email and get updates right in your inbox.
A GROUP of prominent Farnham architects, backed by more than 700 residents and the Royal Institute of British Architects (RIBA), have set out ambitious plans to establish a masterplan for the town and direct the design and scale of development in Farnham over the next 25 years and beyond.
The Recrafting Farnham project, led by Stedman Blower Architects and funded by the Farnham Society and the Blower Foundation, was launched in January last year "to imagine the ideal future for the town" and following numerous public workshops took the first step towards giving its imaginings some bite last Thursday.
As part of the Heritage Open Days celebrations, the Recrafting team exhibited a vast to-scale model of the town at the Farnham Maltings; setting future development such as Waverley Borough Council's Brightwells regeneration scheme and the Swain & Jones redevelopment in East Street amidst the town's existing architecture.
This added to information boards setting out the project's next steps, including plans to refresh the Farnham Design Statement in sync with the town council, establish a design review panel of architects and designers to guide development, and, most ambitious of all, develop a masterplan directing the town's growth over the next three decades.
Addressing attendees last Thursday, Stedman Blower's principal architect Damien Blower called for a sea-change towards a more "pro-active rather than reactive" approach to planning and, with Farnham facing a key juncture in its history, issued a stark warning against repeating the mistakes of the past.
He said: "The reason we're here is because we love Farnham, we think it's special, it's got real character - but there's no reason that this town should be here forever.
"I've just been to Sicily and there are towns there that once thrived but have gone. All towns have to be useful and they have to serve a purpose, to provide places for us to connect, resources, and a soul.
"There's no certainty that Farnham, with the changes that are coming in terms of the economy and the changing patterns of work, online retail and transport, will survive.
"We must keep what's special about Farnham, to keep people here and ensure when they come, they come here for a reason.
"We can't put our head in the sand, we've got 3,000 houses coming to this section of Waverley, and a good chunk here in the town centre. It's coming, and the days of being reactive are over, we have to be proactive.
"We can't afford to have the kind of top down and reactive projects that have been delivered in the past. We've got to be here at the front, trying to really action how our town is going to grow.
"Let's make sure the growth we have follows the tradition of what's great about Farnham, understands it's character, what people want and future trends, so that we can re-craft and make sure that Farnham grows in the right way, not in the wrong way."
Citing an example of the 'wrong' type of growth, Mr Blower repeated his past criticisms of Waverley's Brightwells scheme - and particular its creation of a central 'plaza', which he said goes against more than 500 years of successful town planning in Surrey.
He continued: "The idea seems really odd to me, that as an architect you would say 'you've been doing it really well for 500 years, but I've got a better idea, we're going to make an Italian plaza and everyone's going to be wandering around with their gin and tonics and sipping coffee'.
"We don't have plazas in northern Europe, the weather is too cold. We have streets and we build some of the best streets in the world.
"Think of Godalming, Cranleigh and Dorking; they all have streets as their principal urban space, and looking at old photographs, East Street in Farnham would have been the great thorough-fare of the past.
"We've made some terrible mistakes in the past, but let's make sure that the spine of Farnham which is East Street works."
Mr Blower did, however, praise the scale of Waverley's scheme - and challenged people to imagine a greater housing density in the wider East Street area, accommodating contemporary, modern architecture befitting Farnham's history.
"There are densities in the Brightwells scheme of 80-odd homes per hectare and three to four-storey buildings," he added. "But many European cities the size of Farnham will have six to seven storey buildings, so the idea of four storeys I don't think is at all frightening."
Mr Blower also encouraged people and developers to "engage" with the model of the town - crafted by UCA interior design graduate and Stedman Blower apprentice Jack Sykes, 21 - which the Recrafting team hope to exhibit again this December.
Again using the example of Brightwells, Mr Blower continued: "It's probably the first time people can really look at the East Street redevelopment and really get a feel for what it's going to be like as an urban centre.
"It's a great tool for that, and information and understanding is power, and what we need as the people of Farnham is power, to make sure that we understand what's going to happen and really action it."
Comments
To leave a comment you need to create an account. |
All comments 0