A Freedom of Information request by the Herald has revealed the surge in planning applications post-Covid Waverley Borough Council blames for its present housing delivery malaise equated to just a ten per cent uplift.
The government wrote to Waverley in January threatening to take away its power to make planning decisions locally because of its poor performance determining applications on time.
This after the council failed to meet the government's target of determining 70 per cent of non-major planning applications – proposing ten or fewer dwellings – within eight weeks, over the two years to September 2022.
The council's current Lib Dem-led coalition has blamed the shortfall on slow housing delivery under Waverley's previous Conservative administration, as well as struggles implementing a Tory-commissioned new IT system, a national staffing crisis and a boom in applications post-pandemic.
However, while the initial excuses may be true, a Freedom of Information request by the Herald has revealed the council saw just a ten per cent increase in planning applications in 2021 compared to the pre-pandemic figure in 2018, and just a four per cent increase in 2022 compared to 2018.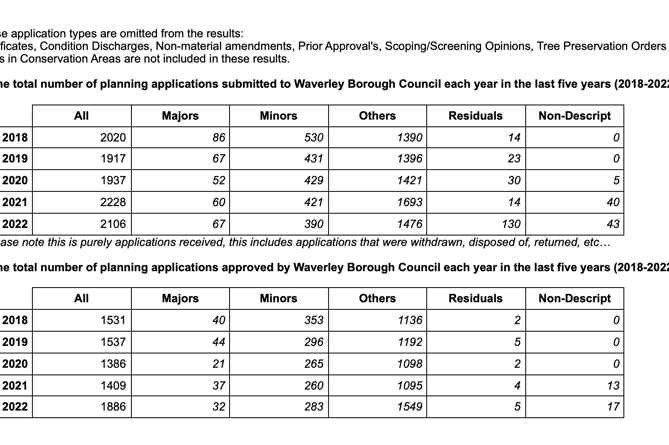 Waverley's response to the Herald's FOI request, showing the number of applications submitted to and approved by the borough council from 2018 to 2022
(Daniel Gee / Farnham Herald)
Responding to these figures, Councillor Carole Cockburn (Conservative, The Bourne), who twice led the Farnham Neighbourhood Plan to adoption and is deputy leader of Waverley's Conservative opposition group, said: "I was very surprised to see the actual number of planning applications received over the past five years. We have been constantly told the service is struggling as a result of the great increase in applications.
"The truth is the service is badly run. I certainly do not blame individual planning officers in any way. We have a constant change of personnel and officers often pick up additional applications, when they are already overburdened. It is pointless making up inaccurate excuses for poor service. Problems should be addressed and the service improved by those paid to do so."
Addressing the government's latest threat of 'special measures' in January, councillor Liz Townsend, Waverley portfolio holder for planning and economic development, said the council's planning performance had improved significantly in the 12 months since September 2022.
She said: "Over the past year we have worked extremely hard to review and streamline our internal processes and this has resulted in a significant uplift in planning performance.
"The most recent data available shows that during the period July 2022 to September 2022, more than 88 per cent of non-major applications were determined within the allotted time.
"In addition to this, we continue to make considerable headway in reducing the backlog that had built up during the pandemic."
Cllr Townsend continued: "The council will be making the strongest case possible, that 'designation' is not appropriate and could actually be counter-productive to sustaining and improving on the gains in planning performance we have achieved over the past year."
What do 'special measures' mean?
If a council's planning department is designated for special measures by the government, it means the government has determined that the council is not meeting the required standards for processing and determining planning applications.
In such a situation, the government may appoint an independent inspector to take over the responsibility of determining planning applications in the area. This is done to ensure that planning applications are being determined in a timely, efficient, and appropriate manner.
It is possible that more applications may be granted planning permission as a result, as the government-appointed inspector may have different priorities, standards and processes than the local council. However, it's also possible that they may be more strict and less applications may be approved.
The inspector would still be required to take local planning policy into consideration when making decisions on planning applications. However, they may interpret and apply the policy differently than the local council or councillors.