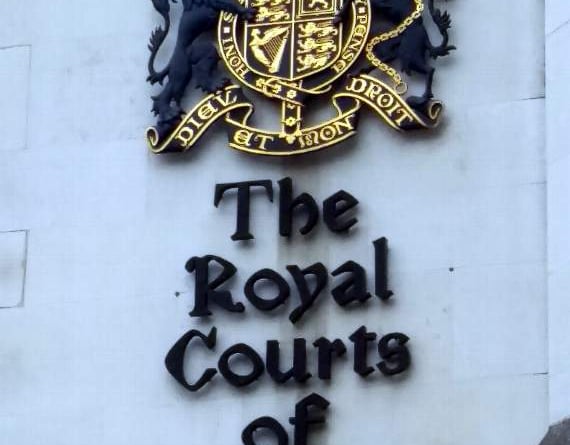 Another trip to the High Court in London beckons
Subscribe newsletter
Subscribe to our email and get updates right in your inbox.
WAVERLEY Borough Council will have to keep the Champagne on ice a little longer after a fresh trio of costly High Court legal challenges were launched against its newly-adopted Local Plan - leaving taxpayers facing a potential bill of up to £200,000.
The council has enjoyed a promising start to 2018, after a government inspector declared 'part one' of the borough's planning blueprint setting out where to build a minimum of 11,210 homes up to 2031 "sound" in February, followed by last week's appraisal by the Secretary of State of plans to put 1,800 of these homes at Dunsfold Park aerodrome.
However, having withdrawn its application for a judicial review against Waverley's decision to grant planning permission for the homes at Dunsfold last year, campaign group Protect Our Waverley (POW) has now launched fresh High Court proceedings targeting the Local Plan itself.
In separate legal actions, the Surrey branch of the Campaign to Protect Rural England (CPRE) and two Milford residents Timothy and Isobel House, who live on land close to a proposed development of 180 houses on Milford Golf Course, are also challenging the adoption by Waverley of its Local Plan part one earlier this year.
All three applications for a judicial review were lodged with the High Court on Thursday, March 29, just inside the High Court's deadline of six weeks from the date of the decision being challenged, in this case Waverley's adoption of its Local Plan on February 20, and are a matter of public record. There are currently no hearing dates set.
In a statement CPRE said it has launched its challenge on the grounds that the planning inspector who examined the draft plan, Jonathan Bore, "failed to take into account the environmental constraints and specifically the harm to the Surrey Hills Area of Outstanding Natural Beauty (AONB) and the London Metropolitan Green Belt".
Mr Bore, who in his role as executive director for planning and borough development for the Royal Borough of Kensington and Chelsea infamously signed off the refurbishment of London's Grenfell Tower prior to the blaze that claimed the lives of more than 70 people last year, increased the housing targets for Waverley in order to accommodate half of the "unmet housing need" from Woking borough.
CPRE Surrey branch director Andy Smith said: "The inspector's decision to increase the housing figure for Waverley will inevitably result in loss of countryside in the AONB and Green Belt. This lack of regard for policies of restraint cannot be right.
"The trustees of CPRE Surrey felt compelled therefore to issue a claim in the High Court against the adoption of the Waverley Local Plan. We cannot stand idly by and witness yet more 'protected' countryside being lost to housing development, especially when this new development will do nothing to address genuine local housing needs." 
In a press release, POW added its challenge is on the grounds of the Local Plan's housing allocations, not the plan itself, also objecting to Waverley having to meet 50 per cent of Woking's unmet housing need.
Bob Lees, chairman of Protect Our Waverley, said: "It is most regrettable that POW, along with others, are having to challenge the unwarranted imposition by Inspector Bore of an unsustainable increase in housing to be built over the next 15 years.
"Common sense tells us that people who want to live in Woking do not want to live in rural Waverley. So why should Waverley have been forced to accept 21 per cent more new homes purely on the basis of Woking's 'unmet need'?
"This challenge to Inspector Bore should properly have been made by Waverley Borough Council itself, at the time of the Public Examination, but they stayed silent despite having themselves challenged Woking earlier in the year.
"Had they done so then the extra houses wouldn't now be required and neither would the challenges by POW and others."
Last year, Mr and Mrs House instructed a solicitor to consider the enforceability of a restrictive covenant over land at Milford Golf Course which prohibits the construction of any more than one detached dwelling per acre. The Local Plan proposes the allocation of land opposite Milford Golf Club, as a strategic housing site for 180 dwellings.
On Tuesday, Julia Potts, leader of Waverley Borough Council and councillor for Upper Hale, reacted angrily to the judicial review applications and asked Waverley's executive to agree £200,000 to defend the Local Plan against these reviews.
She said: "I am tired of this council and our residents being bullied, and having to defend the lawful, democratic decisions of this council in the High Court. In the last two years Waverley has had to face a number of very costly challenges on lawful decisions that have benefited the community."
These decisions relate to Sherlock Holmes author Arthur Conan Doyle's former Hindhead home Undershaw, the Brightwells regeneration scheme in Farnham, the Farnham Neighbourhood Plan and Dunsfold Park.
Ms Potts said Waverley' planning blueprint was "an excellent plan that protects Waverley from inappropriate, ad hoc development", adding, "it has been found to be sound, we have adopted it and it has already fended off significant unwanted and inappropriate development in this borough." 
She continued: "I am appalled that we have to spend money on legal expenses again, when we could be spending it on services - £200,000 at a time when as a council we face enormous financial challenges and are doing our utmost to deliver and protect key frontline services for our residents and many of our most vulnerable members of the community.
"This council will instruct the court that we will pursue full reimbursement of all legal costs we incur and will not accept anything less."
Comments
To leave a comment you need to create an account. |
All comments 0