Plans have been submitted to demolish The Bourne's infamous 'shipping container' house and replace it with the home originally granted planning permission in 2017.
Michael Conoley Associates submitted the latest plans for 17 Frensham Road to Waverley Borough Council last week, a month after the same council ordered that a home built on the same site without planning permission just three years ago be torn down.
The new plans are identical to those consented by Waverley in 2017 – but not built out – and address the "frailties" highlighted in the council's enforcement notice, says the Farnham-based agent's planning statement.
It comes after Waverley launched enforcement action in early December against the towering three-storey contemporary home overlooking The Fox pub at 17 Frensham Road, Lower Bourne.
The council's enforcement notice stated the "unauthorised" dwelling was "unduly prominent, visually dominant, materially harms the character of the street scene and is detrimental to the well-wooded appearance of the immediate and wider area".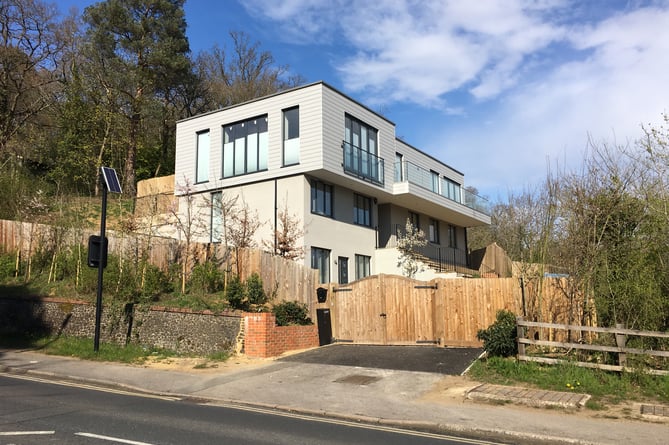 17 Frensham Road: Not as 'nestled into the hillside' as was promised...
(Daniel Gee / Farnham Herald)
It concluded that the home, all hardstanding, steps and retaining walls must be removed, and the levels of the land restored, within 12 months of the issuing of the notice.
The demolition notice itself came after the Planning Inspectorate rejected an appeal against Waverley's refusal of retrospective planning permission for the home in November.
The house, on the site of the former 'Cockpit Cottage', occupies a key entrance to Farnham from the south, and has been likened to a pile of shipping containers by its many detractors.
Michael Conoley Associates said in its planning statement accompanying the latest application: "This application proposal is for a dwelling in exactly the same form as the 2017 consented dwelling.
"This application has considered all the frailties highlighted in the council's decision notice and the inspector's appeal decision.
"It is also noted that relevant Local Plan policy has not changed in relation to the application site since the granting of consent for the 2017 dwelling and therefore, on the basis of consistency of decision making, consent should be granted.
"In addition, a dwelling (Cockpit Cottage) occupied the site until its demolition in the late 1960s which further underpins the principle of the council's acceptance that a dwelling in the form of the 2017 consent should be acceptable on this site."