There were feisty exchanges between councillors and council planning officers as fresh plans for 65 homes at Hawthorns, next to Bells Piece in Hale Road, were thrown out last week.
But elected members on Waverley's western planning committee smarted at the recommendation to grant consent, and rejected the plans unanimously.
It is the kind of exchange that has become the norm at the borough council over the past year, with the battle for the borough's green spaces well-and-truly under way.
With the borough still falling short of its government housing target – in part because of delays to the 2,600-home development at Dunsfold Park aerodrome south of Godalming – developers are now rushing forward with planning applications, often for hundreds of homes at a time.
More than 500 new homes are currently proposed in the Farnham area, with large-scale developments also proposed to a lesser extent in the Haslemere and Cranleigh areas.
And while many elected members still seek to base their planning decisions on local policy – such as the borough's own Local Plan and the community-led Neighbourhood Plans adopted in several of the borough's towns and villages – the view of officers is more pragmatic, knowing that appeal inspectors will continue to ride roughshod over the views of local people until housing targets are met.
Prior to the Stax/Hawthorns plans coming to committee last week, Wates Developments Ltd became the latest developer to come back with fresh plans for up to 146 new homes either side of Waverley Lane in south Farnham this week. This is after its last attempt was rebuffed by Waverley Borough Council in July 2020.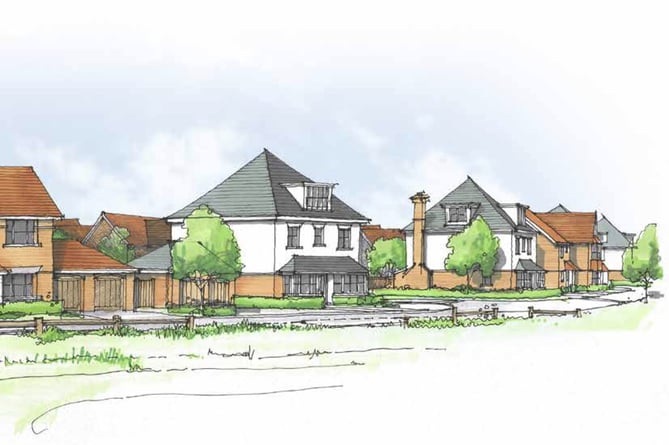 Wates Developments has submitted new outline plans for up to 146 homes either side of Waverley Lane – down from the 157-home scheme it applied for in its initial planning application, rejected at appeal in 2018
(Wates Developments)
And in May, housing giant Bewley Homes also returned with near-identical plans for up to 140 homes in Lower Weybourne Lane, Badshot Lea, having seen its previous application rejected by an appeal inspector just last June.
Both of these schemes are proposed on sites outside of Farnham's existing settlement boundary, rejected in both the Waverley Local Plan and the community-led Farnham Neighbourhood Plan, backed by more than 10,000 people at referendum.
But as developer Wates itself argues in its Waverley Lane application, because Waverley is not meeting its government housing target to deliver at least 590 new homes per year, these local planning policy documents are now "out of date".
It comes after a planning inspector sounded the warning alarm after rejecting Bewley Homes' previous 140-home scheme in Lower Weybourne Lane last June.
In reaching her decision, inspector Lesley Coffey confirmed Waverley had fallen behind on its government housing target and was only able to demonstrate a 4.99-year supply of housing land – a fraction below the five-year supply figure required by the government.
Another inspector, in allowing an appeal for 99 homes in Alfold last December, ruled Waverley had slipped further behind on its target and was only able to demonstrate a 4.1-year housing land supply.
And Wates now claims the council is now only able to demonstrate a housing land supply of 3.96 years.
If correct, it means inspectors can ride rough-shod over local planning policy, and instead apply the National Planning Policy Framework's 'presumption in favour of sustainable development' to help meet local housing demand.
Other significant applications in the Farnham area pending a decision by Waverley include:
38 homes at Green Lane Farm, Badshot Lea.
65 homes on land rear of Monkton House (formerly Binden House), Monkton Lane.
Nine homes at Oast House Lane.
23 flats at 80-84 East Street.
24 homes at Hookstile Lane (appeal lodged).