Climate emergency declared by Farnham Town Council
Tuesday 1st October 2019 1:00 pm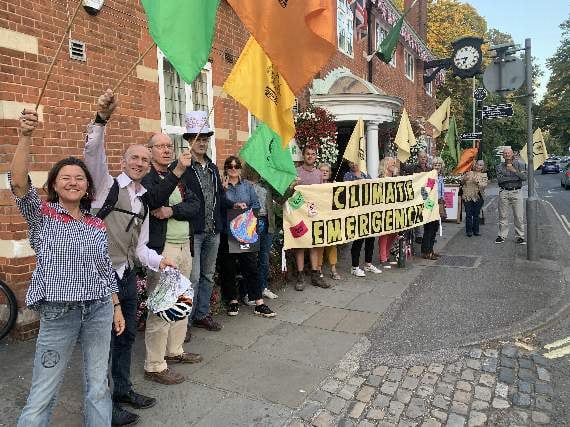 The Extinction Rebellion Farnham group gathered ahead of the announcement
()
Subscribe newsletter
Subscribe to our email and get updates right in your inbox.
A CLIMATE emergency was declared by Farnham Town Council, just a day before hundreds of young people took to Gostrey Meadow as part of a global strike.
Councillors agreed at Thursday's meeting (September 19) there is a 'climate emergency' which requires urgent action and aims to become carbon neutral by 2030.
The town council will develop an action plan and continue to work with the community to take "all practical steps to reduce its own carbon footprint and safeguard the environment".
It has also called on the UK Government and local climate change partnerships to "provide the necessary support".
Young demonstrators at the Global Youth Strike on Friday, September 20 welcomed Farnham Town Council's declaration.
Artist Georgie Wilson said: "It is fantastic. Now, every decision that is made there needs to be done through the filter of climate emergency, every single thing that is considered needs to go through that filter, so it is a brilliant thing that they have done."
Fellow protester, 19-year-old Keira Sheldon said: "It's all well and good saying they're declaring a climate emergency, but now it's like 'right, what are they going to do about it'."
Her sister Georgie Sheldon, aged 14, said the council needs to "listen to the people who know what they're talking about, instead of making decisions for them".
University for the Creative Arts student, 20-year-old Cecily Bedner, who also organised the strike, said it was "brilliant" but added: "It's the very least you can do so take that, really stand by it and act now because we can't put this off any longer."
While Fiona Massari, of Extinction Rebellion Farnham, said: "Let's wait and see what action they're going to take. I don't think we can have expectations – they say they're now going to take action so what we want to see is the masterplan for the town changed so we can't have any further unsustainable development."
Read about the similar declaration made by Waverley Borough Council below:
Comments
To leave a comment you need to create an account. |
All comments 0