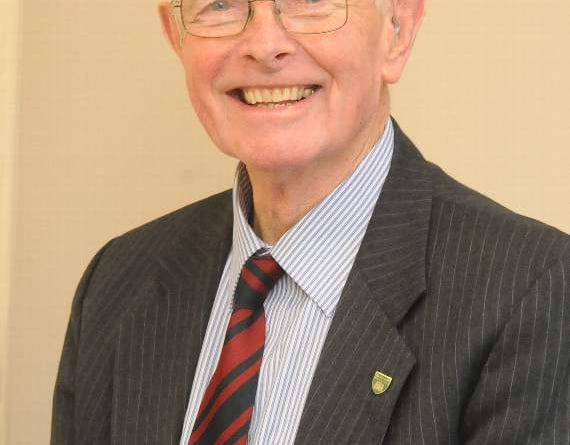 Paddy Blagden
Subscribe newsletter
Subscribe to our email and get updates right in your inbox.
FORMER Mayor of Farnham Patrick Blagden is to step down as a town and borough councillor for the Farnham Castle ward at the age of 81 citing ill-health.
A Farnham resident since 1968, Brigadier Blagden CBE, or 'Paddy' as he is more commonly known, was first elected to Farnham and Waverley councils in 2011 and re-elected for a second four-year term last year representing the Conservatives.
During that time he has served as a prominent member of Farnham's Neighbourhood Plan working group as well as Waverley's joint planning committee.
In 2012 he gained notoriety as a member of the so-called 'Farnham five', a group of Farnham councillors chastised by the South West Surrey Conservatives Association for not "toeing the party line" on the Brightwells regeneration scheme.
However, a testament to his popularity in the council chamber, he was elected the Mayor of Farnham just a year later in 2013 - raising money for the British Limbless Ex Service Men's Association (BLESMA) during his mayoral year in a nod to his prior career.
Paddy joined the British Army in September 1953 and was commissioned into the Royal Engineers from Sandhurst in 1955, rising to the rank of brigadier before retiring 28 years later in May 1988.
From 1991 to 1992 he managed mine clearance in Kuwait for Royal Ordnance plc, was the UN's foremost expert on de-mining from 1992 to 1995, and became landmine consultant to governments and international agencies until 1997, finally consulting on mine dog training in Afghanistan until 2011.
He married Ann in 1962, and shortly afterwards moved to Farnham. They have three daughters and 10 grandchildren.
Announcing his impending resignation from Farnham and Waverley councils this week, Paddy told The Herald: "My health has not been good, and I am about to go in for what may be the first of several operations. As a result, I do not feel that I am able to contribute fully to my ward, Farnham Castle, to my friends and colleagues, and to my constituents.   
"I have hugely enjoyed the privilege of serving Farnham Castle ward for the past five years, in particular, serving a term as mayor for the town which I have lived in, on and off, for over 40 years.
"The highlights for me have been working with the many people who needed help, embracing everybody from all walks of life, who made contact with me. 
"As mayor, I had a wonderful insight into all the various voluntary organisations in Farnham, and the excellent way in which their work is helping others less fortunate. It was a privilege to be Farnham town's representative in the wider district.
"In my time on Waverley Council, I have enjoyed making a contribution to the district, especially with the Neighbourhood Plan, and will look back on these years with a feeling of pride."
A by-election is now expected to take place later this summer to appoint Paddy's successor in the Farnham Castle ward.
The first step in this process requires Farnham and Waverley councils to publish a notice of vacancy, after which a by-election will be called if the required number of electors (two for the borough, 10 for the parish) call for an election.
The date for the by-election will then be set - to within 35 days of the publication of the notice of vacancy for the borough council seat and within 60 days for the town council position.
More by-elections are also highly likely this summer pending the resignation of borough and county councillor David Munro following his election as Surrey's new Police and Crime Commissioner.
Mr Munro has promised to step down as borough councillor for Farnham Shortheath and Boundstone and county councillor for Farnham South immediately after the EU referendum on June 23.
Comments
To leave a comment you need to create an account. |
All comments 0