Conservative opposition leader Stephen Mulliner has spoken out after losing his seat on Waverley Borough Council for Haslemere East in last Thursday's elections.
After serving as a councillor for 24 years, Mr Mulliner lost out to Lib Dem candidates Peter Nicholson and Terry Weldon, and his Tory running-mate Zoe Barker-Lomax, in the three-seat ward.
Mr Mulliner attributes his loss to the national political climate, stating the local Conservative party has been "trumped very obviously by a national wave", and is "sadly suffering from the impact of the last few premiers before Rishi Sunak".
 However, he remains optimistic and confident that the party will bounce back. "Politics always goes in cycles," he said. "So as they say, we'll definitely be back."
Reflecting on his time in public service, Mr Mulliner emphasised the importance of not letting it dominate one's life. "There are other things to do, and I have no shortage of things I can now devote more time to," he said. "One door closes, another one opens."
He also expressed his admiration for his colleagues who were re-elected, noting that Michael Goodridge (Conservative, Bramley and Wonersh) has been a councillor for nearly 50 years. "It puts my 24 years in perspective," he said.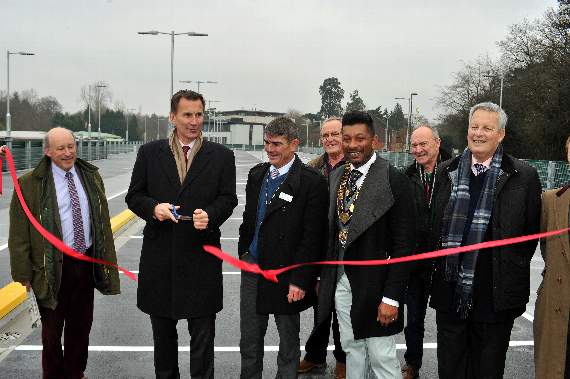 Stephen Mulliner, pictured left with South West Surrey MP Jeremy Hunt at the opening of Haslemere station's new car park, had been a councillor for 24 years before losing his borough council seat last Friday
Looking ahead, Mr Mulliner acknowledged the Conservative Party faced a challenging road ahead, with only ten councillors remaining on the council – down from 23 in 2019 and 53 in 2015. 
However, he remains hopeful the party will regain strength in the future.
Offering his perspective on national politics, he stated any government must expect to take the blame for problems such as Brexit, the pandemic and the cost of living "even if things are not really its fault".
But he called for the "more moderate, central part" of the Conservative Party to become dominant, citing Rishi Sunak and Jeremy Hunt as examples of "intelligent and hardworking" individuals who deserve support.
"I sincerely hope the party does not think that nurturing the right wings would be sensible," Mr Mulliner said. "That's about as sensible as people like Tony Benn thinking the party wasn't socialist enough back in the 1980s."